Dear Diva Readers,
top: 5px; float: left; color: white; background: #781300; border: 1px solid darkkhaki; font-size: 100px; line-height: 90px; padding-top: 1px; padding-right: 5px; font-family: times;">Every once in a while, you meet your soul mate online.   I'm not talking about online dating… I'm talking about Online Shopping!!!  Recently I've had the opportunity to get to know the fabulous proprietress of Vintageweave Interiors online and I'm head-over-heels in love with Kathleen Delgado and her French lifestyle store! 
I'm sad to say I haven't had the opportunity to shop at her Los Angeles Show Room but I avidly follow her Facebook posts and Blog, always enjoying Kathy's sense of humor, her insight into Old Hollywood and the occasional tidbits she shares on her A-List clientele!  Not only does she shop abroad for inventory but she also picks up pieces from celebrity clients. When Kelly Osbourne recently moved to a new home, Kathy & her crew were able to scoop up several of Kelly's pieces from her estate, selling them to cherished clients.
A few of my favorite finds recently chez elle include: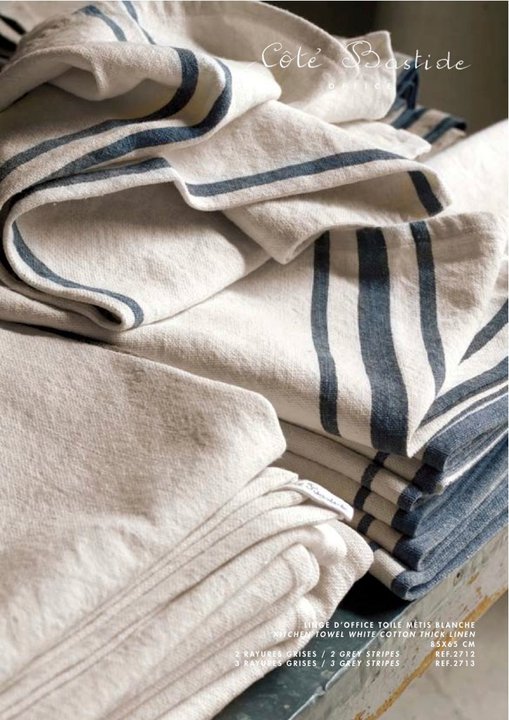 Luscious cotton with fabulous woven blueish grey stripes in generous oversized tea towel 28×36″. Just in from South of France
Boulangerie Baskets
French Garden Chairs
Rumor has it that Kathleen has a bit of a fetish for manequins and dress forms! She has over 32 in the boutique!
A Pair of Crowned Burlap Pillows
Lastly, I'm simply gaga over these vintage cheese markers!! 
Delighted to have met you, Ms Kathleen Delgado!
Bonne Shopping!
The Antiques Diva®
P.S.  Don't just take my word for how incredible Kathy and her inventory is – check out what local folks in L.A. have to say about her greatness!