Dear Diva Readers,
The smell of Ham is in the air….  You've heard me wax on for years about The National Fair of the Flea Market and Ham in Paris!!   This SPRING we're doing some SPECIAL OFFERS for blog readers who email me to:info@antiquesdiva.com">info@antiquesdiva.com saying "I HEART HAM" in the title of their email!
What does this special Paris Antiques Diva Tour entail??  Two Full Days Flea Marking in Paris on the arm of a Diva Guide who knows as much about antiques as she does jambon, giving you entrance into one of France's most culturally rich antique fairs…  which just so happens to be the crème of the crop for decorative antique shoppers in Paris.

The "I Heart Ham" Discount will give you 150 EUROS off of a 2 Day 2 Person  Paris Ham Fair & Flea Market Tour if you book a 2 Day tour occurring during March 15 -24, 2013.  Tour must be booked by Feb 14th to receive the LOVE this Valentine's Day!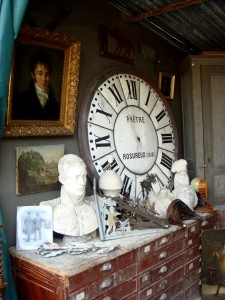 Is your party larger than 2 people? The bigger your party, the bigger the discount  per person we can offer on this special tour!!
We're going Hog Wild!