Dear Diva Readers,
top: 5px; float: left; color: white; background: #781300; border: 1px solid darkkhaki; font-size: 60px; line-height: 50px; padding-top: 1px; padding-right: 5px; font-family: times;">When I receive tours" target="_blank">Antique Buying Tour queries I ask clients in the form to tell me what they're looking for… and one of our most popular requests is for vintage & antique linens. And is it any wonder? With their natural fibers, hand-done needlework, and not to mention durability, vintage linens are a reminder of the genteel past while remaining relevant for today's lifestyle. The first place I send clients who are searching for vintage & antique linens is France. With Les Puces – the Paris Flea Market – as well as the famous Provence market L'isle Sur La Sorgue you can't go wrong! The stalls are literally heaving with stacks of pressed tablecloths, napkins, runners, and lace.
Sourcing Vintage Linens
Clients often find beautiful pieces such as oversized cotton tea towels—you know, the ones with classic blue-grey or red stripes. Other popular items include gorgeous tablecloths, often with delicate lace trim, embroidered linen napkins, and even sheet sets which have been perfectly monogrammed.
Repurposing Vintage Linens
Perhaps one of the most fun things to do is to find linens that have seen better days and come up with new ways to use them. After all, patching or darning linens is a lost skill. Rather than spend the time to do these tedious tasks, people are turning to repurposing vintage linens. We've had some very clever clients get crafty and completely give tired linens a new lease on life. For instance, perhaps you find an antique table runner with beautiful lace trim, but it has a hole in the center. Simply fold the runner in half, sew a rod pocket, and voila—you've got a valance for a small window! Speaking of lace, if you find a table cloth that's seen better days but still has lovely lace trim, don't be afraid to cut the lace off. You can then frame the lace or use it to line shelves.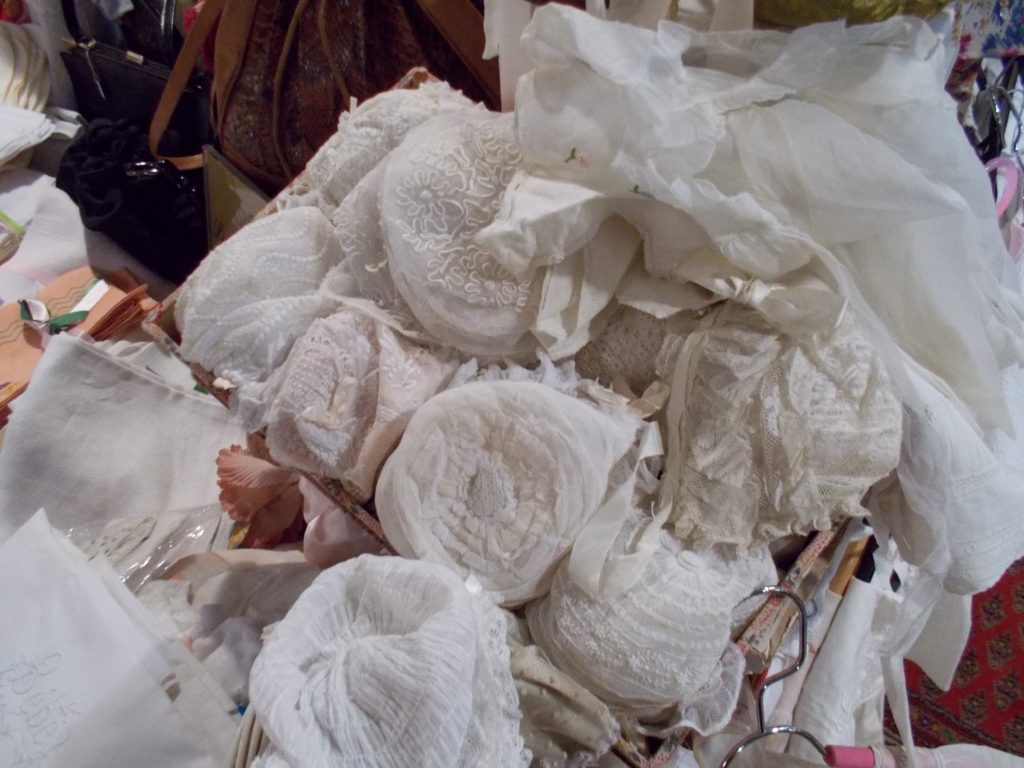 When it comes to repurposing linens, the sky is the limit. Vintage pillow cases that have beautiful embroidery can be made into garment bags for clothing simply by cutting a small notch at the center of the top and inserting a hanger through it. Linen is better to store clothing than plastic and it's certainly much more beautiful! Wouldn't that make a great gift for a bride-to-be?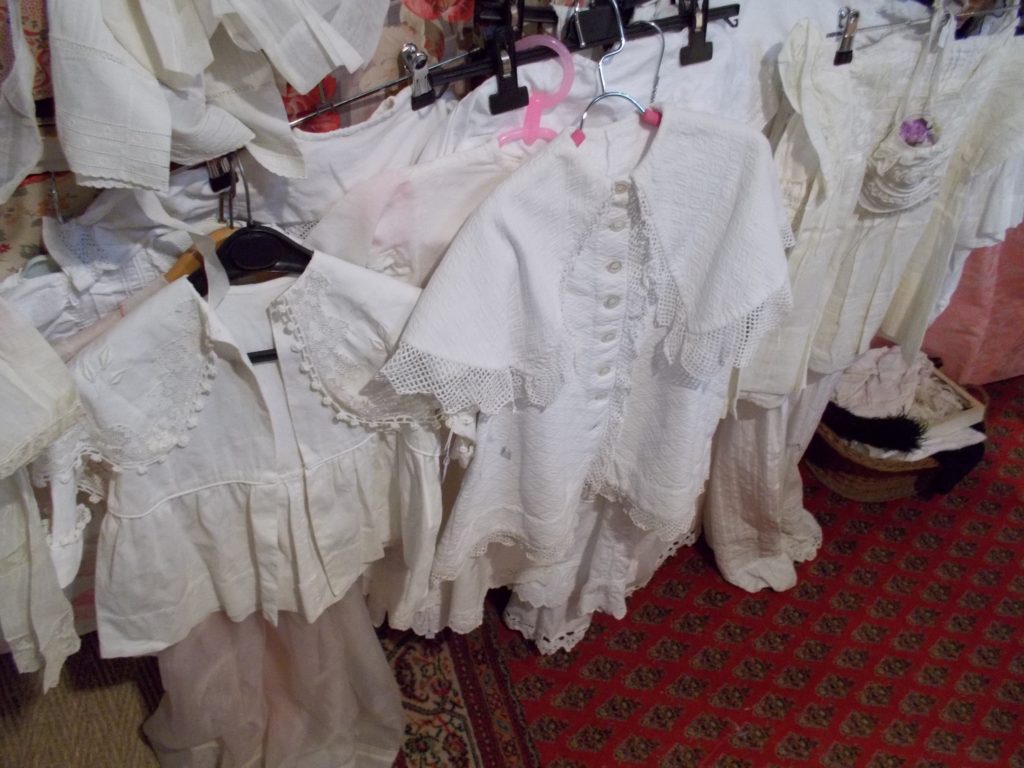 Tablecloths that are too worn to use on the table but still have beautiful details can be made into valances for windows. Beautiful pieces of handwork can be featured by sewing hems at just the right places. Antique napkins can be placed in baskets and used to present gifts of fresh baked goods throughout the year. You just have to think of ways vintage linens can add little touches to make things more special.
Cleaning and Storing Vintage Linens
Cleaning, restoring and repurposing are other matters which are very important. Many times a table cloth would have a stain but you don't want to ruin it when you clean it. Even if the stain is on the white part of the linen, there are things you can try to get it clean. A great way of removing the stain is to rub soft scrub with bleach (which is kind of grainy) on the stain and then use a big scoop of Oxyclean or another cleaner with oxygen in water and let the linens soak in the washing machine overnight. Then run them through a gentle cycle and usually that will remove yellow and brown stains.
How should you store linens? It's a misconception to store them in a cedar chest. The last thing you want to do is store them where they are in contact with wood or wood fiber such as paper. Aluminum foil is the best thing to store linens in. You could line a cedar chest or wooden box with aluminum foil, then place the linens inside. The best way to store doilies and table runners is to take a tube (like foil, wax paper, or wrapping paper comes on) and wrap it with foil, then simply wrap the linens around the tube. This helps avoid creases and keeps the linens fresh & moisture free.
If you are interested in to-the-trade/buying-services" target="_blank">sourcing vintage & antique linens, email me at info@antiquesdiva.com. I'd love to discuss planning a custom tour for you in France or any of our 8 tour countries throughout Europe!
Au revoir,
The Antiques Diva®