Dear Diva Readers,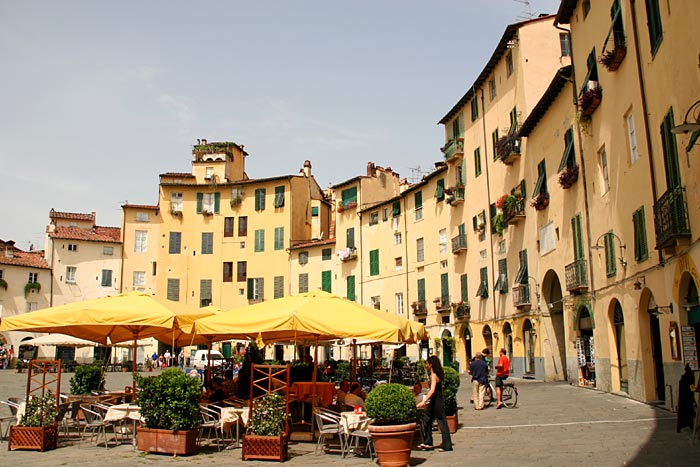 top: 5px; float: left; color: white; background: #781300; border: 1px solid darkkhaki; font-size: 80px; line-height: 70px; padding-top: 1px; padding-right: 5px; font-family: times;">Today we're taking a mental voyage to Lucca, one of the jewels in the shining crown of Tuscany! It has retained its elegance, story and splendor.  Its history dates way back to even before the Romans.   Much of the city's wealth however was built upon silk production and leather tanning.  Lucca was able to remain independent of Tuscany at a time when the region was being otherwise conquered and turned into a united Tuscan state. The relative immense wealth and the walls surrounding Lucca led to power brokers in Florence actually having to deal with the powerful merchants and leaders of Lucca – it was the only town in Tuscany not conquered by Florence and remains much unchanged since the medieval period.
Its maze of little streets and alleys brings many surprises from the wonderful artisan shops, galleries and stores to stunning architectural marvels such as the lively piazza San Michele, the old Roman forum.  It remains the heart of Lucca, where children play and the men of Lucca can be found discussing soccer and Italian politics.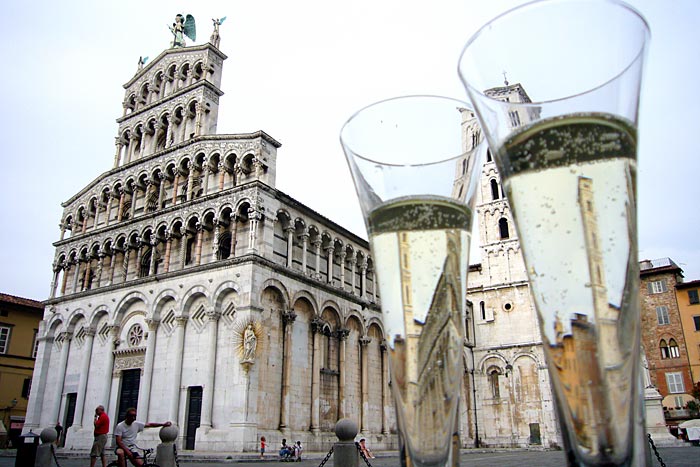 The gorgeous church of San Michele, with its elegant Pisan – Romanesque façade, rich in marble inlays – exudes a mysterious Arabian Aura.  Some particularly stunning features are the ancient ramparts that ring the old city that are still intact. The inhabitants built these brick walls in the 16th century for defense. 
On The Antiques Diva® & Co Tuscan Tours you will have the opportunity to walk around the city on the wide, shaded walkways atop the walls… don't worry it's not as scary as it sounds!  If that doesn't tire you out, climb up the Torre Guinigi – the 130 ft. tower even has an ancient oak tree on top!   Lucca was also home to one of Italy's greatest composers;  Giacomo Puccini, creator of operas such as: "Madama Butterfly", "La Bohème", "The Girl of the golden west", "Turandot".  In the Piazza Cittadella you can see the statue dedicated to him.
Of course no tour would be complete without a stroll down Via del Battistero and this quarter of the city is known for its antique furniture shops – a message of elegance and style from the voice of our past. Plan your trip to Lucca at the right time of year – the third weekend of the month – and rain or shine you'll find the monthly antiques flea market with over 250 stalls to peruse.   We will spend the afternoon meandering through the stalls to find treasures for you to bring back home! 
Join us for Special Tours during the Lucca flea market – the 3rd weekend of each month! 2012 dates include:
January 21 & 22
February 18 & 19
March 17 & 18
April 21 & 22
May 19 & 20
June 17 & 18
July 21 & 22
August 19 & 20
September 15 & 16
October 20 & 21
November 17 & 18
December 15 & 16
The Antiques Diva®