Dear Diva Readers,
top: 5px; float: left; color: white; background: #781300; border: 1px solid darkkhaki; font-size: 60px; line-height: 50px; padding-top: 1px; padding-right: 5px; font-family: times;">I have a obsession for vintage or new acrylic pieces. In fact, in my own living room I have a vintage 1980s acrylic desk that acts as a foil to all of my antiques.  I bought this piece in Berlin for about 400 EUR and it's still one of my favorite pieces.  I love the modern impact acrylic can have on a room regardless of the style of decorating. One of the things I hear from people buying acrylic is that they're concerned about them scratching – and they're not certain how to care for these pieces.
to care for Acrylic, Antiques Diva Apartment" width="600″ height="801″ />
Acrylic (also known as Lucite, Perspex, and several other names) is derived from natural-gas. This transparent thermoplastic is petroleum-based, and will not turn yellow when exposed to the sun. However when it comes to cleaning an acrylic piece, there are certainly ways to preserve its luster and condition. First and foremost, all petroleum solvents and any chemicals should be avoided to prevent marking the surface of an acrylic piece. All you need to do is to dust with a soft damp cloth on a regular basis. How easy is that??  If you need to wash an acrylic item, simply use a mild soap or detergent and lukewarm water. Be sure to blot dry when finished. BUT NOTE – Any cloth you use should be soft as you don't want to leave scratches or marks—And whatever you do NEVER scrub an acrylic surface with a scouring pad, steel wool, or a scraper! My vintage acrylic desk is actually quite cleverly made – the desk top is a glass inlay which is more scratch resistant!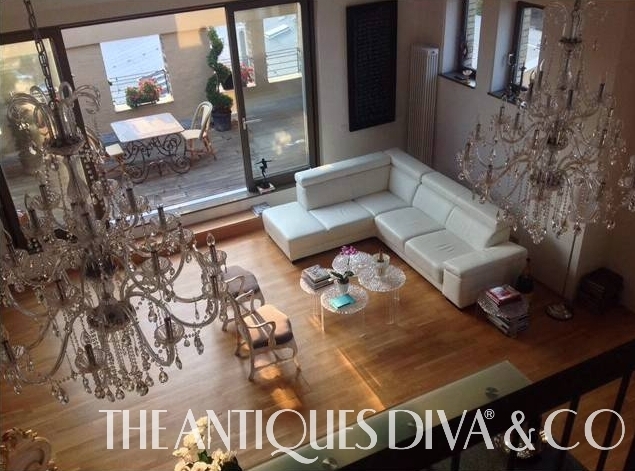 to care for Acrylic, Antiques Diva Apartment" width="600″ height="445″ />
Just as you occasionally polish wood furniture, it's good to periodically polish acrylic furniture. Use a quality polish for acrylic such as Novus 1, which also acts as a static electricity remover, cutting down on the dust that can be attracted to acrylic. Now – If you do have a scratch on your acrylic piece (OR IF YOU FIND A PIECE SELLING FOR PENNIES AT A FLEA MARKET) have no fear! Scratches can be removed by using Novus 2 or 3 for deeper scratches!
If you're purchasing a pristine new acrylic piece, it's important to protect it. Use felt or rubber on the bottom of items before placing them on the acrylic surface. This will lower the risk of scratching or marking the acrylic. And while you'd think of this with polished wood, people don't always think about this when it comes to acrylic:  you should always use drink coasters to prevent clouding by spilled beverages or spirits.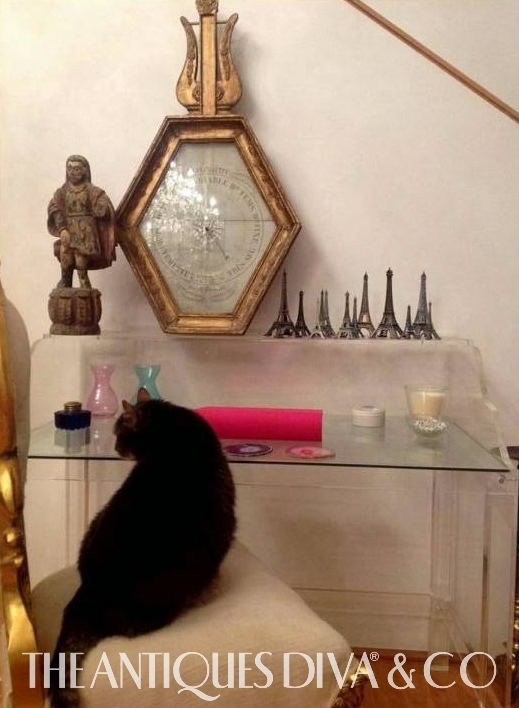 to care for Acrylic, Antiques Diva Apartment" width="519″ height="708″ />
Caring for acrylic really is simple. Just remember to not use any chemicals when cleaning and keep sharp objects away from the surface!
Even adding just one acrylic piece to a room really gives a space life and interest – it adds a bit of sparkles – sort of like jewelry on an outfit!
If you've been keeping up with the trends, you know that acrylic is everywhere right now. It's HOT and It has The Antiques Diva Seal of Approval!  Whether it's used as legs for a chic side table or molded to become an entire chair, acrylic has infiltrated all aspect of the design world. Knowing how to care for it will be valuable in the coming months and years as you strategically add pieces to your home that add just a bit of diva dazzle!!!
Until next time,
The Antiques Diva®