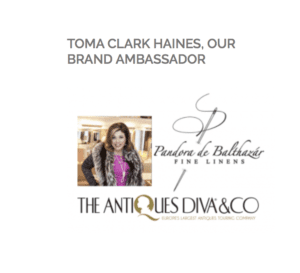 I'm the original Princess and The Pea girl. One of the first things anyone who meets me comments upon is my energy… boundless energy… and thus, in order to keep my pace it's imperative I take good care of myself. Jet-setting around the globe is hard on one's body. Restoring the body with sleep is vital. As a busy entrepreneur my greatest luxury in life—whether I'm waking up in Bangkok, at home in Berlin or on business travel in Boston, Brussels or beyond—is a good night's sleep. But here's the truth – sleep should not be a luxury. It shouldn't be a guilty pleasure. It's a necessity. The most important things in life are champagne, sleep, food, shelter and love. Whoops, I meant to say water not champagne. 🙂 The bedroom – and thus the bed – is the most important place in the home – it's the center of life.
Surrounding myself with the right sleep accessories is essential in order to combat jet lag and get my hours of ZZZZs! Diva Confession? I've been known to bring my own bedding—from Pandora de Balthazár's European Sleep System—with me on the road. Being asked to be her Brand Ambassador is a dream come true, as Pandora has the largest and most respected collection of linens for today's market, many of which are fine antiques and museum-quality textiles. The partnership is so spot-on because she intermingles antiques, vintage and new linens just as our AD&CO clients mix pieces from the past with the present.
Pandora began collecting textile treasures during her travels as a financial planner, many of the fine specimens she found were created on dates followed by BC! The fabrics and embroideries she found sprung from as early as the 12th century. Every exquisite museum-quality textile she came across was in remarkably great shape for its age, and, though she didn't intuit it at the time, they inspired her future collecting, the things she brought home becoming some of the best investments of her life.
Everyone knows that The Antiques Diva & Co is inclusive, so in that spirit, I'm inviting you to get in bed with me. You heard me right! You're invited to have Breakfast in Bed with Me! The Antiques Diva!
Breakfast in Bed with The Diva: You're Invited!
On Saturday, October 22 at 10:30 a.m., Pandora de Balthazár will host "Breakfast in Bed with The Diva," at High Point Market. Champagne and light bites will be served as I unveil The Diva Bed which I will create from Pandora's vast store of antique linens underpinned by the company's ergonomic European Sleep System.
Location:
Salon
The Suites at Market Square, High Point Market
M-8037
Saturday, October 22
10:30am
Pandora de Balthazár will have exceptional Hungarian down bedding, antique and vintage textiles and spa products for sale. If you're not at market, have no fear – you can buy Pandora's European Sleep System pillows and linens any time of year at the Pandora de Balthazár Experience.
"We are thrilled to welcome Toma Haines as our Brand Ambassador," says Pandora de Balthazár. "Of all of the design sophisticates we know who are on the go—around the clock, as it turns out—Toma embodies our message of the value of sleep. It not only brings a wealth of energy, it heightens determination, creativity, and personality—all attributes the Diva personifies."
Introducing Toma, Ambassador du Pandora de Balthazár
In addition to the Diva Bed, I was stunned to learn that Pandora had also created a fragrance in my name – "Toma" – an exclusive fragrance designed to be used on body, home and on your linens. With notes of mandarin and vanilla, bergamot, black current and amber, the fragrance is sexy, spicy, modernly feminine and runs wild with streaks of passion and independence. Literally speechless I asked Pandora de Balthazar why she designed this fragrance. "With my line of fragrances – yours being the first after my own signature eponymously-named scent, I want to honor those whose lives have honored our product and whose lives are changed by our product".
For those of you who've watched my career here at AD&CO grow you know I'm at a point in my career where I'm honestly working on building an empire – I'm simultaneously exuberant and exhausted and the only way I will achieve my dreams is if I take time to restore myself. With Pandora's pillows and linens I'm able to take that step.
Stay Tuned…
Stay tuned for a year's worth of great fun as we discuss all things bedding, decorative textiles and restorative sleep. We will be doing a series of blog posts about antique linens teaching you all you need to know and sharing our insider tips on restoring your inner diva. You're just as likely to find us touring antiques venues in Hungary in search of the prized Austrio-Hungarian textiles Pandora has collected for decades as well as her atelier filled with some of the finest linens you'll see anywhere outside of museums (and often within those walls!).
Sweet dreams,
Toma Clark Haines, The Antiques Diva®
Brand Ambassador for Pandora de Balthazár