Dear Diva Readers,
top: 5px; float: left; color: white; background: #781300; border: 1px solid darkkhaki; font-size: 60px; line-height: 50px; padding-top: 1px; padding-right: 5px; font-family: times;">Being actively involved in the antiques industry in 8 European countries and having clients from the US, Australia, and Asia means that I keep close tabs on what's happening in the antique and interior design community. Right now, open any top shelter magazine and you are guaranteed to see Swedish antiques strategically placed in beautifully appointed rooms. Our Swedish Guide Daniel Larsson is one of the leading antique dealers in Sweden with a gorgeous showroom and an international clientele. When Daniel contacted me to tell me that he was getting involved with the organization and promotion of the Malmo Decorative Antiques Fair I knew I needed to do some hands on research – so I booked myself on one of my own tours to shop the fair. And Mamma Mia (hey wait, aren't these Abba folks Swedish?) was it divine!!! You have all the best of the Swedish dealers in one chic locale.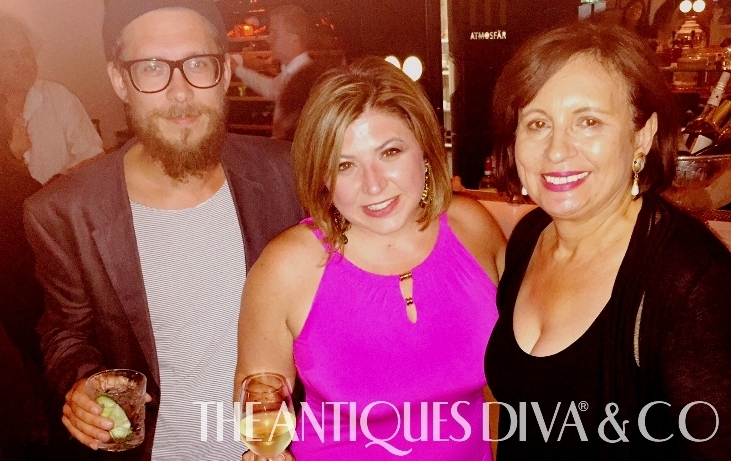 Naturally when shopping any antiques fair you don't want to go when the mere mortals shop – you want advance access.  So we registered to attend trade day while the vendors are still unpacking their trucks and setting up their stalls.  This is not open to the public—which means we get FIRST DIBS on buying! We really got to see inventory at The Malmo Decorative Antiques Fair before it even opened! On day one we got a sneak peek at folk art, Swedish furniture, and decorative pieces that were of the highest quality as Malmo is the third largest antiques fair in Sweden with 80 dealers from all over the country – for those of you who are familiar with the Stockholm fair, rumor has it the Malmo Fair's opening day revenue surpassed its big brother.
These vendors sell to the international trade and possess a vast knowledge of Swedish antiques. Imagine having access to pieces that you'd be sure to see on the covers of magazines soon! That's what Sweden's antiques scene has to offer.  The international buyers on scene shopping were actually limited – often I go to a trade fair in the south of France and I feel like the whole of Houston has ended up there on the same day.  Not so in Malmo – there were only a handful of foreign buyers – so if you're looking for exclusivity, here's your chance to buy before any of your competitors have seen the inventory.  And as few of these dealers have websites selling online you get incredible, unheard of access.
The fair was located at Katrinetorp Landeri which is a mansion adjacent to Malmo. Comprised of several buildings dating to the early 1800s, this historic property  is the ideal setting for an antiques fair! My UK Diva Agent Gail McLeod is an avid gardener, and since she joined us at Malmo, taking a bus-mans holiday with me, we were also able to explore the house and several gardens which include a gentry garden, utility garden and an orangery all of which are community managed.
Now the Malmo Fair is only once a year – next time you've got the chance to shop it is in the last weekend of August in 2016 (it's held this same weekend every year – so mark your calendars darling).  But have no fear….  You DON'T HAVE to SHOP Sweden ONLY during the fair.  Did I mention we know all these vendors so you can shop them year round – visiting them in their personal homes and by-appointment-only stores, warehouses and boutiques – year round on one of our Antiques Diva Sweden Tours.  If you'd like more information on taking an Antiques Diva Sweden Tour, email us at to:info@antiquesdiva.com">info@antiquesdiva.com. We'd love to plan the perfect buying trip for you!
As the Swedes say "Adjö"! Until next time,
The Antiques Diva®