Dear Diva Readers,
top: 5px; float: left; color: white; background: #781300; border: 1px solid darkkhaki; font-size: 60px; line-height: 50px; padding-top: 1px; padding-right: 5px; font-family: times;">In honor of Father's Day, we want to celebrate by sharing some of our favorite "mantiques." Every man needs his own space or man cave, but that doesn't mean it can't be stylish with a dash of diva, er make that divo, thrown in!  See our top picks for Father's Day gifts from our friends at The Highboy's website below! It's rather appropriate we're giving a shout out to The Highboy for today I'm off to London to meet Olga Granda-Scott, co-founder of The Highboy, for a week of antiquing in London and beyond!
This pair of vintage brown French club chairs from the 1970's are fantastic. Done in the Art deco-style, they'd be the perfect place for Dad to sit back and relax at the end of a hard day. Covered in a two tone brown leather with single piping trim and removable cushions,  these very comfortable chairs are also right on trend.
2- Desk Sets
Desk sets are the perfect accessory for the study—a place Dad spends many evenings. This 20th c. Italian Leather Desk Set is in superb condition and will add that pop of color to a dark-paneled room. We're just picturing a distinguished gentleman sitting down to write a note on this desk set—very sophisticated!
3- Bar Carts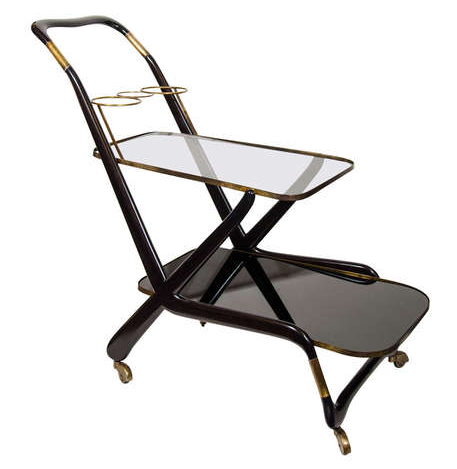 Ok, we must admit that a bar cart is an essential for any home. But this sleek Italian model from the 1950's is perfect for Dad with its ebonized mahogany wood frame with antique brass fittings and smoked grey and black glass tiers. It's masculine, modern, and begs the question, "Shaken or stirred?"
4- Cuff Links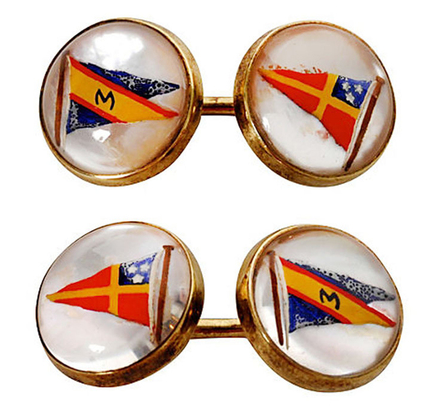 A beautiful and practical gift for Dad would be this pair of 14K yellow gold and reverse painted "Essex Crystal" nautical flag cufflinks. Essex crystal is a process where rock crystals are cut as a cabochon and carved on the flat side, then painted on the back to produce a three-dimensional effect. Even when he's not wearing them, cuff links look great just laying on a desk or side table.
5- Globes, maps, Travel Accessories
Travel accessories are so on trend right now. But they are also masculine, which makes them perfect for the man cave. This original copper plate engraving with original hand color by British artist Robert Wilkinson (fl. c. 1768 – 1825), titled "An Accurate Map of the West Indies" published June 2nd, 1794 is an amazing decorative piece. The tentative British claims in Belize and on the Mosquito Coast, where English buccaneers, pirates, and privateers set up makeshift unofficial colonies from which to raid Spanish treasure fleets, are noted. As this region was highly important to British maritime commercial and military interests, Wilkinson also identifies various shoals and other undersea dangers throughout. What an exciting piece that Dad would love!
For more mantiques, check out The Highboy here.
Happy Father's Day to all the dad's out there! And to my own "Papa Bear" Happy Father's Day!
The Antiques Diva®