Dear Diva Readers,
top: 5px; float: left; color: white; background: #781300; border: 1px solid darkkhaki; font-size: 60px; line-height: 50px; padding-top: 1px; padding-right: 5px; font-family: times;">It seem like 2014 has been "The Year of Travel" for me!  I rang in the new year in Thailand on a beach overlooking the Andamen Sea and between then and now have been on 3 continents, in more than 10 countries and in 6 states of the United States.  Without a doubt I've spent more nights in hotels than I have in my own home, and have done more business from a plane or car than at my desk!  All of the back and forth is exciting and – confession – utterly exhausting at the same time.
While on my recent three week public appearance tour speaking my way across America – starting in New York heading to Los Angeles and San Francisco before arriving Atlanta and finally High Point where I spoke at The Antiques and Design Center in High Point, NC – I was very pleasantly surprised to meet who I call "The Angel of High Point," Bonita Schaal in the Press Lounge.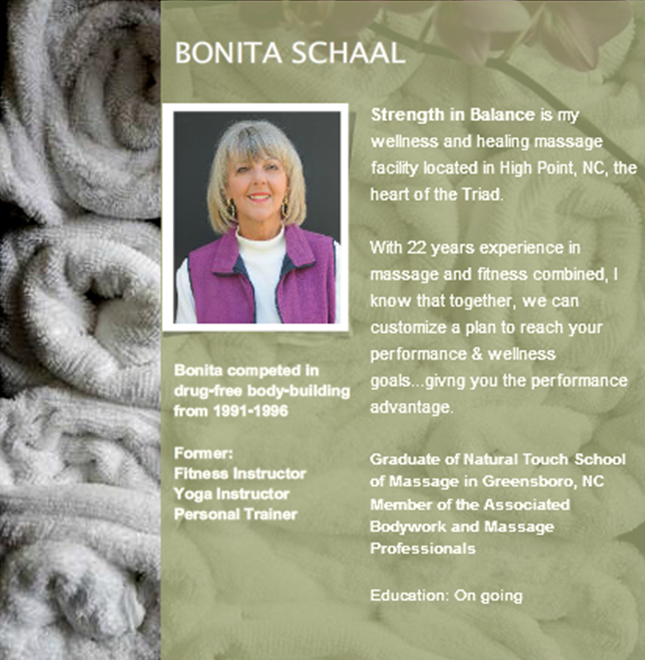 Why do I call her this, you ask?  Because Bonita is a licensed Massage Therapist who gives complimentary 20 minute massages at the High Point Market.  She knows how stressful it can be to constantly be on the go at market, and after spending countless hours in high heels and talking my way across America I was thrilled to take her up on the complimentary massage offer!
The next time you're in High Point, look up Bonita Schaal and tell her The Antiques Diva® sent you!  While she volunteers in the press lounge during market Bonita runs a thriving massage business – I can strongly recommend her for booking a longer appointment.  She's in high demand during market so make sure to book her in advance!
Until next time,
The Antiques Diva ®