Dear Diva Readers,
top: 5px; float: left; color: white; background: #781300; border: 1px solid darkkhaki; font-size: 60px; line-height: 50px; padding-top: 1px; padding-right: 5px; font-family: times;">People "in the know" are talking about the Kitchen Design Network and their new informative workshops for designers and decorators, beginning with the High Point Market inaugural full day workshop coming up on Friday, April 4th at the O'Henry Hotel in High Point, North Carolina.  And guess what?  The Antiques Diva has 2 free tickets to give away to a lucky reader!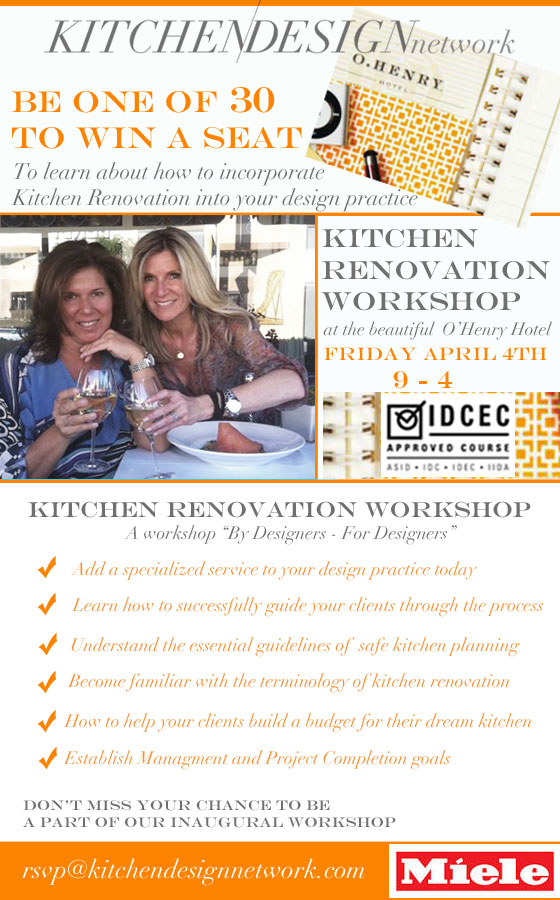 The workshop is set to be completely niche to the kitchen business.  Everyone wants a new kitchen and recent surveys show that it's the most sought after remodeling project in home design today. The workshop is totally knowledge and experienced based and will deliver tangible skills designers can apply to their businesses and begin to broaden their services immediately.  It will be a "hands on" experiential day of learning for designers and decorators looking to learn from "real life, in the daily design trenches."
The workshop is sponsored by the Miele Showroom and seating is limited to just 30 people.  SO…how do you enter to win 2 tickets from The Antiques Diva & Co?  To enter, simply "share" this blog post on your social media page and tell us why you want to attend this workshop!  Don't forget to tag "The Antiques Diva & Co" on Facebook or on Twitter to be sure we see your answers!  The winner will be notified via social media and will be able to enjoy this fun and informative workshop all about the heart of the home, the kitchen!
Looking forward to hearing your answers!
Ciao,
The Antiques Diva  ®