tour">
Dear Diva Readers,
Let's face it – coming to New Orleans for design inspiration was only part of the story…I also came here to eat, New Orleans Style, from crayfish to beignets.
tour" target="_blank">#BlogTourNola sponsor KBIS knows the way to my heart.  While the Kitchen and Bath Industry Show at the New Orleans Convention Centre is still being set up behind the scenes with the official show running April 19-21, the show coordinators are taking me and the rest of the #BlogTourNola crew to breakfast this morning at Luke to whet our appetites for what's to come later at the show.
Photo Credit: Travel Muse
Chef John Besh runs this famous grand old Franco-German brasserie Luke in the style of the famous New Orleans brasseries of yesteryear . Since opening in 2007, Luke has been hailed by Condé Nast Traveler and Travel + Leisure for its "disarmingly home-spun culinary touches and broad-shouldered dishes that satisfy something more than just an appetite."  While filling up on breakfast foods, er… I mean preparing ourselves for the hard-core work we'll be doing later in the day, we'll learn more about KBIS while discussing  innovative kitchen and bath designs and the new products we'll find at the KBIS Show.
Then we'll head out for a streetcar ride to tour the Garden District, Audoban Park and Zoo and Tulane University.  You'll want to make sure to follow me on Facebook so you won't miss one photo from #BlogTour Nola.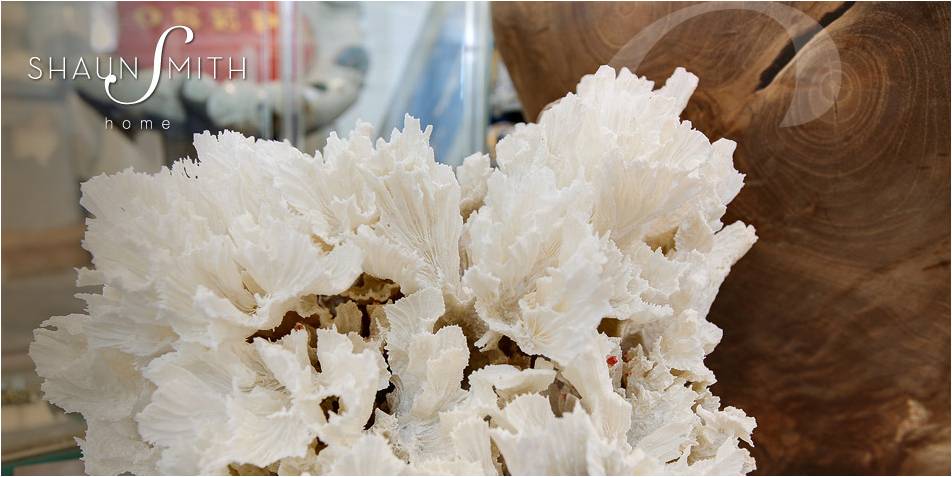 Next up, Shaun Smith will be taking us on an antiquing & design tour in New Orleans, visiting the shops on and around Magazine Street!! For me this a real treat – normally I'm the one leading the antique shopping tour  and it will be such a pleasure to be able to sit back as the tour-ee for a change!!
Shaun Smith is a residential and commercial design firm and boutique based in New Orleans and they have a passion for creating, stylish, organic, and contemporary spaces utilizing a mixture of modern and rustic design components with simple and clean lines.  They truly capture New Orleans living in a way that rejuvenates, inspires, and encompasses the essence of living well.
Photo Credit: bywaterboo.blogspot.com 

Photo Credit: bywaterboo.blogspot.com  
Needless to say I cannot wait to see what insider NOLA décor shops they highlight on their tour today –  And don't worry – I promise to share everything I learn with you.  No way I'm hiding this light under a bush, oh no! In fact,  if you are on Twitter, you can follow me @TheAntiquesDiva for live tweets or check out the hashtag #BlogTourNOLA so you can read not just my insights on our tour but my BlogTour companions insights as well!  We'll finish our tour in the Shaun Smith Home Shop.
And just when I thought I'd died and gone to New Orleans, it gets even better.  After spending a fabulous afternoon doing my favorite pastime (and profession) – Antiquing – this evening we've got a date with  my design hero, Miles Redd, for cocktails at the Ogden Museum of Southern Art!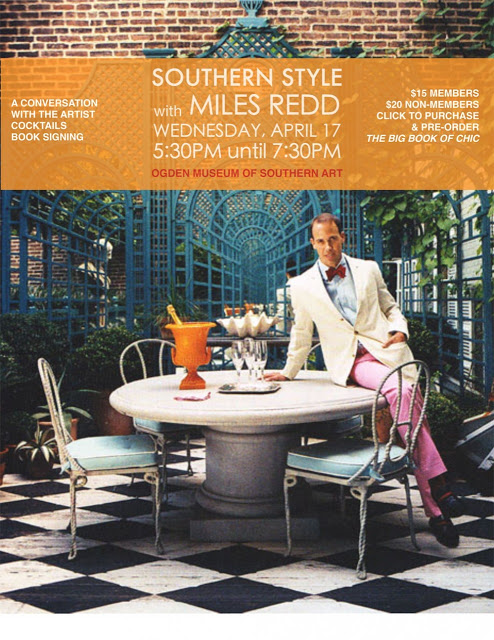 Miles Redd is an internationally acclaimed interior design sensation, known for his quirky brand of cozy glamour. An Atlanta, Georgia native turned New Yorker, his work has been published in Elle Décor, House Beautiful, Vogue, House & Garden, Domino and W magazines…. And as of last fall, Redd's fabulous "The Big Book of Chic" (published by Assouline), has hit the shelves.  This is an inspirational resource and compilation of all things chic, lavishly illustrated featuring a diverse selection of his unique interiors, a visual feast for anyone interested in spirited, eclectic design.
If you're as smitten with Miles as I am you must take some time to listen to this interview with my fellow #BLogTourNola compatriot Linda Merrill of Surroundings – posted on her popular interior design podcast The Skirted RoundTable.
Miles Redd – Elle Décor
Loaded down with a freshly signed design book… next up, it's time for JAZZ!!! You CANNOT go to New Orleans and NOT listen to music! So we'll skip out of the Ogden and over to Lafayette Square for "Wednesday at the Square".  This is part of a series of twelve free outdoor concerts from early March through late May by well-known New Orleans and Louisiana artists. Tonight we'll be listening to The Revivalists + Disco Demolition Knights.  Elevated above the crowd on a big sound stage, each week bands perform a wide variety of indigenous musical styles, including jazz, rock, funk, swamp pop, Latin rhythms and more.
Photo Credit: tos/offbeatmagazine/7263820408/" target="_blank">Off Beat Magazine
Once our toes getting tapping, we'll leave the muggy outdoors to get steamy INDOORS  ….  Get your mind out of the gutter.  We're going to dinner courtesy of Mr. Steam!  You'll remember that Mr. Steam is one of our #BlogTourNola Sponsors. 
Mr.Steam® makes the world's most luxurious steam showers and steam baths for the home and for the spa  – not to mention diva worthy towel warmers!  They're taking us to Bayona where Louisiana native Susan Spicer defines her cooking style as being  "New World".  She's known for her imaginative dishes on a constantly changing menu served in an early-19th-century Creole cottage that glows with flower arrangements, elegant photographs, and trompe l'oeil murals suggesting Mediterranean landscapes.   Rumor has it that this is the place to eat dessert first, lest you're too full to eat dessert.  I'm having fantasies about that maple-semolina cake with golden-raisin compote and pomegranate sauce.
The only thing I love more than food, antiques and travel is taking time to go to the spa – unfortunately it's something I don't do nearly enough.  When I do go one of the first things I do is plan time in the steam room before the sauna and then an ICE SHOWER.    With Mr Steam, it's now possible to have that Spa Experience at home, avoiding what #BlogTourCologne alumni Paul Anater calls "Being Naked in Public".  One of the products we'll be learning about is the iSteam, a new home steam shower experience that marks a new era in bathroom remodeling options. As easy to use as a smart phone, the beautiful graphics of the iSteam touch panel are unprecedented in steam controls. With a swipe of the finger, the iSteam's intuitive touch screen navigation allows the user to seamlessly control temperature, time, aroma, chroma, audio entertainment, and overall steam system functionality.  You can even use iSteam's accessory commands for optional chromatic lighting and aromatic infusers to transform your shower into a sensory spa.  Now this sounds like an experience fit for a diva.
In fact, this whole day is Diva Worthy! From Shaun Smith Home, to Miles Redd to Mr Dreamy, I mean, Mr Steam….  Today in New Orleans is Drop Dead Diva!
The Antiques Diva®