Dear Diva Readers,
top: 5px; float: left; color: white; background: #781300; border: 1px solid darkkhaki; font-size: 60px; line-height: 50px; padding-top: 1px; padding-right: 5px; font-family: times;">I've always had an interest in interior design as well as antiques. In fact, I studied interior design in school and still enjoy decorating my own home when I have spare time! Perhaps one of my favorite parts of my job is to watch how antiques inspire current design trends. They say there is nothing new under the sun, and in fact, one design staple of the past few centuries has a lot to do with the sun! I'm talking about the sunburst mirror of course! This popular decorative piece has deep roots that involve religion, royalty, and repurposing, but it has been reinterpreted over the years and continues to be a fixture of home fashion today.
It is thought that the sunburst mirror has its roots in medieval European churches, when the Catholic church would use elaborate decorations including rays of sun and gilded sunbursts around the heads of religious icons. With the plethora of saints and statues of the Holy Family, wood and metal rays of light seemed to adorn every precious relic in the church. Perhaps when churches were remodeled or torn down, these sunbursts were salvaged and mirrors were added to them, resulting in small sunburst mirrors. Today you can find many antique religious pieces which have been salvaged from Italian churches. These pieces are often priced reasonably because most Italians wouldn't put architectural elements from a church in their home, however the trend of repurposing religious pieces is spot on in America.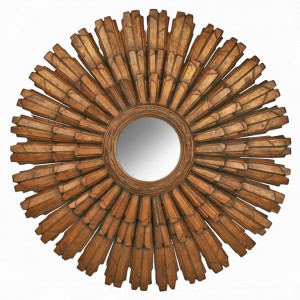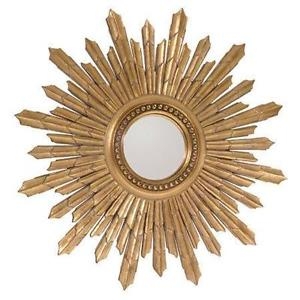 It is also known that King Louis XIV proclaimed himself the Sun King in the 17th century and incorporated rays of sun in much of his decor and architectural elements at Versailles. The head of Apollo, the sun god was a favorite personal emblem of the king, and as a result, it adorned much of the furniture of the time and was also carved into wall panels. In the late 17th century, King Louis XIV established his own glassworks factory in France, and began to have grand mirrors crafted. The Hall of Mirrors at Versailles is evidence enough of his love of mirrors and gilding. With the king's affinity for sunbursts, it is no wonder that the motif became widely popular throughout France and continues to be a recurring theme in decor there.
The sunburst mirror became highly sought after again in the early 19th century. Throughout Europe and America, sunburst mirrors were being produced and incorporated into homes everywhere. By the 1940's, Hollywood Regency became all the rage and the sunburst mirror again regained its popularity. Over the next few decades it was reinterpreted in metal and plastic and at times given a more modern shape. In fact, some of these mid-century sunburst designs looked extremely modern with sharp spikes used as rays or even incorporating smaller circular mirrors along the rays to add more shine.
Regardless of what style of sunburst mirror you prefer, it's quite obvious that this mirror is not going out of style any time soon! From 17th century French gilded wood to Italian 1960's metal, we see sunburst mirrors on Antiques Diva buying tours all the time and I love hearing the history of each one. If you would like more information on an Antiques Diva Buying Tour or our Buying Services, email us at info@antiquesdiva.com.
Cheers,
The Antiques Diva®