Dear Diva Readers,
top: 5px; float: left; color: white; background: #781300; border: 1px solid darkkhaki; font-size: 80px; line-height: 70px; padding-top: 1px; padding-right: 5px; font-family: times;">While this blog could begin with an "Extra, Extra, Read All About It" announcement that tonpost.com/blogs/all-we-can-eat/post/a-french-connection-mrswheelbarrow-goes-to-grrls-meat-camp/2011/09/15/gIQAXNXafK_blog.html" target="_blank">The Antiques Diva® was in The Washington Post blog, the story starts much further back than that.   It all started when Haven in Paris wrote an article on their blog "tour-of-paris-marche-aux-puces/" target="_blank">HipParis" on The Antiques Diva & Co, giving a review of our tours/france/ " target="_blank">Paris Antiques Tours.  
Cathy Barrow, famous for her blog Mrs Wheel Barrow, read the tour-of-paris-marche-aux-puces/ " target="_blank">HipParis article and left a comment saying "I need to do this tour!"  Having long been a fan of Cathy's writing and wonderful recipes and food discussions I jumped on the chance to meet her, emailing "Cathy we'd love to offer you an Antiques Diva tour next time you're in Paris!"  Well,  bim, bam, boom… it just so happened Cathy Barrows was coming to Paris only a week or so later.  With some last minute juggling of schedules we rendezvoused in the city of light!  She had a tight schedule and less than 24 hours to do Paris (don't worry – this must have been her 30th trip to Paris so she was well-versed in what she considered the highlights to hit – primarily gourmet food, shopping for gourmet food, Hermes, the flea markets and more gourmet food – you can see why I like her so).  Our goal was to maximize her time soaking in all the quintessential Parisian experiences…. and to do a slew of flea marketing while she was at it, all the while power chatting over shared interests and common bonds.
The Paris trip was an afterthought in Mrs Wheel Barrow's French Countryside excursion – for Cathy knew she couldn't come to France and not spend some time (even if only a day) in Paris.  Her real reason for coming to France was Les Grrls Meat Camp with Kate Hill's Gascon Kitchen and Cathy had been tapped by The Washington Post to write about her week at this French cooking school for their blog.  Since she was meeting me in Paris she decided that our tours/france/" target="_blank">Paris Antiques Tour was equally tonpost.com/blogs/all-we-can-eat/post/a-french-connection-mrswheelbarrow-goes-to-grrls-meat-camp/2011/09/15/gIQAXNXafK_blog.html" target="_blank">Washington Post blog worthy and gave some great coverage of our day!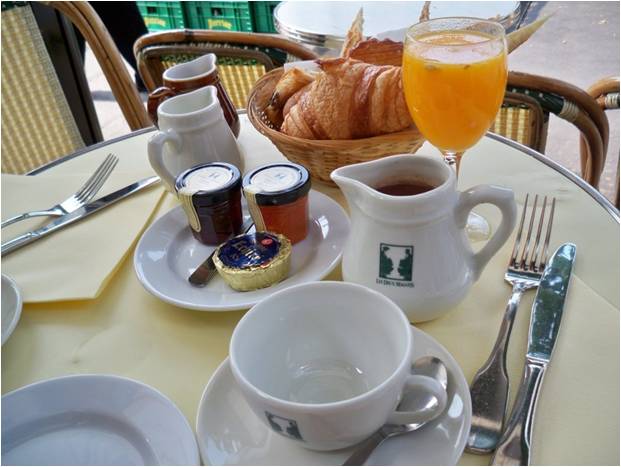 We started the day with a chat over a Café Crème at Les Deux Magots as it turned out to be both our favorite Parisian coffee haunts.  Knowing that Cathy has an incredible collection of Hermes scarves and knows not only the pattern names but also Hermes' various artists, I'd organized a special event in her honor! I'd called ahead to Les Trois Marche de Catherine B – unquestionably the BEST source for vintage Hermes in Paris – and asked the affable and charming Catherine if they'd open early for us to view their collection in private before we dashed to the Porte de Vanves flea market and then on to another traveling one-weekend-only brocante later in the day. 
Catherine greeted us with an effervescent smile and while Cathy tried on Hermes scarf after Hermes scarf, draping herself in luxury, I lovingly sported one vintage Chanel bag for the entire time I was in the shop.  I've fallen in love with this particular purse (which sadly I didn't photograph) but should my darling husband happen to be reading this post…(hint, hint) Catherine knows which bag I want!  Can you say "DREAM CHRISTMAS PRESENT"?
Invigorated by that luxury shopping we hopped on the metro ready to conquer the day.  First official Flea Market stop of the day?  The Porte de Vanves flea market.  Cathy had told me she was looking for less expensive items, perfectly packables and anything to do with French cuisine.  She honed in on some café au lait bowls, some darling French menu cards and an array of French cutlery.    
Cathy wrote in her tonpost.com/blogs/all-we-can-eat/post/a-french-connection-mrswheelbarrow-goes-to-grrls-meat-camp/2011/09/15/gIQAXNXafK_blog.html" target="_blank">Washington Post article about the Porte de Vanves experience, "The whirlwind shopping day never could have happened without Toma's help. She came well-prepared and rapidly sensed what I was looking to find. I appreciated her well-trained eye and her advice about how to bargain."
Famished from all that shopping, we decided lunch was in order!  But not before we met a friend.  If meeting famous blogger Cathy Barrow was NOT enough excitement for me, Cathy had arranged for us to meet up with a friend of hers for the afternoon – Author Kari Underly of "The Art of Meat Cutting".  Kari was fresh off the plane, arriving Paris only hours before we met for lunch, and would be joining Cathy at Meat Camp in Gascony. Kari had spent the last few days in NYC today.msnbc.msn.com/id/44522510/ns/today-food/t/take-crash-course-butchering-beef/" target="_blank">doing appearances on the Today Show, and meeting with Food & Wine magazine among others and burst into Paris ready to rumble! 
With our stomachs rumbling we rounded the corner from Kari's hotel and took a seat at the famous French café Le Dome. With two "Meat Camp" gals by my side I was certain they'd order entrocote, but when we saw the fish of the day go by we all three decided Poisson was in order!
From Le Dome, it was time to conquer our 2nd market of the day.  Cathy wanted to get off the beaten path so rather than visiting the traditional flea market at St Ouen we visited a traveling brocante in town for only that weekend.  This was Kari's first trip to Paris – and she was a flea market virgin – so with appropriate fanfare our afternoon shopping began!
You'd never guess what the girls gravitated towards at the brocante…..  ANTIQUE KNIVES!!!
After whiling away the afternoon flea marketing, we made our way back across the Seine for a little shopping and site-seeing in St Germain des Pres!
Cathy had one "must do" on her Diva Antiques Tour in Paris – she had to take time to stop at her favorite shop in Paris, L'Huilierie LeBlanc on Rue Jacob, to buy incredible olive oils and vinaigrettes.  This was the one thing she couldn't miss on her trip to Paris.  Coincidentally I'd lived literally around the corner from that shop for five years and had spent my fair share of Euros in this boutique over the years – we agreed it was simply the best olive oil shop in town!
With olive oils and vinegars purchased, our arms laden with our antiques we decided the perfect way to cap off the day would be Laduree!   Enjoying champagne & macaroons, we curled into a booth to meet The Antiques Diva & Co Paris team as well as the famous French blogger La Mom for a final farewell to the day.  All in all, Cathy Barrow might have only had 24 hours in Paris but I'd say we made the most of her time, helping her Tour Paris, Antiques Diva Style!
To find out more about our tours/france/" target="_blank">Paris Tours email to:info@antiquesdiva.com">info@antiquesdiva.com – all tours are private one-on-one experiences fit for your French fancy.
The Antiques Diva
(with 2 of the 4 Parisian Diva Guides – Franca & Jen – at Laduree)