Dear Diva Readers,
toast_1.gif">
toast_1″ src="https://antiquesdiva.com/wp-content/uploads/2011/12/new_years_toast_1.gif" alt="" width="338″ height="358″ />
top: 5px; float: left; color: white; background: #781300; border: 1px solid darkkhaki; font-size: 80px; line-height: 70px; padding-top: 1px; padding-right: 5px; font-family: times;">Chez Diva it's a celebration every day of the year – and so I'm always looking for fab ideas for celebrating with Diva Style! This New Year's Eve, Roving Reporter Candid Kellogg has written in to The Antiques Diva® site sharing some sensational suggestions for setting a festive table, giving ideas for a memorable New Year's Eve party!  Kellogg suggests famed antiques dealer MS Rau Antiques for premier one-of-a-kind items that will get the party going!
If you need an excuse to dazzle your guests, or are looking for the ultimate party gift, look no further than MS Rau Antiques, America's oldest and largest antiques and fine arts dealers located in the historic French Quarter of New Orleans. For close to one hundred years, MS Rau Antiques has been collecting and offering some of the rarest and most important antique and objet d'art pieces ever seen. From a pair of matching sterling silver Paul Storr wine coolers (circa 1810) with royal provenance, to a monumental Baccarat crystal chandelier (circa 1880), you will be dubbed the host or hostess with the mostest this season.
Even if your home doesn't have a ballroom, you can set the scene and can turn any foyer or entry way into a dramatic entrance for your guests with this awe-inspiring 30-light crystal chandelier by Baccarat, one of the world's most famous crystal houses in France and called the King of Crystal. Not only does this dazzling light source sport crystal prisms, but crystal beads and bronze doré branches complete the composition. Dating from 1880, Baccarat was already world renowned for its chandeliers and tableware that graced the royal homes of Louis XVIII, Charles X, Emperor Napoleon III, Czar Nicholas II, as well as the royal courts of India and the Middle East. This particular chandelier has been restored for electricity and is offered at $98,500.
Make your open bar a sight to behold with this pair of exquisite Regency period sterling silver wine coolers. Georgian silversmith Paul Storr, whose atelier crafted gracious and elegant silver works during the Regency period, created this matching pair of wine coolers for HRH Princess Beatrice, the youngest daughter of Queen Victoria and Prince Albert. They are in impeccable condition and exhibit exquisite detailing ($228,500).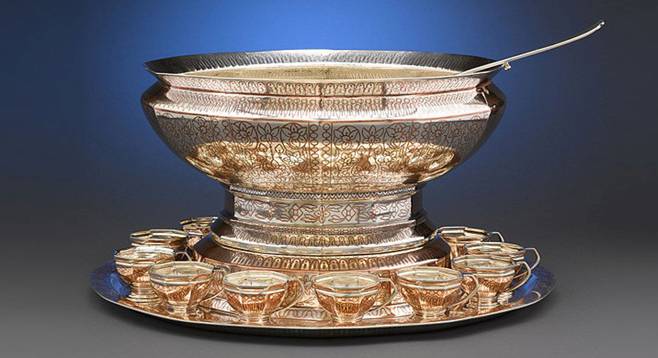 Ratchet up your punch recipe by serving it in this rare Tiffany & Co. silver punch set inlaid with copper, circa 1906. Even if it's used once a year, punch or even eggnog will take on a new meaning and have party guests coming back for more punch and swooning over the sheer size and weight of this service (weighs 335 ounces) that includes 12 cups, bowl, ladle, and plateau tray ($248,500).
After dinner drinks never looked so glamorous when served from this extraordinary 'cavé liqueur', a crystal enclosed cabinet in cut ruby crystal and accented in gilt bronze (circa 1870). Three liqueur bottles and 15 matching cordial glasses, all decorated with hand gilding, fit snugly inside this gorgeous Rococo style case, and are displayed on a mirrored glass tray that is removable from the circular case and has an intricately decorated lid. The workmanship is beyond exquisite and even for those who don't make a habit out of serving after dinner drinks, this exceptional 'cavé liqueur' is something that get everyone talking.
This New Year's Eve, celebrate with Diva Style with a  little help from our friends at MS Rau in New Orleans.
Happy New Years,
The Antiques Diva®