Dear Diva Readers,
top: 5px; float: left; color: white; background: #781300; border: 1px solid darkkhaki; font-size: 60px; line-height: 50px; padding-top: 1px; padding-right: 5px; font-family: times;">We're delighted that Tamara Stephenson, interior designer and author of lifestyle blog Nest by Tamara is guest blogging today, sharing her favorite design sources with The Antiques Diva & Co.  Out on the East End of Long Island in the area known as The Hamptons there are many shows, flea markets and specialty shops.  Tamara sources vintage and antique pieces regularly for herself and her design clients and today shares one of her favorites stops with us.
Guest Blog: My favorite antique shopping in summer allows me to gain more knowledge about items I collect.
By Tamara Matthews-Stephenson
Photographs by Gabby Stephenson
It is no secret that the annual East Hampton Antique Show is my favorite in the area, and set on the bucolic and historic Mulford Farm it is a special place to pick up quality pieces from reliable dealers.  Drawing from some of the best shops around the east coast, this show offers something for everyone's taste from mid-century to Victorian era furniture and accessories.  I have gotten to know many of the dealers personally in this informal setting, which is located every mid-July on James Lane in the heart of the village of East Hampton on 3.5 acres of historic land, complete with a restored 17th century farm house and several barns and outbuildings, some of the oldest in Long Island.  The farm is even home to a historic windmill built by Dutch settlers centuries ago here in eastern Long Island. The show is set up with large billowing white tents spread throughout the grassy, pretty farm giving visitors plenty of room to meander the property and inspect the goods.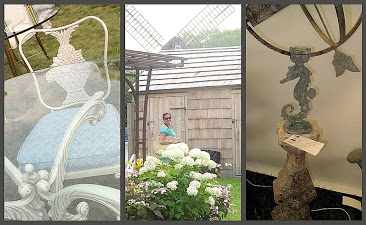 tons, The Antiques Diva, East Hampton Antique Show, Mulford Farm, Gabby Stephenson" width="366″ height="225″ />
Over the years I have found a cornucopia of lovely antique textiles, outdoor garden sculptures, furniture, mirrors and lamps.   I have even added to my Majolica earthenware collection.  One of my favorite antique dealers hails from the north shore of Boston's seaside town of Essex. Andrew Spindler hand picks items both locally and internationally for his shop and the shows where he exhibits.  His booth shows rare and unusual furnishings that he arranges together in a stylish manner.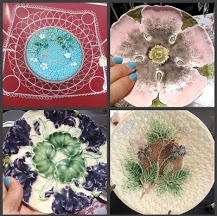 tons, The Antiques Diva, East Hampton Antique Show, Mulford Farm, Gabby Stephenson, Majolica" width="217″ height="216″ />
Each summer while visiting this show I find pieces to add to my collections.  This year I found vintage hand towels and monogrammed linens from a local vendor to give as a hostess gift.  Last summer, I picked up a cute, Irish impish-looking painted cement garden gnome from a Vermont dealer, promising to bring good luck to my garden.  I also found a pair of Faux Bois metal outdoor chairs for under my client's pergola.
tons, The Antiques Diva, East Hampton Antique Show, Mulford Farm, Gabby Stephenson, Majolica" width="303″ height="179″ />
Over the past few seasons, I have added to my collection of Majolica earthenware from this show where a few dealers bring select and unusual pieces.  Majolica is a very specific looking, unique pottery often adorned with flowers, crustacean, seashells, vegetables and fruit, all of which were applied as tiny sculptures layered on top.  It was first made in Staffordshire, England around 1850, and taken from earlier tin-glazed procedures made by craftsmen in Italy during the 15th century. It became very popular during the opulent Victorian era when entertaining in the home was popular.   Majolica is a lead and tin glaze process that creates an opaque white film that is painted on the surface of pottery. First the piece is fired then a tin enamel is applied that once dries forms a white opaque porous surface. The complicated process produces unique pieces that are often colorful and bold.  I learned much about Majolica at the East Hampton show, and while talking directly with the knowledgeable dealers.  The informal atmosphere at the show is a perfect environment to learn more about items you enjoy collecting.
tons, The Antiques Diva, East Hampton Antique Show, Mulford Farm, Gabby Stephenson, Majolica" width="300″ height="85″ />
Each year the opening of the show is marked by a celebratory cocktail evening/gala where champagne and delicious food is served and provided by local caterer Brent Newsom.   Renowned interior designer Celerie Kemble hosted this year's gala with live music performed by Jane Hastay and Peter Martin Weiss. Sponsors of the antique show include BNY Mellon Wealth Management, House Beautiful magazine, Channing Daughters Winery and Charlie Whitmore Gardens. The show is managed by Ferguson & D'Arruda of Providence, Rhode Island.
tons, The Antiques Diva, East Hampton Antique Show, Mulford Farm, Gabby Stephenson, Majolica" width="239″ height="179″ />
Thanks Tamara for sharing an insiders glimpse on antiquing in The Hamptons!
The Antiques Diva®