Last month I wrote a blog sharing details of my personal life as well as in #Divaland. While you may know me as The Antiques Diva – I joke to my real-life friends "Don't call me Diva!" The real me – Toma Clark Haines – is "Toma Only."
This nickname harks back to circa age 4 when my grandmother would call me "Toma Iola." I was named after her, with my first name the female derivative of my grandfather Thomas and my second name coming from her's, "Minnie Iola." She was the only who ever called me Toma Iola and Little Me would get so angry. I would stomp my feet telling her, "No. Toma Only" so she then called me "Toma Only."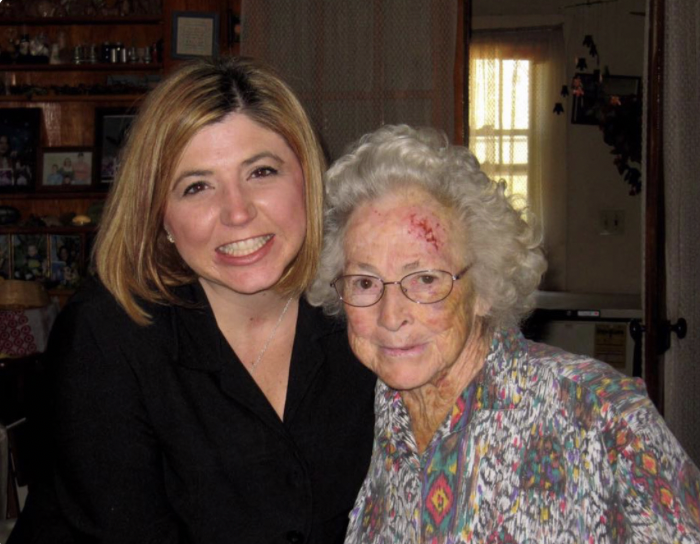 I can't help but to pause and pay tribute to the woman I was named after.  
Grandma Minnie was a spitfire. She loved shoes. And the color red. She liked to set her hair before bed in green curlers. And she kept a fully stocked glass cookie jar at all times. Her hands were rough. She was a rancher's wife. She always wore a silk scarf. And she worked harder than anyone I  knew.  She had a laugh that the wind would carry across the Oklahoma planes and as my dad drove me up the long dirt road to Grandma's the wheat would dance and shimmy in excitement. When she disciplined me a smile slipped out the corner of her mouth. She let me sit on her lap when I was naughty. And I was naughty often. I would lean against her soft chest and feel at home. She would do laundry and hang her giant bras to drip dry over the old iron bath and I would gape in wonder. I took a cantaloupe from the cold pantry and tried putting it in one of her bras but the melon fell to the floor spilling seeds on the cracked linoleum. She let me wear her jewelry. She was not even 5 foot tall. She had secret closets. Closets and closets full of treasures that she let me dig through and explore wonderlands. She let me go on adventures. I would travel into her closet and come out a pirate, a secretary, a cowboy, a geisha, a lion tamer, a diva… In fact,  I went into her closet and I tried on different personas until… I came out me.  
Toma Only.
The last year since moving to Venice has been a voyage in discovering myself – determining my priorities. I love my job. It's what I would do if I weren't working. I'm one of those truly lucky people who gets paid to pursue their passion. As a result, I work too much. And one day about a year ago I felt tired. Perhaps it was the stress of a divorce, an impressive ability to avoid dealing with my problems, an international move combined with a decade of 80 hour work weeks or a constant state of jetlag. So I decided to do the hardest thing I've ever done. I decided to pursue BALANCE – yes, I write the word entirely in caps. It's daunting that word, it felt big and insurmountable. Impossible.
Not entirely knowing where to start I went to the gym. Not because I wanted to lose weight (though, yes indeed I needed to) but to work out stress. And then I started meditating. I took Italian lessons. I realized how utterly I suck at the pursuit of languages but continued anyway. I started Marie Kondo-ing my house before I knew who Marie Kondo was. Going room to room and ridding myself of possessions that didn't make me happy. At the core – that was what I was in pursuit of. Happiness. I got 2 kittens – Fortuny and Fiorella and my heart swelled. I dated an Italian boy. Or two. 😉 I home-cooked dinners for lunch and sat at my dining room table in my kitchen with a cloth napkin and candles lit at a table set for one. And I continued to work. But on my terms. I took naps. I read books in my chaise longue. I rethought my business. I tried to travel less. (I failed greatly at that goal.) I relied more than ever on my team. I learned to delegate. I learned to shut down my computer at the end of the day knowing that I had 605 unread emails. #SorryNotSorry I learned to shut off. And in doing so, it turned ME on. Toma Only.
Robb Report Features Me
Over the last decade, I've been in 100's of magazines, from Forbes, New York Times, Marie Claire, House Beautiful, the Wall Street Journal (even Wall Street International last week). But sometimes a journalist hones in on the essence of YOU. Hadley Keller did it in her Architectural Digest article when she gave me the moniker, "the woman in red lipstick". Vogue's Lynn Yaeger called me, "The Woman of the World." And Aspire Design and Home magazine flattered me by quoting my famous mantra as I sashayed along the Seine, "I wear heels, I walk fast, You better keep up." And Robb Report did it again, in an article on Mercanteinfiera where they quoted me extensively and starting the article by referring to me as a "Bon Vivant."
Definition: Bon Vivant. One who lives well. 
In fact, that's such a fabulous description of me that I might request it on my tombstone.
In our Antiques Dealer Mentoring Program it's one of the first questions I ask a client. "What do you want to be known for?" Yes. We need to know professionally what you want. But personally is what I care about. At the end of your life – What goes on your gravestone? Nothing else matters. One client answered, "She was kind to everyone" and my heart swelled. Our antique dealer mentoring program honed in on that – what it means to be kind and for her, that also meant she meticulously researched her items, shared information with everyone, created a space in her booth at Round Top that the other dealers and shoppers consider a resting ground, a respite in the middle of the Texas heat. Another client laughed and said, "She made a darn good martini."
What are your priorities and how are they reflected in your business? When I work with mentoring clients, I want you to focus so every decision you make for your career keeps that goal in mind.  
Since launching the training program, I was surprised by the number of long-term established dealers who had contacted us. We expected new and nearly new dealers but I didn't expect 2nd and 3rd generation antique dealers and antique dealers who had been in the business 20, 30 years. The secret to success in business is to #AlwaysKeepLearning. Starting a new career in antiques is exciting – it feeds your soul to pursue your dream. But what about when you've been doing the job a while and you are starting to get bored? When it's no longer a passion but a chore? How do you teach a new dog old tricks? How do you add knowledge when you know everyone and everything? You shake it up. You deconstruct it. You do a complete ReBoot. A complete RePrograming. Diva 3.0. In on our Antiques Dealer Training Program, that's what we try to help you do, whether you enroll in our intensive one-on-one 10-week mentoring program or if you join me at our small group training in NYC April 10 & 11.
2 Day Antique Dealer Training Workshop
April 10 – 11, 2019 in New York City: 
I would love for you to join me, Toma Clark Haines The Antiques Diva, and Margaret Schwartz of Modern Antiquarian in New York City for a small group 2-day training for antique dealers. This program allows you to network, ask questions and power through The Antiques Diva Training & Mentorship 3-month program in 2 days! 
Learn from Industry Leaders and Insiders:
Expert antique dealers and buyers who understand the antiques market
How to stay ahead of design trends
Strategies to make your passion for antiques profitable 
And so much more!
Act Fast! Workshop price returns to $2000 on April 7.
Learn More about our 2-day antique dealer training in New York City
Part of my pursuit of BALANCE has been attempting to travel less – I've totally failed at that goal, but I like to think I'm failing forward. I'm choosing wiser when it comes to traveling. In addition to the upcoming trip to NYC to lead the 2-day mentoring workshop (I'm combining that with a trip to High Point #WatchThisSpace), I'm taking a vacation across China. And that trip is all personal. I'm traveling with a boy and attempting to go with one carry-on sized suitcase packing for temps from 30C to -10C.
#WhatPartOfDivaDidYouMisunderstand?
(If you want to watch how I packed for that trip catch me on a Facebook Live @TheAntiquesDiva on a casual day at home WATCH.) I do have one minor shopping fantasy for the trip to China that I'll find a piece of fabulous art to hang over my couch. By the way – the chaise lounge (right of the couch) is actually the very chaise lounge that I based my Antiques Diva Collection by Aidan Gray chaise on!
In January I achieved 100K status on United – 100,000 miles in the course of a year!!! So what were the last few trips that helped me reach my Premier 1K status with those 6 complimentary first class upgrades for 2019? (lol – insert mental image of a champagne glass and full-reclined sleeping bed here!)
The Antiques Diva Furniture Collection by Aidan Gray
Dreams do come true. In October I fulfilled my 20 year-long dream of creating my own furniture collection: The Antiques Diva Collection by Aidan Gray. In the slideshow below you'll catch the fabulous (and famous!) people in the interior design trade who came out to help me celebrate at our Launch Party at the October High Point Market.
THANKS SO MUCH FOR YOUR SUPPORT AND ENCOURAGEMENT! 
The top hits in the #ADbyAC collection are without a doubt:
the lucite Louis 16 style console
the lucite backed chairs
the contemporary take on animal prints on our abstract ottoman
Iconic Design
Occasionally you have those pinch-me moments and that moment happened when a director on HGTV was talking to me after I spoke on a panel about Global Women in Design and she said, "blah blah blah… your iconic chair… blah blah, blah…" and I said, "Wait… Iconic!!?" And laughed – I may pretend to be a Diva but my feet are pretty firmly on the ground – I learned a long time ago not to believe my own press. "I would hardly call it Iconic. The collection only launched yesterday." And she brushed my objection aside, "Yes but you know it and I know it… years later it's how it will be referred to. So why not start now?"
All We Have Is Now
Anyone who knows me well knows that Carpe Diem is my mantra. Seize the Day. Imagine my absolute delight when I was in England recently leading a series of events for the Bath Decorative Fair and I discovered a neon sign that read, "All we have is Now." I've pinned about a dozen neon signs to my Pinterest board over the last 6 months for #DesignInspiration as I started working on decorating my Venice apartment. Imagine my joy when I found this one in the Malthouse Collective in Stroud, England. Needless to say, that baby found itself as part of my checked luggage and now hangs above my chaise longue in my living room.
One of the things that have taken on extreme importance in the last year or two has been the concept of home. And while I make my home in Europe – America always feels like home to me. I sort of straddle 2 continents mentally. You can take the girl out of America, but you can't take America out of the girl.  
I'm thrilled we've started offering more and more #NoPassportRequired Tours:
The Original Miami Beach Antique Show
When the fair coordinators at US Antique Shows asked me to lead a series of tours at The Original Miami Beach Show I jumped at the chance. Miami? In January? You don't have to ask me twice. A slew of antique dealers and designers from around the USA flew in to join me including Margaret Schwartz and Kelly Macguire of Modern Antiquarian, Laurent Gouon and Mimi Montgomery of Lolo French Antiques et More, Michael Mitchell and Tyler Hill of Mitchell Hill, Nancy Price of Nancy Price Interiors and Stacey Tiveron of Ronati.  
Here's a behind-the-scenes peek at of some of Toma Clark Haines' favorite vendors at The 2019 Original Miami Beach Antique Show with U.S. Antique Shows
Held each year in January, The Original Miami Beach Antique Show is a destination antique show. Days are spent shopping the antiques fair, stocking up on amazing inventory from jewelry to mid-century to some of the best art deco on the planet, as well as a surprising amount of classical antiques; while nights out involve Cuban music on Calle Oche, dining in some of the top-ranked restaurants in America, lounging by the pool and touring the local art deco scene. 
Save the date for next year's fair: January 4-8, 2020
Email me or #WatchThisSpace for details on how you can join me next year for a #DivaTrip to #OMBAS
Charleston Antiques Tour with Southern Style Now
Speaking of our famous #NoPassportRequired Antique Tours, I've not had a chance to write about our recent Antiques Diva Charleston Antique Tour as part of Southern Style Now. After the success of their annual events in New Orleans and Savannah – the end of last year they moved the conference to Charleston where the antiquing is to die for! I took Southern Style Now fair participants on a 1-day tour of the best antique shops in Charleston! If you're traveling in the South and seeking to source antiques definitely visit King Street to Shop Antiques Diva Style!
A few of our Antiques Diva Favorite Antique Dealers in Charleston include:
Golden & Associates
George C Birlant & Co
David Skinner Antiques & Period Lighting
Tucker Payne Antiques
Silver Vault of Charleston
While not on King Street, there is another antique dealer in town that I MUST MENTION AS BEYOND FABULOUS – Wynsum Antiques where one of my favorite (and the nicest) dealers in town has an antique shop – Terry Stephenson of Juxtaposition!
As I write – Round Top is just about to start. And I'm starting to fantasize about planning our next group tour for Round Top in the Fall. Interested in joining me antiquing in Texas? #NoPassportRequired Let me know and I'll keep you posted on this special GROUP TOUR as it develops.
Happy Antiquing!
Toma Only