Dear Diva Readers,
top: 5px; float: left; color: white; background: #781300; border: 1px solid darkkhaki; font-size: 60px; line-height: 50px; padding-top: 1px; padding-right: 5px; font-family: times;">Do you have plans for Halloween? If not, you are officially invited to join me in Venice! I'm thrilled to be the special guest at the 2nd Salon hosted by our Venetian Diva Guides, Orseola and Chiara of O&C Antiques. The first Salon event they hosted in Berlin last year was themed around "Drama," and showcased a wide range of antiques and modern art including ancient textiles, precious jewelry, works in mixed media, and photography. This Salon which will take place on October 31 at 6:30 PM is called "FOHAT," and will be in a gallery space in Venice. Guests will have the exclusive chance to see and buy gorgeous pieces of contemporary art and antiques showcased together for the first time.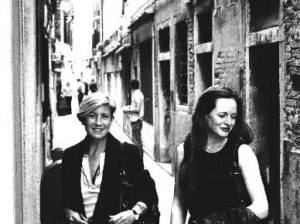 The Salon will feature a selection of antique art objects (O&C Antiques, ANTICHITA' MARCIANA, Antichita' Pittarello, Trame d'incanto – Venice), contemporary art (John Kleckner – Berlin, Marco Thiella – Venice), photography (Costanza Gianquinto – Venice) modern art (Gino Morandis, Alberto Gianquinto) design (Mariska Meijers – Amsterdam, NO WÓDKA – Berlin) and a music permormance (Francesco Enrichi – Venice), in an extraordinary visual and conceptual dialogue between objects and time. The event will be curated in collaboration with Venice Actually and Luca Caldironi.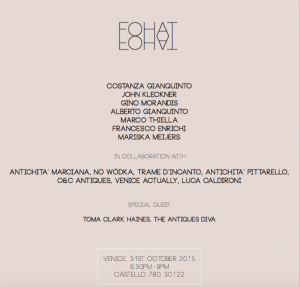 If this sounds like the type of event you want to attend, RSVP to info@antiquesdiva.com to be registered and to have more details about the event. Of course, if you'd like more information on future Salon events or if you'd like me to source pieces for you, please contact me! These international Salons are a truly unique way to acquire one of a kind artworks and antiques. I cannot wait to spend the evening sipping champagne, discussing unique objects, and possibly purchasing something for my own collection!
Ciao for now,
The Antiques Diva®