Dear Diva Readers,
top: 5px; float: left; color: white; background: #781300; border: 1px solid darkkhaki; font-size: 60px; line-height: 50px; padding-top: 1px; padding-right: 5px; font-family: times;">It's August 1st and that means it's time to start thinking about "Back to School." Rather than dreading this inevitable time of year, why not celebrate it with me here on the blog?!  Every student, child or adult, needs a good desk to study from, and so today we're going to learn about a very important antique desk: The Resolute Desk which resides in the Oval Office of The White House in America.
While this desk has been used by several United States Presidents, its history actually began across the pond in England. This stately desk was commissioned by Queen Victoria as a gift to President Rutherford B. Hayes in 1880. The wood used to make the desk were originally from timbers of an abandoned British ship called the HMS Resolute. The ship was discovered by an American vessel and returned to the British Queen as a token of goodwill.
Queen Victoria had William Evenden craft several desks from these timbers, including a writing table for herself. The name of the desk which she had made for the United States President is derived from the name of the ship from whence the wood came. The desk has been used by many presidents, including President Franklin D. Roosevelt, who had the desk fitted for a modesty panel carved with the presidential seal to cover the kneehole to prevent people from seeing his leg braces. However he never lived to see the modification completed.
Nevertheless, President Truman had the modesty panel installed when he took office in 1945. Prior to 1961, the Resolute Desk roamed about The White House until First Lady Jackie Kennedy decided to move the desk into the Oval Office and it still resides in this room today. In fact, the desk was made famous by a photograph of her husband, President John F. Kennedy, sitting at the desk while his son, John Jr., peeking through the kneehole panel.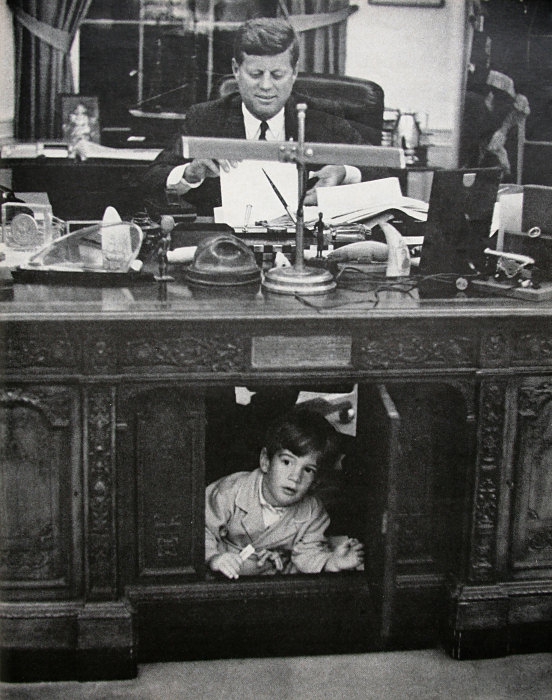 The history of The Resolute Desk just goes to show why antiques are such an interesting part of our lives. Whether it's the desk in the Oval Office or a desk in your home office, the fascinating story of each antique piece links us to the past while serving us in the present!
The Antiques Diva®