Dear Diva Readers,
top: 5px; float: left; color: white; background: #781300; border: 1px solid darkkhaki; font-size: 80px; line-height: 70px; padding-top: 1px; padding-right: 5px; font-family: times;">Recently The Antiques Diva & Co sat down with Paris Nook to chat about La Dolce Diva! You can read my conversation with Robert Kelen on their company blog as I share the behind the scenes story on The Antiques Diva & Co.  As Robert & I chatted, he said, "You know, I don't exactly do antiques… but I do sell gorgeous French and Italian custom-made furniture."  Knowing that antiques are always the solution for every design situation, I inquired for more information on his products.
Paris Nook actually began with an Italian accent. He started to import beautiful furniture from Italy to clients all across the United States and in Canada, but expanded their horizon to the artisanal furniture of France.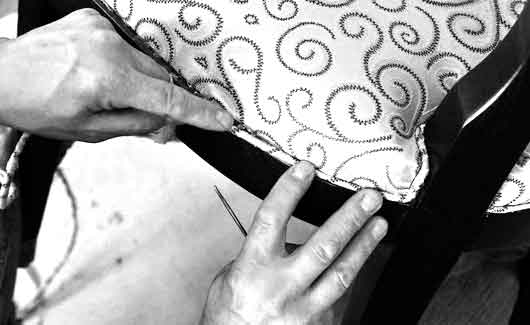 Antiques Diva:
How did you get started importing French furniture to America? What's your story?
Paris Nook:
For years we've been importing classically styled Italian furniture, direct from small artisan producers in Italy — primarily dining room furniture, but also living, office & bedroom furniture. As we were exploring ways to serve our clients even better, it became clear that French furniture would be a great additional to our offering. And because Italy and France are right next to each other, adding authentic French furniture the mix meant that we could readily leverage our experience bringing Italian furniture to the United States.
Antiques Diva:
While you sell modern day French furniture – these pieces have the classical lines from the past – how do you see antiques mixing with your inventory?
Paris Nook:
Our specialty is in connecting clients who have an affinity for classic European elegance, style and quality with the small artisan furniture producers who can help them realize their dream pieces of furniture. We don't directly sell antique furniture, but are often called on to help realize the perfect match to a client's existing antiques, or help produce the classic style of an antique they may have seen somewhere before but to fit their design needs.
Antiques Diva:
What's your favorite piece in your collection?
Paris Nook:
I really enjoy the excitement our clients express when the furniture that's been made just for them — in France or Italy — finally arrives in their home. So happy clients are the favorite pieces for me. (But I also like the little surprises in many of the pieces in our collection — like a hidden drawer here or self-storing table leaf there.)
Antiques Diva:
Before having kids and starting this business you traveled for 8 months… where did you go? And what inspired you? I always say that for perfect décor a home should reflect the person who lives there – that if someone walked into your home they should know where you've been, did you pick up any pieces on your travels that decorate your home today? Or has travel influenced the way you live? Decorate?
Paris Nook:
We were inspired by a desire to see more of the world, and to travel as long as we could before starting a family. We finished our around-the-world adventure hitting several points in Europe, including Paris (which both my wife and I love). But before that, we spent many weeks in parts of India and Asia.  Hand carved bowls from Vietnam, and hand woven rugs from Turkey and India would probably be the most striking signs of our travels to someone visiting our home today.
Antiques Diva:
Where can Antiques Diva Readers buy from your collection?
Paris Nook:
Our Authentic French Furniture is available at Paris Nook.
Our Italian Furniture collections are available at ItalyByWeb.com.