Dear Diva Readers,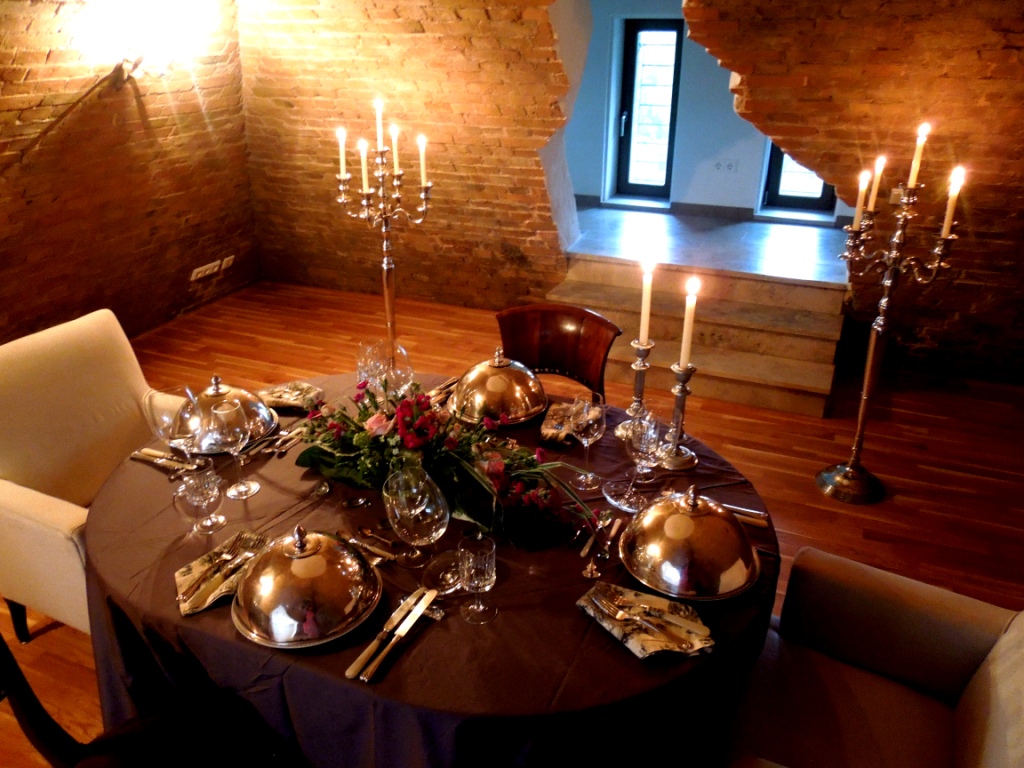 top: 5px; float: left; color: white; background: #781300; border: 1px solid darkkhaki; font-size: 60px; line-height: 50px; padding-top: 1px; padding-right: 5px; font-family: times;">In my last post I wrote about the deliciousness of Poggenpohl's luxury kitchens – just a few hours after that blog posted, I was in my own kitchen whipping up a dinner party.  Not just any dinner party… but our FIRST DINNER PARTY we've hosted since we lost our home in a fire on Thanksgiving 2012. The last 6 months have been a whirlwind. On a professional level – Antiques Diva business is blooming beyond my wildest imagination and it's incredibly exciting.   On a personal level – they've also been some of the most challenging in my life, as we struggled to start over having lost virtually everything we owned.
A Sneak Peak at our new home in Berlin….  Slowly but surely our decorating decisions are coming together!
On April 4th  – about 5 months after the fire – we finally moved into our new home – and then my busy season hit at work and 3 days after moving I went on the road, hitting 3 continents within a month's time.  Juggling decorating a new home with a travel schedule that could only be described as insane has been…  well, INSANITY.  But 2 solid months after we moved in, our house is beginning to look like people live here! This weekend's dinner party with dear friends who let us stay chez them following the fire was a wonderful way to feel like life was returning back to normal.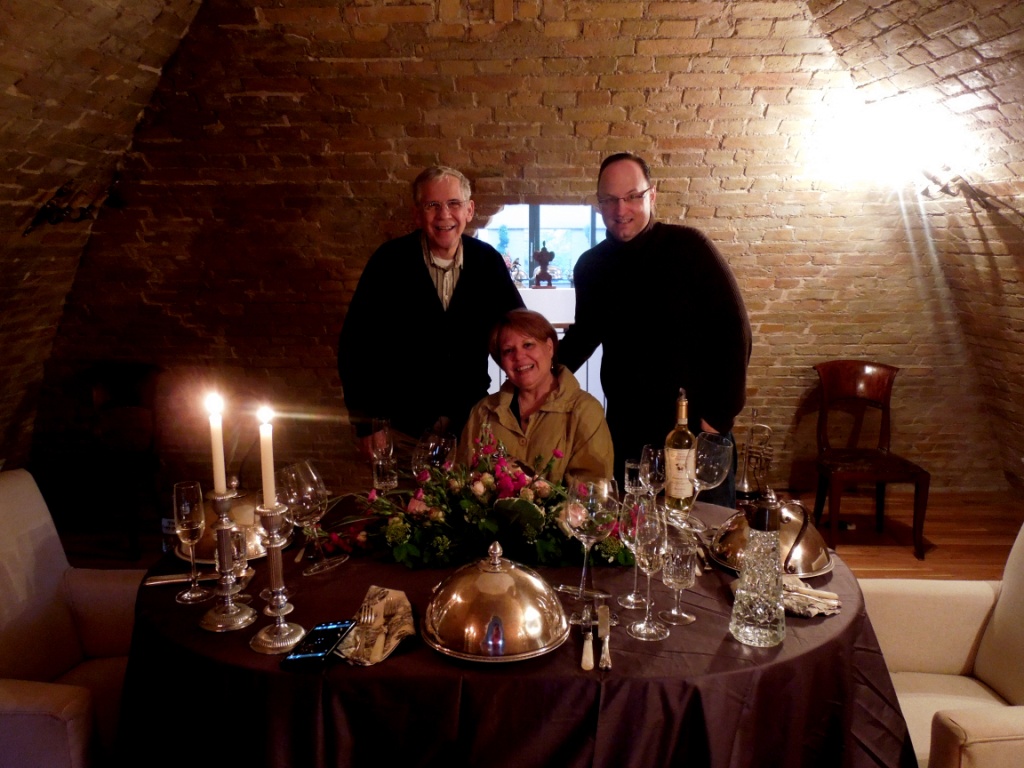 My husband with John & Gayle Butrin of Matthew's Table.  Special Thanks to Matthew's Table for letting us stay with them after the fire in our home.
While I haven't written much on my blog about our new home, I have actually been writing about the decorating process at The Daily Basics where they are featuring a series called Lessons in Real Life Decorating.  Several years ago House Beautiful  did a series where contributing editor Frances Schultz embarked on a renovation of Bee Cottage, sharing with readers behind-the-scenes details of how she decorated her home. As owner of Europe's largest antique shopping tour company, helping both the trade and tourists buy antiques abroad in 8 countries, I have a brilliant little black book of sources.  In this series I reveal where I personally choose to shop to decorate my European home.  I share photos on what I buy and why and, better yet, tell what I paid for certain purchases on this side of the pond.   For example, see the silver domes I used for that "voila" moment at my dinner party?  I bought them in England on a recent Antiques Diva Tour at The Blanchard Collective.
My series is not a guide for how to start over after a fire for my life is anything but "by the book", but it gives a good glimpse into what it's like to live and work in Europe and gives you access to my personal source list for buying abroad.  The first two segments are out already with Part One telling about our decision to change our decorating style when starting over and Part Two dishing on kitchens in Europe.  Did you know when you move into an apartment in Europe the kitchen is often not included?
Speaking of kitchens… let's get back to that dinner party last night!
Le Menu:
Antipasti
accompanied by a nice Prosecco
Seared Scallops Garnished in Truffles
accompanied by white wine from Tuscany – a 2009 Vernaccia di San Gimignano
tory" target="_blank">Sugar Pea Soup with Parmesan Creamtory" target="_blank"> Garnished with Truffles and Seared Scallop

Papardelle with White Truffles
accompanied by a Vino Nobile di Montepulcciano
Roasted Lamb Filets served on a bed of argula with side of Greek Salad
Cheesecake (brought by our guests)
We were very fortunate that, while most of our furnishings in our former flat were not salvageable after the fire, our extensive glassware and crystal collection was saved sans probleme! So was the silver my great great grandparents brought with them on the boat from Dover when they traveled to America before the turn of the century.  Now want to hear a confession?  In a pinch, needing a table cloth to fit our new table and give a festive flair of the occasion, I discovered last minute that IKEA's king size duvet covers made an ideal oversized table cloth.  This satin table cloth is machine washable and yet just dressy enough to  be perfect décor!  I love it when last minute improvisations turn out beautifully.
The Antiques Diva & husband with Gayle Butrin.
Bon Appetit!
The Antiques Diva®