Dear Diva Readers,
top: 5px; float: left; color: white; background: #781300; border: 1px solid darkkhaki; font-size: 60px; line-height: 50px; padding-top: 1px; padding-right: 5px; font-family: times;">Oh la la…  Traveling to Paris next week? While site-seeing in the city of light, we're inviting you to take time to shop at a special antiques fair set up along my favorite bridge, Pont Alexandre III. Held September 10-21, 2014 the ambiance for Le Salon Antiquaires Galeriestes couldn't be more perfect for a high-end antiques fair!
The antiques fair takes place on this Beaux-Arts style bridge in the light cast by the Art Nouveau cherub and nymph clad lamps. The style of the bridge reflects that of the nearby Grand Palais.  Both the Palais and the pont were inaugurated in 1900 for the Exposition Universelle World's Fair.  At the antiques fair you'll find treasures from this period and beyond!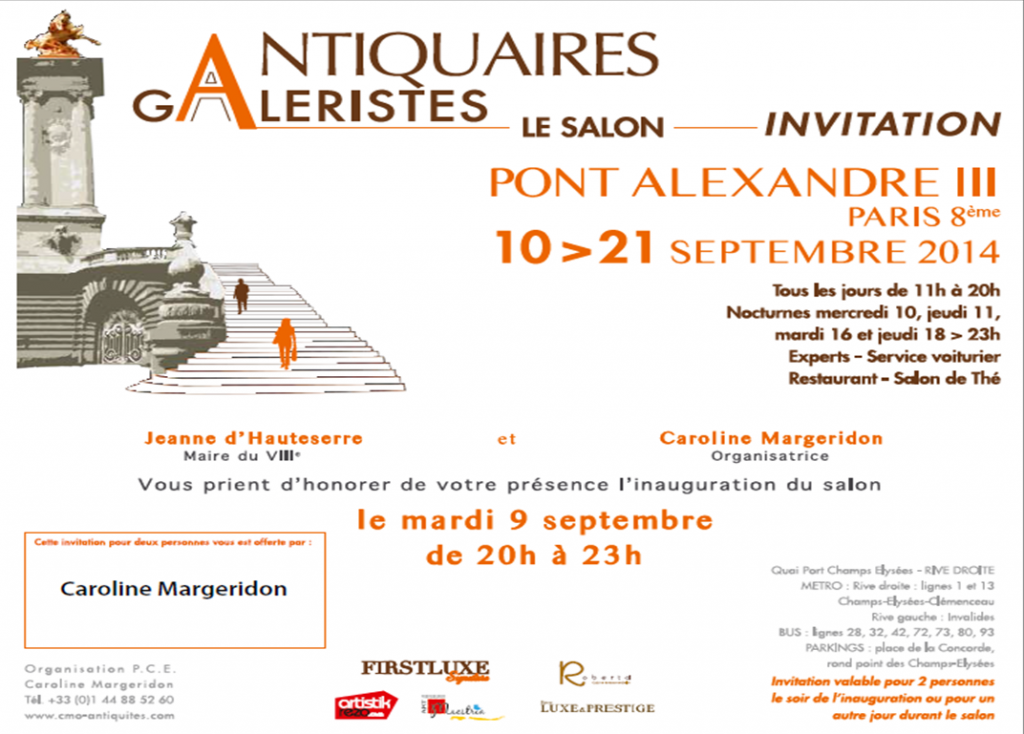 Enjoy with our compliments an invitation to attend the antiques fair for free  – just print this invite and bring with you to enter for some seriously diva-style shopping!
Bonne Antiquing!
The Antiques Diva® 
(seen below on Pont Alexandre III in a photo with my husband – taken in 2007)