Dear Diva Readers,
top: 5px; float: left; color: white; background: #781300; border: 1px solid darkkhaki; font-size: 60px; line-height: 50px; padding-top: 1px; padding-right: 5px; font-family: times;">Most often when clients come on an Antiques Diva Tour, they're looking to purchase a piece of Europe and take it home with them. What's wonderful about Europe is that each country has distinct historical styles and specific furniture pieces they are known for. In France, one of the quintessential pieces people think of when they imagine Paris is the French café chair.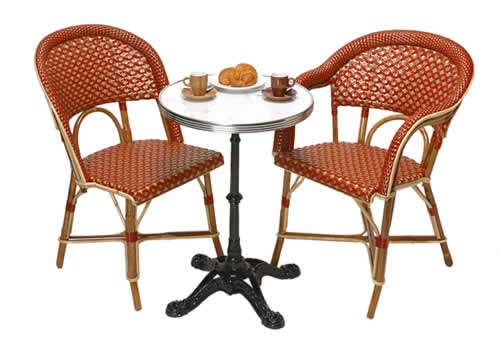 Anyone who has strolled the streets of Paris (or done so vicariously while watching a movie set in this romantic city) has seen row upon row of cafe chairs and tables, beckoning tourists and locals alike to sit and enjoy a cappuccino and a croissant.  I've whiled many a morning at Les Deux Magots and nearly 10 years ago when Les Deux Magots was doing a renovation I was able to buy some chairs direct from the famous café, commemorating our 5 years living around the corner from this landmark institution.
I brought my Les Deux Magots café chairs with me when I moved from Paris to Amsterdam and Amsterdam to Berlin where I currently call ma maison.  These chairs add a French flair to any seating area and are a great way to "bring Paris home"!
What I love about café chairs is that they work in so many situations. When used in a modern kitchen, they bring a sense of history and savoir flaire without being old fashioned. Use them on a front porch for effortless European style. Or do what I've done and use them on a terrace for casual outdoor dining that instantly transports you to another time and place.
With a plethora of designs and colors, you can surely find a style to fit your taste. From classic and clean to whimsical and vibrant, the French bistro chair is the perfect piece to add into a space –  and being made of rattan, they're durable! This makes them family and pet friendly, not to mention usable for outdoor rooms (thought I will note I keep mine in good condition by storing them in the covered area of my terrace when not in use).
Where would you use these classic French chairs? Indoors, outdoors, in the kitchen, on a deck?
Until next time,
The Antiques Diva®