Dear Diva Readers,
top: 5px; float: left; color: white; background: #781300; border: 1px solid darkkhaki; font-size: 60px; line-height: 50px; padding-top: 1px; padding-right: 5px; font-family: times;">In a world full of mass produced pieces, antiques offer uniqueness and character to interiors. Flip through any design magazine and you'll see that almost every stylish room incorporates some sort of antique or vintage items. It's no surprise then, that many large retailers offer reproductions of antiques, making certain styles available to the masses, including reinterpretations of furniture, accessories, rugs, and even lighting. Still, we are seeing an increase in demand for one-of-a-kind objects that people can use to imbue their homes with personality. One of our top requests is for architectural salvage, whether people are coming on tour or utilizing our buying services. However they aren't always using the salvaged pieces in traditional ways. From private clients to shop owners to interior designers, many creative people are sourcing architectural fragments and turning them into very special lamps—and we LOVE that idea!
Of course you can find mass produced reproductions of these architectural fragment lamps from companies like Pottery Barn, Crate & Barrel, and West Elm, but there is something about having your own made from original antique architectural pieces that takes the lighting game to a whole other level. With it's rich history of architecture, Europe is the perfect place to source unique fragments. Our Diva Guides often take clients to flea markets where they find one-off pieces such as finials, scrollwork from an old section of boiserie, or even corbels from grand houses which have been renovated. These pieces are just waiting for a creative genius to come along and give them new life. Mounted to a lucite base, a chippy gilt wood fragment topped by linen shade becomes a sculptural lamp with one foot in the past and the other in the present.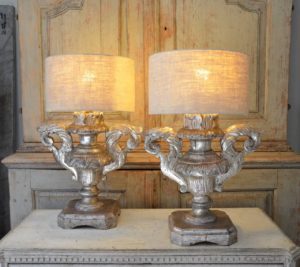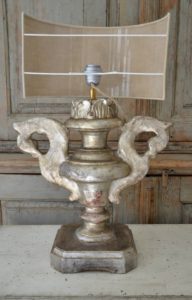 While flea markets and shops can be ideal for finding a few treasures, clients who are looking to buy in bulk need to go to the countryside. Several of our sources in Provence specialize in architectural salvage and reclaimed materials. These warehouses are the perfect places to find loads of hand carved architectural fragments that would not only look great as table lamps, but also as floor lamps! Imaging a set of columns from an old hotel transformed into a matching pair of lamps! Why not have beautifully carved corbels and brackets made into sconces? When you look at lamps as more than functions, they become sculpture and statuary as well. The possibilities are endless.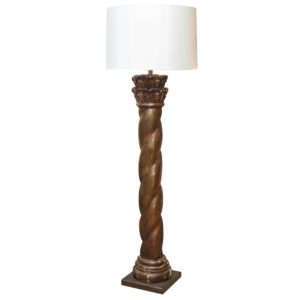 Once you get your architectural fragments home, it's good to entrust a local lamp shop to help wire and transform your pieces into lamps. Remember there are countless options when it comes to bases including lucite, iron, brass, wood, or even marble. Select a lamp shade that works with your lamp-base and voila! You've got a very special one-of-a-kind lamp that has character and a story. In a cookie cutter world, having a custom piece really helps to make a space stand out from the rest. Since every home needs lighting, why not think outside the box and go with something that is sure to make your home stylish and chic?
If you would like information on our Antiques Diva Buying Tours which operate in 8 different countries—France, Italy, England, Sweden, Germany, Belgium, Holland & Denmark- email us at info@antiquesdiva.com. We'd love to custom plan a private antiques buying tour for you. If you can't come to Europe but still want us to source antiques on your behalf, our Buying Services are the ideal solution. You simply give us your personal shopping list, and we act as your man on the ground, sending you images and prices until you choose the perfect pieces. Send us an email to discuss your options! Your dream of sourcing antiques in Europe just might be easier than you think!
Until next time,
The Antiques Diva®