Remember that line in You've Got Mail about the start of a new school year and the desire to buy school supplies? If a man wants to romance me all he has to do is send me bouquets of freshly sharpened pencils! For me, it's New Years that gets my heart skipping a beat. Every year I excitedly buy a fresh, unmarked calendar months in advance – painstakingly picking out the best agenda to match the mood of the year. This year my friend Derrick with the Dallas Market Center gave me a PASSION PLANNER  which is not just a calendar but a journal, a keepsake, a place to declutter one's mind, to get organized, and to pursue your passions. In the back of the calendar in the doodle section I sat down with my pack of magic markers (I think in color) and began writing my New Year's Resolutions – both personal and professional. I kept some of the oldies, but goodies… classic New Year's Resolutions i.e., Lose Weight, Exercise More, Drink more – I mean Less, champagne. But I added in some new ones – very specific to this year.  
My first resolution? Sleep More!!  Luckily I happen to the brand ambassador for Pandora de Balthazár  – so sleeping on the job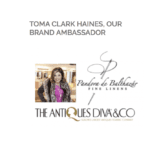 is part of my job as I promote this European Sleep System! The first thing anyone comments upon meeting me is my boundless energy. With the right sleep accessories from Pandora de Balthazár I'm able to transform my life. Sleep is not a guilty pleasure – but good sleep is essential for me to do my job, to be and become all that I can be. With Pandora de Balthazár's products it's more than just therapy, it's luxury married with gorgeous design and the highest quality Hungarian goose down and Italian linen.  I'm successful… because I've come to understand that it's essential I restore myself.
With that resolution comes a whole host of secondary resolutions. Do Less. Travel Less. Say No More Often. When you travel for a living it's easy to find yourself constantly on the go. This year I want to nest and be a home body. It's easy to go through life saying yes to fabulous opportunities that come our way. But not every opportunity is the right opportunity and as I get busier and busier as I grow my company I need to Prioritize More – both in my personal life and professional.
Personally – I want to make friendships count – taking time to deepen those core relationships. Professionally – we have had some phenomenal growth in 2016.
As the company expands we have to Re-evaluate Old Processes – and Implement New Ones which work for a larger company. Our team is now 24 people. We are no longer the one-woman-show I started out as. It's no secret: I want an empire.  I am building a Diva Empire. But part of building one's business is evaluating it. Where are we strong and where are we weak? My main resolution professionally this year is to Grow Deeper Roots – Build better infrastructure to support our team and our clients' needs. That means – this year in 2017 – I'll find myself in the office behind the desk a bit more often. In essence, I need to Be More Organized. 
I want to Live More Intentionally. Part of doing so means focusing on those things that make me happy. In 2017 I'm asking myself What are my Passions and Goals? I've always wanted to design both jewelry and furniture. These are dreams since my teenage years. And drumroll please… On Jan 2nd, 2017 a contract for a licensed furniture line showed up in my inbox. #WatchThisSpace as I unveil the first ever Antiques Diva Collection of furniture – where classic meets modern – to launch at Fall High Point 2017.  But it doesn't stop there. Those of you who follow me on Facebook and Instagram have seen some sneak peeks as I start a new venture outside of The Antiques Diva brand. While in Asia last summer setting up our tours I designed the first ever Toma Clark Haines TCH Collection of jewelry. Working with acclaimed photographer Jose Manuel Alorda we're shooting the photography for our Lookbook now and will be looking for retailers in 2017.  
All said… 2017 is going to be busy. But I'm doing it – as Frank Sinatra said – My Way
Toma Clark Haines – The Antiques Diva