Custom Couture For A Curvy Diva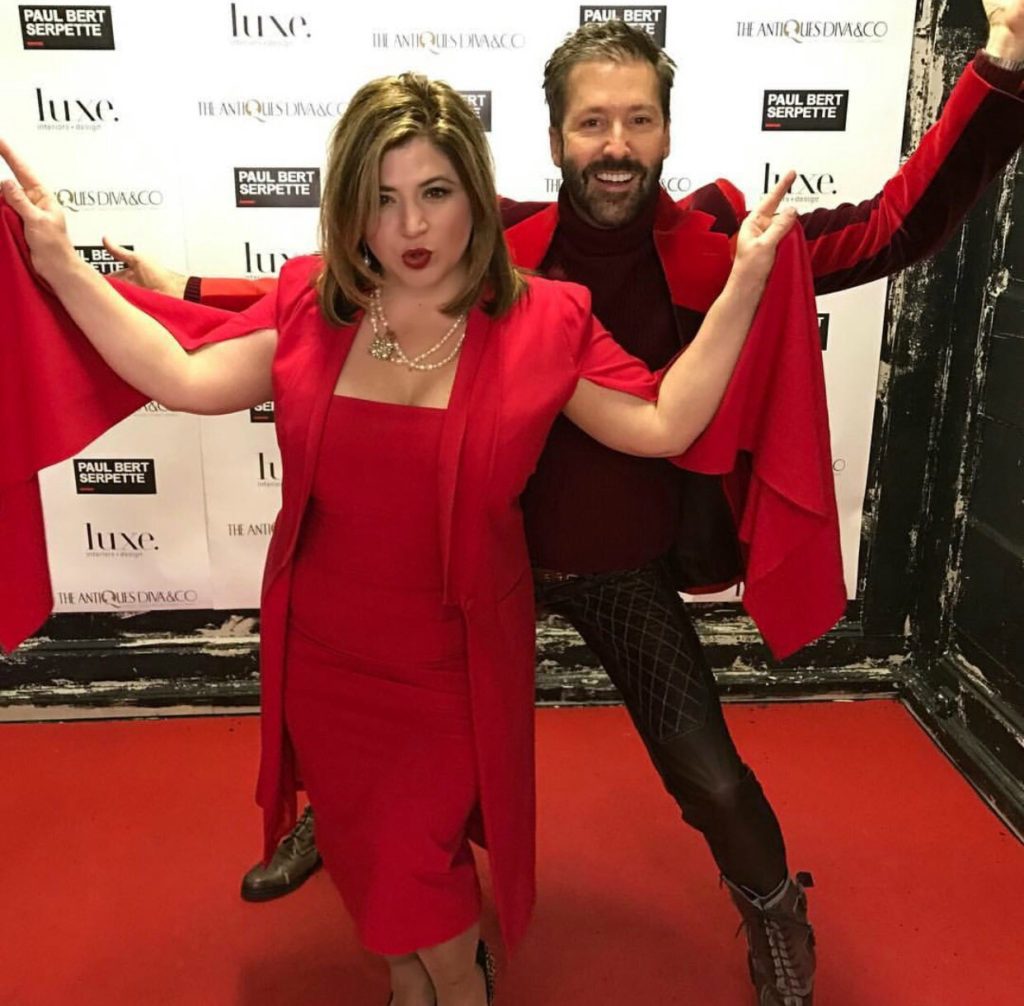 I have a bit of a reputation… in addition to drinking entirely too much champagne, I've got a penchant for high heels and fabulous dresses. In fact one of my most frequently asked questions when I speak is and when I meet clients and brand followers in real life.… "Where do you get your dress?" And while I'm a fan of both high end and low end – from DVF to Laundry – I look for items that flatter the figure. I'm a curvy girl and what curvy girls everywhere know is you can look fat… or you can look curvy. I choose the latter.  
I'm going to let you in on one of my biggest fashion secrets… This January we hosted our annual Paris Champagne Brunch at Paul Bert Serpette in the Paris Flea Market – I wore a sensational cape-sleeved knee-length red jacket with a simple strapless tube dress underneath. The design was a one-a-kind design by Cambodian Designer Romyda Keth. 
Romyda Keth custom fashion house in Phenom Penh
I first visited Romyda's shop this summer while laying the groundwork for our Phenom Penh Design Inspiration tours. One of the things I love about our Asian Antiques Diva Tours is #ItsNotJustAntiques – from helping you find a furniture factory to custom-make your designs, to art studio and gallery tours to giving you access our favorite local craftsmen whether that's hardware for your furniture and doors or lantern and lighting makers or simply a fabulous tailor….  A stop in Romyda's shop is fabulous for retail therapy for fashion hunters, but even if you're not looking for clothing it is worthwhile for the design inspiration. (Plus she has a maison store next door). 
For years – even before we started working together and were just friends – I've admired my colleague Angela Somwaiya's wardrobe. Angela now heads up our Asia Antiques Diva Tours. She is statuesque, standing a good head above me. She's gorgeous, very sultry and has a mysterious look and wears the most amazing dresses of anyone I know. Curvy, Vivacious and Va Va Va Voom.
I was thrilled when as we were heading to Phenom Penh as part of our groundwork for setting up our Antiques Diva Asia Tours Angela asked… "Toma, is it possible we can make time to shop at my favorite dress store?"  

My fitting for a custom dress at Romyda Keth in Phenom Penh, Cambodia 
In South East Asia when you attend a social event the well-heeled who's who will all be wearing Keth's designs. But the amazing thing… not one of the women will be dressed the same. Keth only makes 1 dress in each size for every design. Created in her onsite factory, the designs are done in a gorgeous Khmer silk in a harmony of colors cut specifically to emphasize on women what differentiates them from men. From now on a trip to Asia is not complete without at least a 36-hour stopover to stock up on my fashion needs for the next season.
Romyda is Cambodian-born, was raised in Paris and studied at the Paris School of Fine Arts and at top fashion design school Esmod. She is one of the few Asian designers to have established a worldwide following; after the first Atelier Ambre opened in Cambodia in 1999, the brand has since expanded to Middle East, Africa, Australia and the rest of Asia. Her designs are all about COLOR and CURVES. Those are the key words that describe my fashion sense. Each item is custom tailored on site, fitted by Romyda. And for a luxury brand creating nearly one of a kind designs the prices are reasonable. I think my custom fitted dress and jacket combined were around $300. The dresses I purchased ran between $75 and 150 USD. For more information visit Romyda Keth. 

Kheunh anak chab,  
Toma Clark Haines, The Antiques Diva®