Everyone who knows me also knows that being The Antiques Diva® means I'm away from home more often than not… as I write this I just returned to Berlin from a 3-suitcase trip covering NYC, High Point, Key West and London. And after I unpack (and retrieve my laptop which was sadly left on the plane to London), I'm off to Venice, Savannah for Southern Style Now then Bangkok preparing our TCH Collection launch before going back to the USA to speak in Jacksonville, FL, for the London Calling charity event. 
What keeps this Diva going (besides equal parts coffee and champagne)? Sleep. I have energy in spades and keep up the hectic pace for days but what's essential are my zzzz's — getting 7 to 8 hours sleep every night is mandatory. (And truth told, I've recently discovered the joys of spending an entire Saturday in bed, which just might include my laptop and Netflix…) When I arrive at my travel destination, where I'm sleeping is of utmost importance. And my #DivaStyle radar lit up last year at my first visit to Round Top when I was introduced to Rancho Pillows. The best way I can describe it is part Brooklyn, part Old West, and thoroughly Texan. And that's why I personally selected Rancho Pillow as our home-away-from-home on our Round Top Group Antiques Tour in April, with US Antiques Diva Guide Doni Belau of Girls Guide to Paris. Book by Dec 1 to get our special introductory rate! 
Rancho Pillow is the absolute coolest and funkiest place to stay at Round Top. If you are looking for an excuse to join our Round Top tour, this is it! Where else can you experience a fabulous day antiquing treasures from Europe, Asia and America, followed by a pink sunset over the trees, in a folk-art fantasy designed by artist Sheila Youngblood.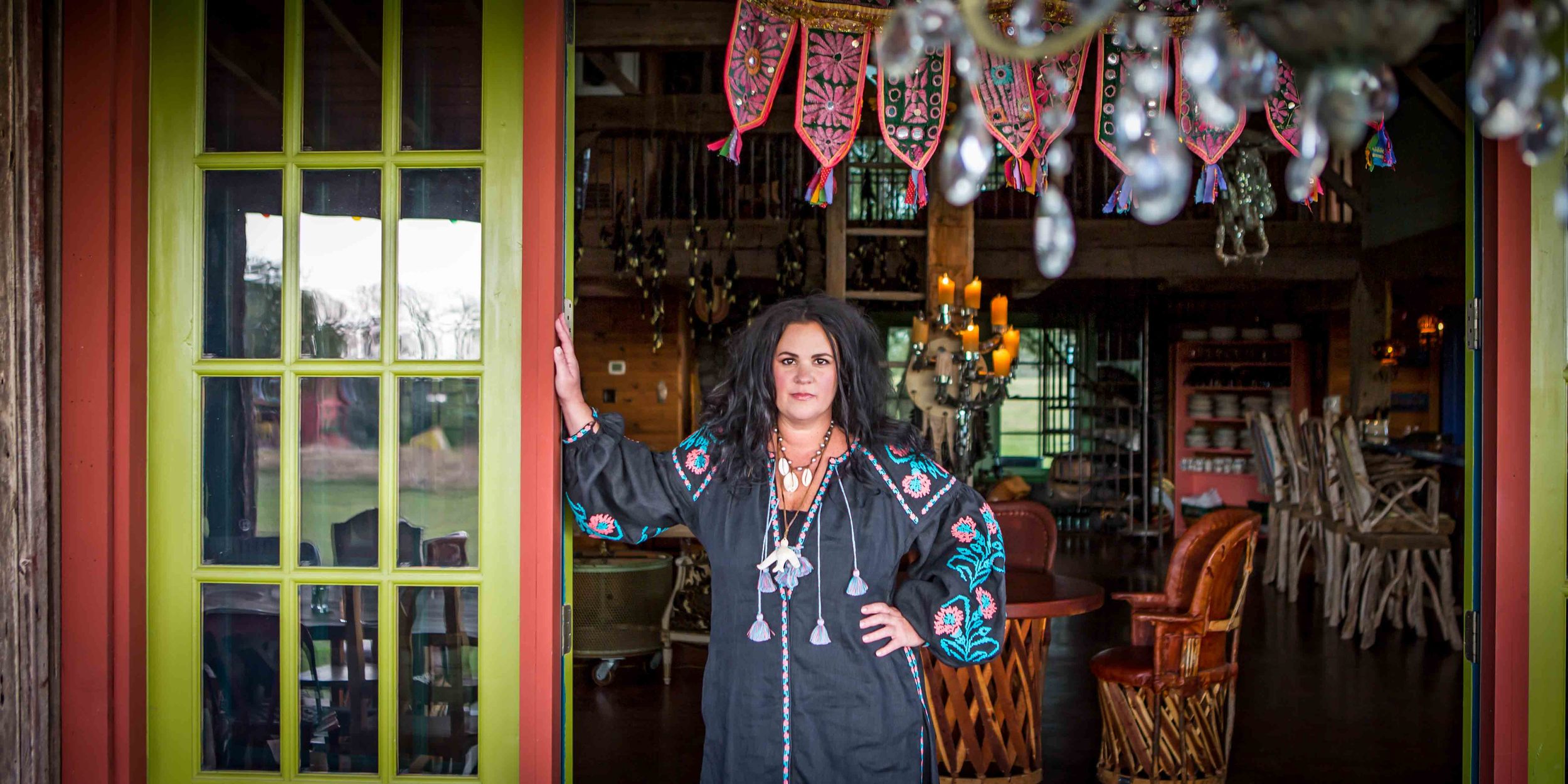 What better spot to chill and refresh end of day on your once in a lifetime shopping fantasy tour?
Farmhouse elegance plus comfort guarantee a good night's sleep at Rancho Pillow.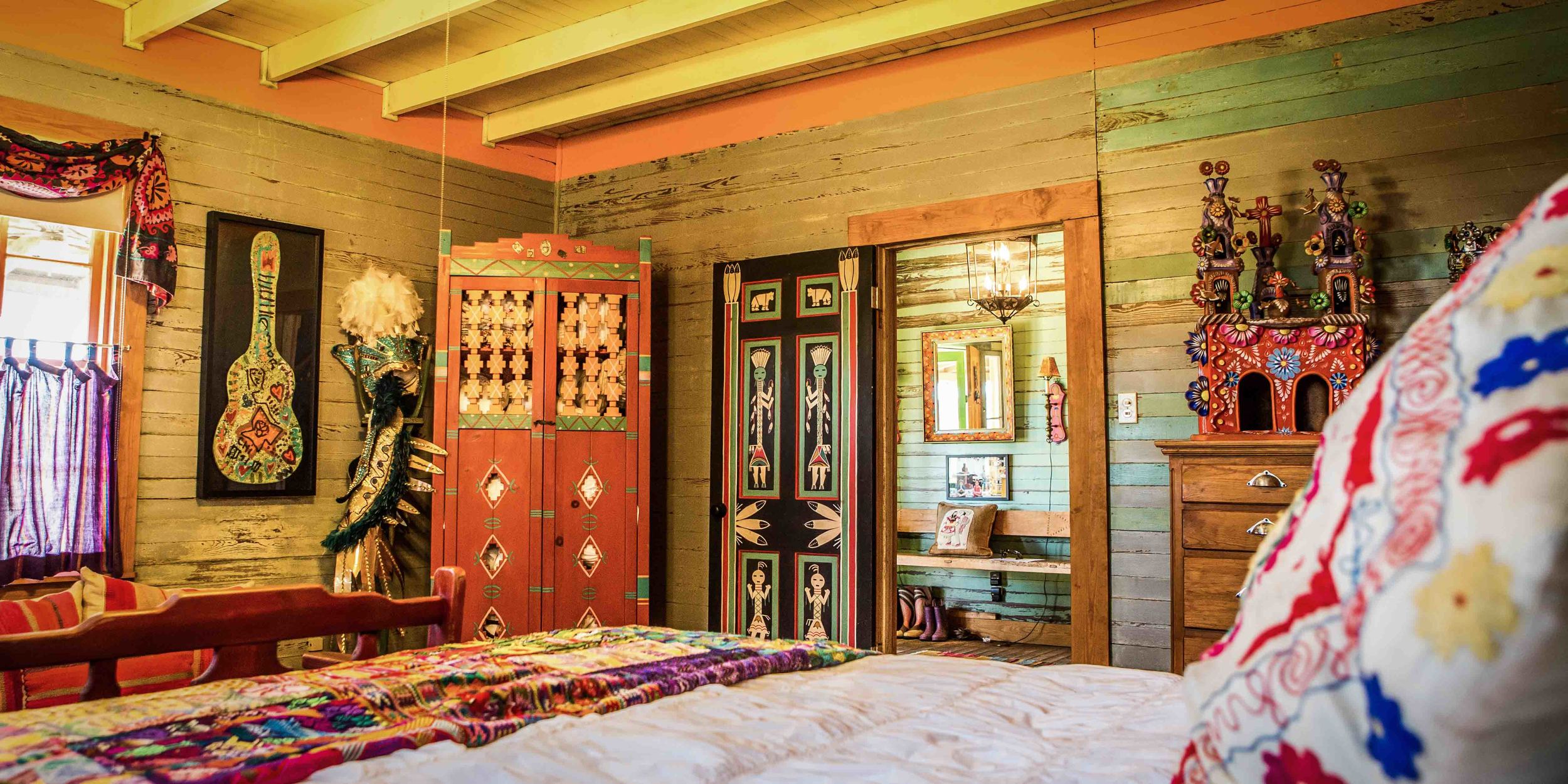 Texas hospitality guarantees a good night's sleep in the sleeping quarters at Rancho Pillow.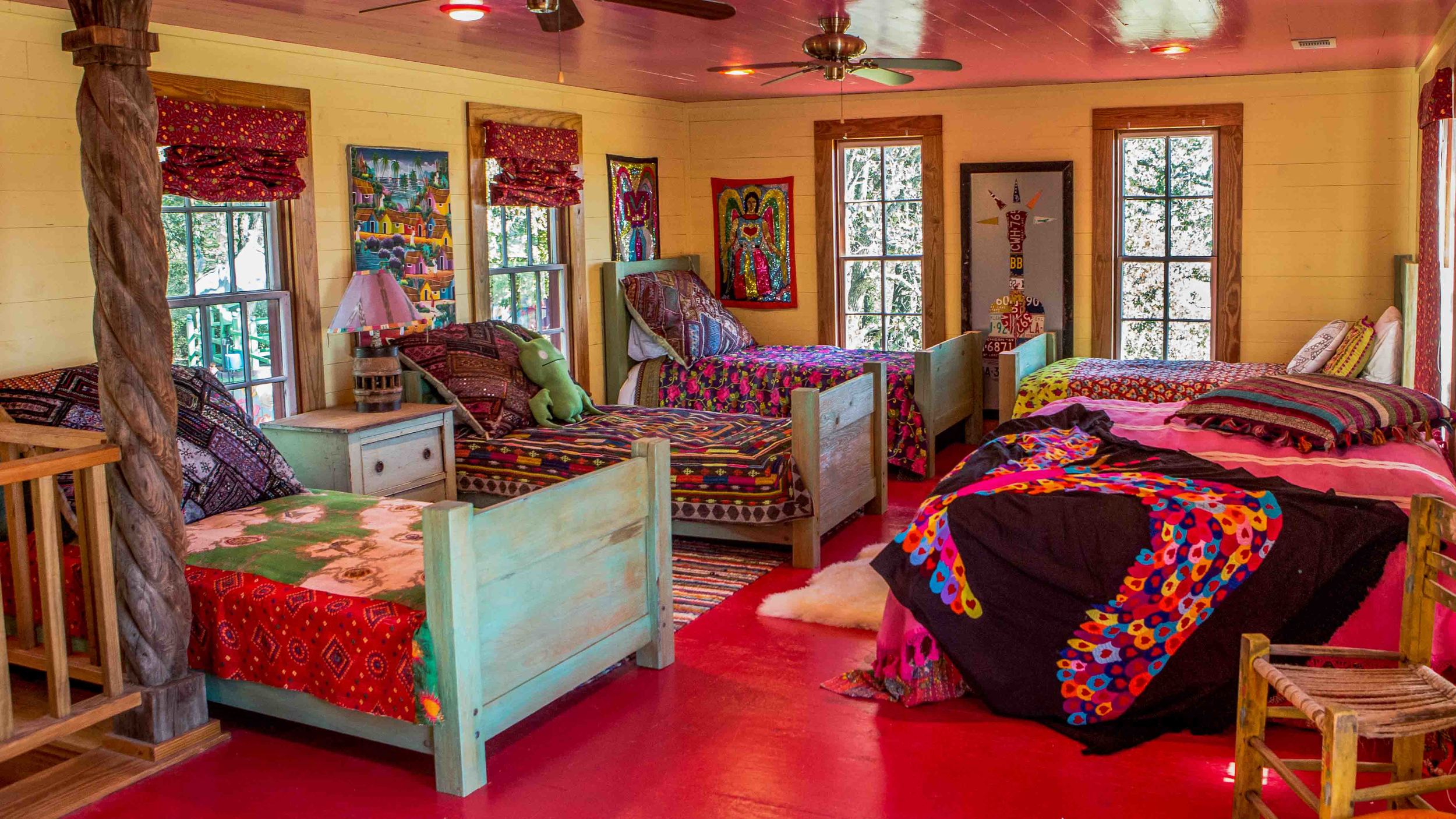 Breakfasts at Rancho Pillow promise hot coffee with a view.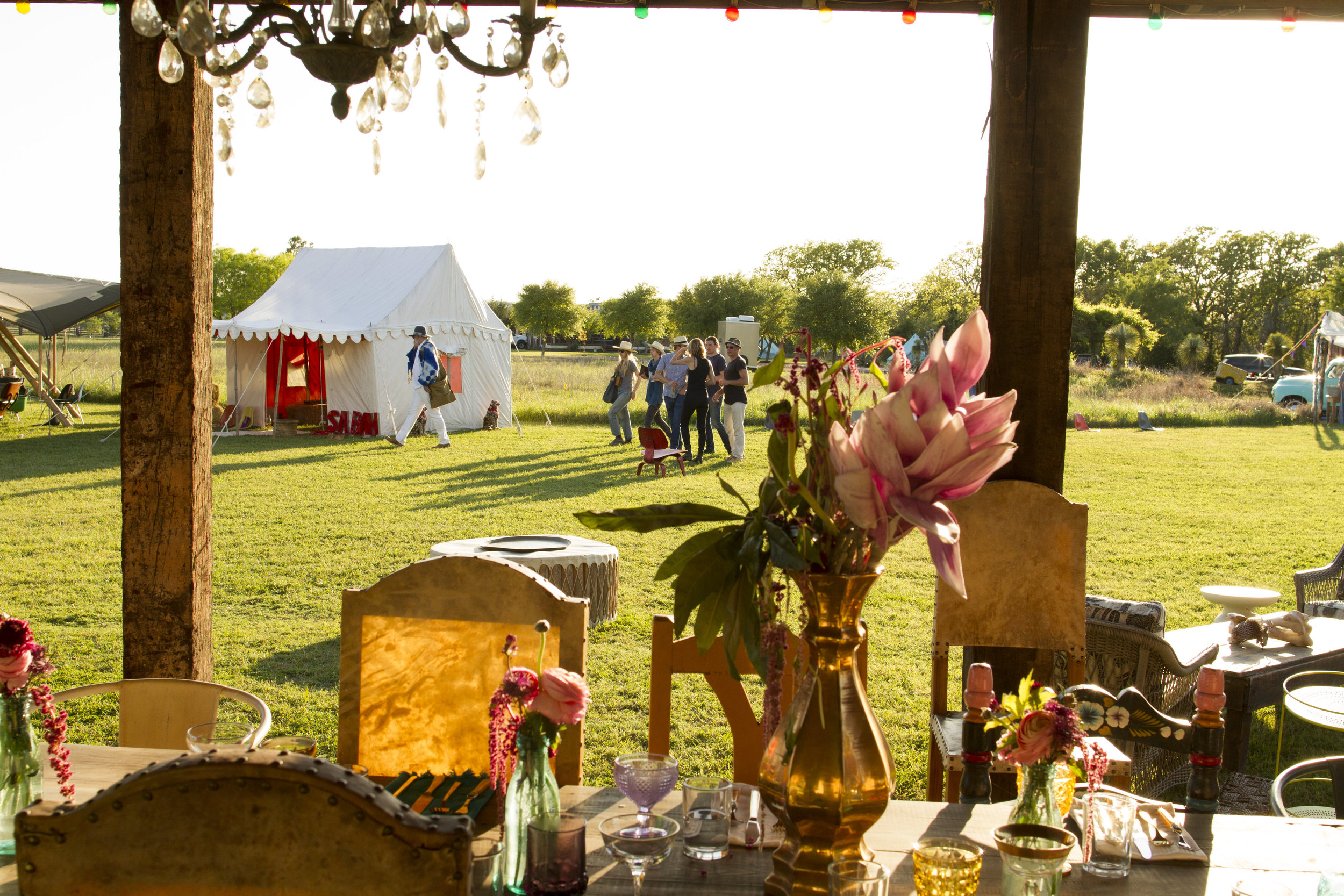 Outdooring bathing at the communal bathhouse is just one of the many options during your stay.
We'll enjoy a feast in the field with a private chef at Rancho Pillow during Round Top Antiques Fair.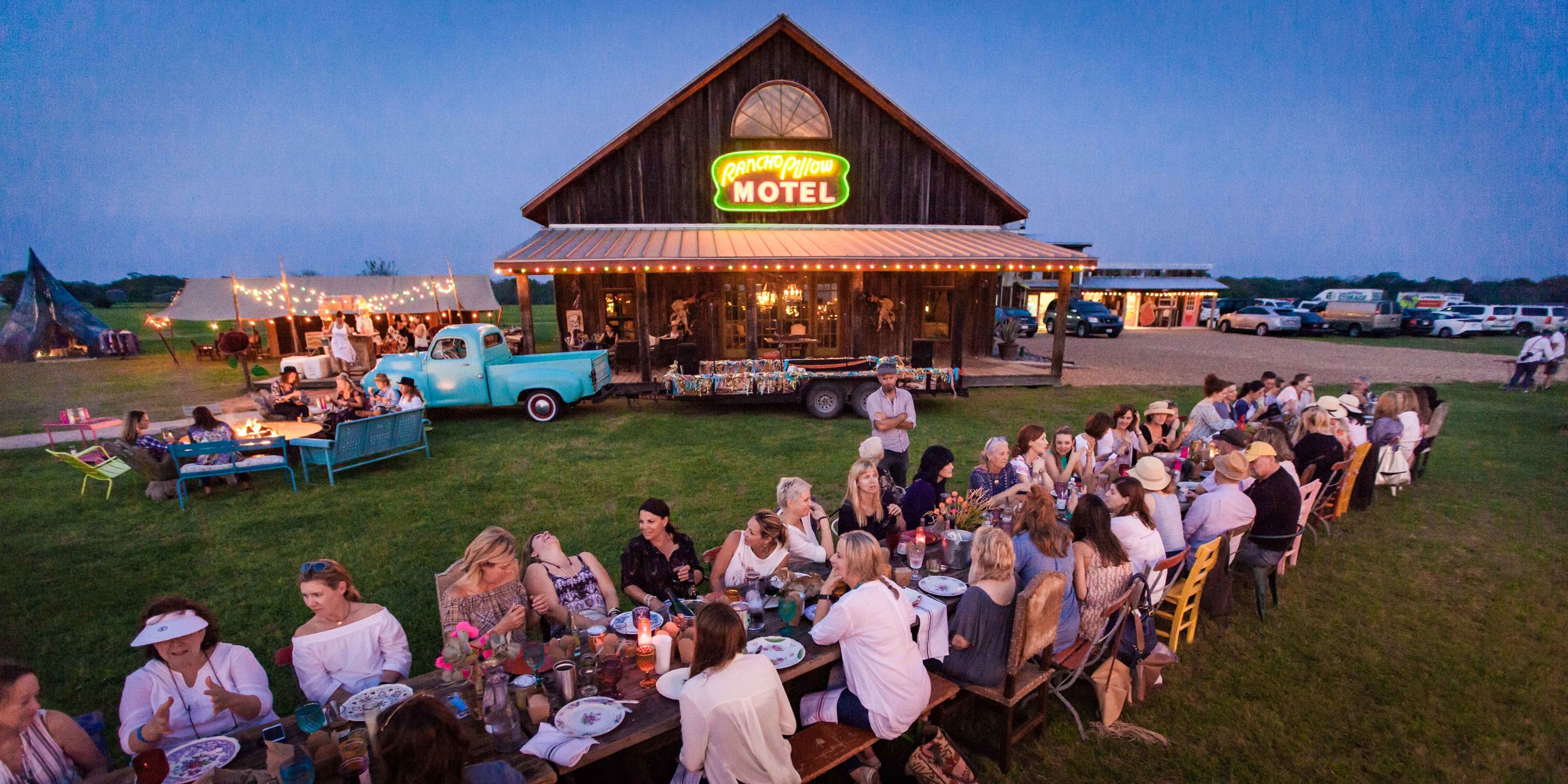 Experience the sounds and taste of Rancho Pillow on this video tour:
A heated, saltwater wading pool… swapping stories of the day's hunt with new friends at the firepit… a quiet moment in the poetry library…
… it will be hard to see Rancho Pillow in your rearview mirror as we drive away, but your memories of this special visit to Round Top won't fade away soon… and I'm betting you'll have a few new pieces sourced at Round Top Antiques Fair to remind you of our Diva Extravaganza!
Join me and Antiques Diva Guide Doni Belau of Girls' Guide to Paris for 4 days & 5 nights of finger-licking bbq, antiques and vintage as far as the eye can see and further, country music, Texas bluebonnets, seriously good wine – and Rancho Pillow! At the biggest antique show in the world you'll discover gems from Belgium, France and Holland as well as mamma's attic down the road. There is something for all price points plus we'll help you negotiate and ship it all home. And the location in Texas Hill Country is gorgeous. Why haven't you been yet? You were waiting to come with The Antiques Diva, weren't you!?!!
See y'all in Texas!
Toma – The Antiques Diva