to-4.jpg">
to-4.jpg" alt="D. LARSSON Interiör & Antikhandel " width="614″ height="461″ />
Dear Diva Readers,
top: 5px; float: left; color: white; background: #781300; border: 1px solid darkkhaki; font-size: 80px; line-height: 70px; padding-top: 1px; padding-right: 5px; font-family: times;">When it comes to antiques, Scandinavian 18th and 19th C furniture has long been considered the Holy Grail as dealers, designers and decorators seek Gustavian and Rococo painted furniture as crowning pieces in their collections.  Because Swedish antiques are known for demanding top dollar abroad, only the crème de la crème has had access to them in the past, but drum roll baby…. The Antiques Diva® & Co is now offering Scandinavian Tours and travelers are given an exclusive opportunity to buy Swedish antiques at wholesale prices that are half of what's typically found across the pond.  You won't just get the opportunity to shop where the dealers shop, you'll get to shop with a top Swedish antiques dealer.
Antiques Diva Guide Daniel Larsson – make that Divo Guide and owner of the eponymously named D. LARSSON Interiör & Antikhandel – has one of the best choreographed antique collections in Sweden in his Helsingborg-based store.  And he has the distinction of being our first DIVO GUIDE on The Antiques Diva® team.
to-3.jpg">
to-3.jpg" alt="Antiques Diva Swedish Antiques Tour" width="461″ height="614″ />
As leader of your tour he will share with you insider hints and tips, telling tricks of the trade, sharing the history behind certain pieces, explaining regional differences in Swedish antiques, authenticating purchases and giving advice on what to watch out for in spotting reproductions and fakes.  Sometimes the hardest thing about buying antiques abroad is the uncertainty in knowing if the piece you've picked is what the dealer claims it to be, but with your Divo on your side, you can shop with confidence, knowing you're gaining access to the best collection at the best prices on the planet.  You don't pay tourist prices when you shop like a local or a dealer for a day.
Offering 1 to 4 day tours that are guaranteed to take you off the tourist track, Daniel will take you deep into the Southern Swedish countryside to a slew of secret sources that you would never find on your own.   Some of these trade sources and trade stores are so hidden they don't even have names on their doors.  Shopping might just be a religious experience when you visit one wholesaler who houses his collection in a former church, and it's all aboard when you stop off at a former train depot turned by-appointment-only store.  Whether you're trawling a giant warehouse or shopping your way through a rambling private mansion you're guaranteed to find an assortment of quality Gustavian and Rococo pieces from Swedish chairs to cabinets and chest of drawers.  You won't want to go home without scoring the perfect souvenir.  What about a long case clock, gilt candlesticks, sconces or mirrors?  There is something for everyone.  Some clients seek perfectly packables that can be tucked in their suitcase while others take advantage of this exclusive opportunity to buy abroad like the dealers do.
Whether you're looking for a consolidated shipment for 1 or 2 perfect pieces or a whole container load, Daniel can liaise you with international freight companies, helping you ship your purchases Home Sweet Home from Sweden.  On tour he will not only help you fill out the complicated customs paperwork but secure appropriate export papers and find affordable shipping solutions for bringing Sweden to your door.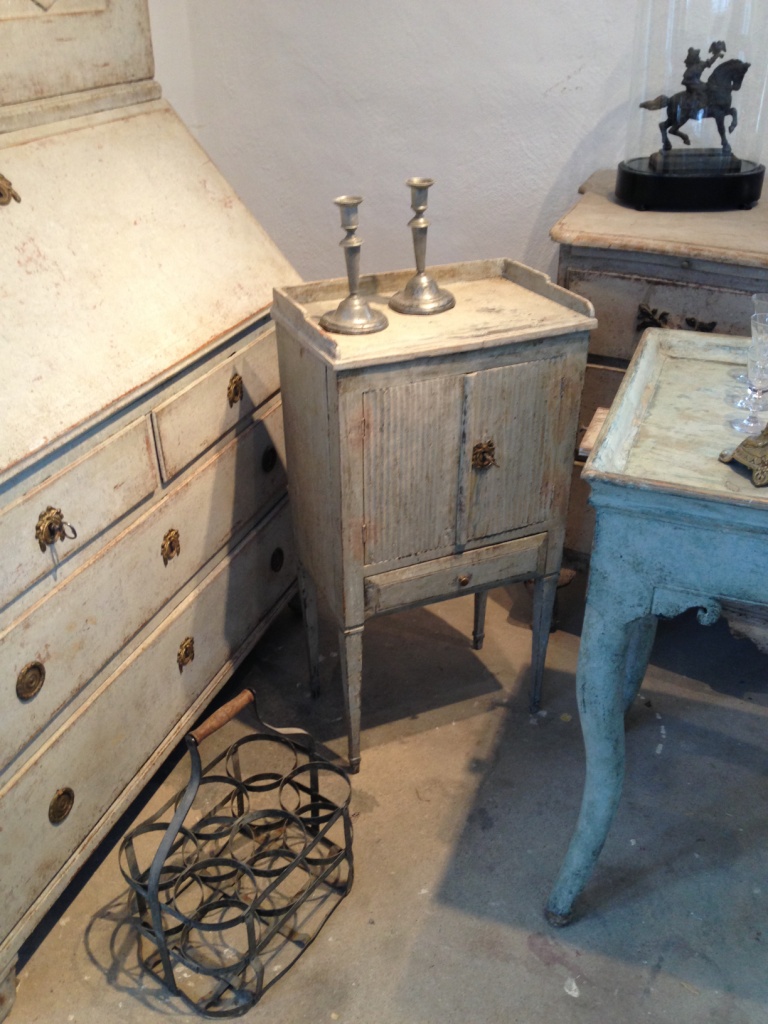 Do note this tour includes a fair amount of driving, and you'll enjoy the back roads and scenic views as we drive from one location to another on the back roads of Southern Sweden.
Let the Shopping Commence!
The Antiques Diva®