Dear Diva Readers,
top: 5px; float: left; color: white; background: #781300; border: 1px solid darkkhaki; font-size: 60px; line-height: 50px; padding-top: 1px; padding-right: 5px; font-family: times;">As a continuation of our Back to School with The Antiques Diva series this month, I want to talk about something that sparks the imagination; something that brings out the inner child in all of us! I'm talking about secret compartments! What child, at some point or another, hasn't dreamed of finding a hidden compartment in an armoire? Even as adults we enjoy reading mysteries where a secret letter is found in a hidden drawer.  Well these secret compartments are not just found in fictitious tales. For centuries, antique furniture pieces have possessed drawers with false bottoms and secret panels that were used to hold money, ancestral jewelry or legal documents.
to school series, Antiques Diva, " width="179″ height="300″ />
These compartments were often so well hidden that anyone who didn't have knowledge of them would never know they existed. This was to keep thieves or snoops at bay. Today, antique collectors may find a hidden compartment in a desk or secretary that they didn't even know was there!
And some pieces of furniture have not one, but several secret hiding places. Some spots may only be large enough to hold a letter, while other compartments are larger. The most typical place for a hidden compartment on a desk is in the central interior section. There is typically a small door flanked by two pilasters, and this entire section may be removed to reveal a hiding place behind. One also must inspect each pilaster, as there may be tiny hiding places behind them, only big enough to store a few folded pieces of paper currency.
to school series, Antiques Diva, " width="600″ height="400″ />
to school series, Antiques Diva, " width="600″ height="400″ />
False bottoms and moveable boards are another trick cabinet makers would use. Some sliding boards can only be moved by using the fingernail or a thin knife to nudge or lift them gently, revealing shallow hiding places. Some cabinet makers also utilized wooden springs which, if pressed at the right place, would release a hinge and open to a secret compartment.
to school series, Antiques Diva, " width="600″ height="600″ />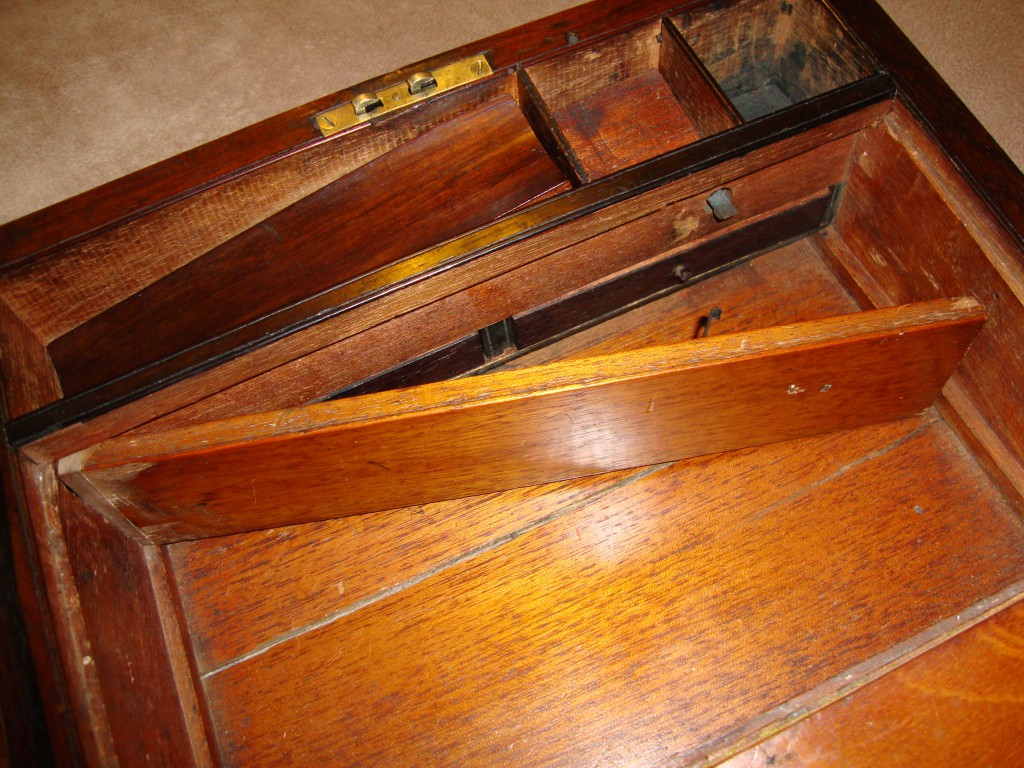 to school series, Antiques Diva, " width="600″ height="450″ />
The lesson here is that whether you're shopping for an antique desk or already own one, make sure that you give it a good look-over and run your fingers over various surfaces to feel for seems or indents. You never know where a secret compartment might be hiding, and what might be hidden in it!
The Antiques Diva®