Dear Diva Readers,
top: 5px; float: left; color: white; background: #781300; border: 1px solid darkkhaki; font-size: 60px; line-height: 50px; padding-top: 1px; padding-right: 5px; font-family: times;">Our locally-based Provence Antiques Diva Guide recently led a tour for some lovely American clients and they had such a wonderful time on this dream-like adventure, treasure hunting and soaking up the scenery of Provence that Diva Guide Caren had to write to share with our readers their adventure!
Caren writes:
Provence is especially seductive in May and June. Not too hot, nor too cold. And so alive with the colour and sounds of spring. The hillsides are covered with carpets of wild-flowers, the greens on the trees are still young and fresh, and the radiant blues of the skies are kept clear by the fresh winds of the mistral. It's as if the wind is blowing away the final cob-webs of winter and opening the gates towards summer.
But this time, the beauty of Provence was enhanced by the unbridled enthusiasm and joyfulness of the two interior designers that hailed for an Antiques Diva tour, from their home-town in Alabama. Their gusto for this corner of the world was infectious and their appreciation and wonder of all things French made their three day antiquing foray into the south a delight for everyone. Vendors and clients alike! 
I am always a little nervous when visitors come on buying tours to Provence, given the relaxed way of life here. It is the smaller, simpler things that matter. People here, in general, are not interested in the trappings of wealth. They are far more interested in what they will be having for lunch, which wine will be a good accompaniment, what their neighbours are up to and their dogs.
And so with antiquing, my concerns cover areas like, will the clients understand, for example, that the French have a two hour break for lunch, come what may, or if another client happens to be in front of us, we will be completely ignored until it is our turn to shop, after all in France, everything is at its own time.
But these ladies took to the French way of life like ducks to water.
When was the last time they actually stopped for lunch back home, I asked them? They couldn't remember. Sometime before the children were born, one of them thought.
We spent three days exploring Provence.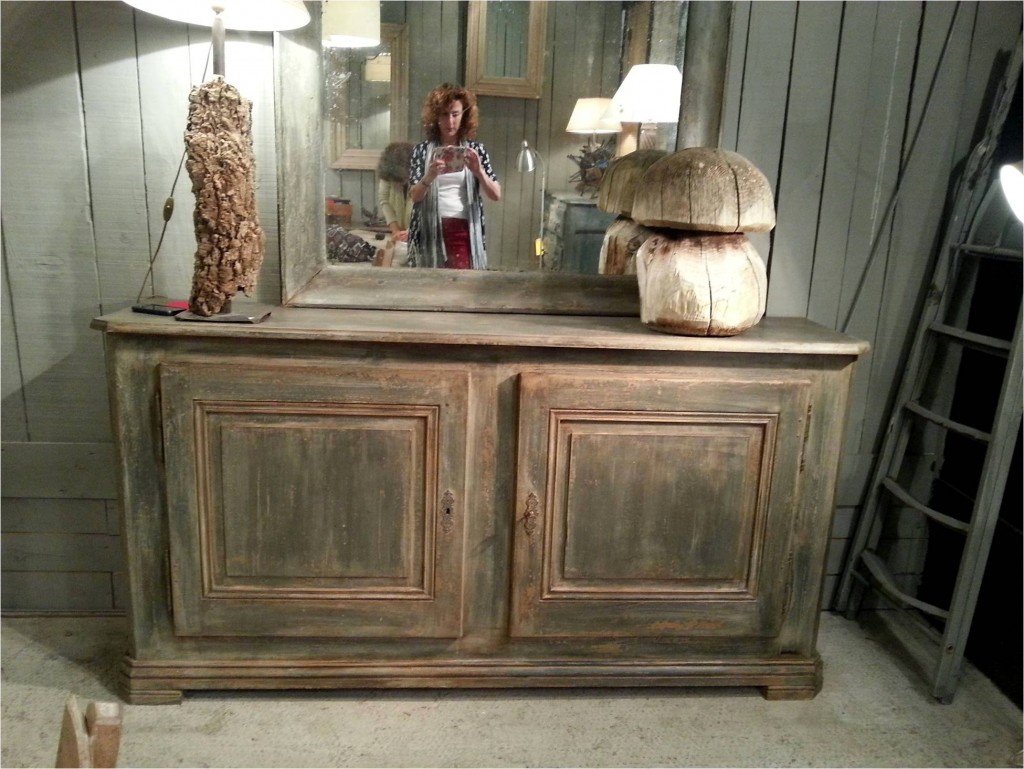 We found antique doors that had once adorned the very fashionable and chic Royal Hotel in Vichy before the 2nd World War. The door-seller still had 68 of them left. His father had bought every door in the hotel.  My clients bought 24 of them. This door-stop is like a museum. We found a door from the 1600s that was once a cell door in the prison in Draguignan. The door was so heavy, and had been located so deep in the dungeon, that it took 2 men and a great deal of rope to bring it up to the surface.
Don't be fooled. Although the majority of antiques here hail from Provence, the sellers scour the French country-side as far as Normandy and Brittany as well as the neighbouring countries of Italy and Spain, so there is a wonderful choice of items to be had here. Everything from the typical provincial furniture, with wonderful patinas, to fountains and chimney places. And the brocante markets offer a wealth of smaller treasures.
Really, antiquing is the nicest possible way to spend the day in Provence if you are lucky enough to to come here. The vistas, the food and the choice of antiques cannot be surpassed anywhere else.
Just ask my clients.
By the end of the tour, their lives were changed. As one of them so aptly put it.  'I'm spending all my summers here from now one. Where can the kids go to take French classes? How easy is it to rent a house for the summer? Should we rent by the beach or in the hills? My husband doesn't know it yet….but it won't be long before we're back'.
Caren Trafford is our Antique Diva guide for Provence. She also writes children's books (www.planetkids.biz) and lives with her two dogs and husband in a mas covered with bougainvillea over-looking the azure blue waters of the Mediterranean.
Bisous,
Diva Guide Caren & The Antiques Diva® & Co