Dear Diva Readers,
top: 5px; float: left; color: white; background: #781300; border: 1px solid darkkhaki; font-size: 100px; line-height: 90px; padding-top: 1px; padding-right: 5px; font-family: times;">While my Antiques Diva Guide in Italy – Susan – and I were out shopping in Tuscany recently doing hard-core research for an upcoming Antiques Diva Tour I snapped a photo of some incredibly charming, toy-like crowns in the window of an antique and vintage shop.  A month later while sorting through the photos they caught my eye again and I jotted Susan a quick email, asking her to refresh my middle-aged memory as to what these cute crowns were… alas, I fear it's time to face the inevitable, I'm creeping into middle age and my memory has gone down the toilet!  "Susan," I wrote, "What are these and Where did we find them!! I love them!" Susan's reply had me spell-bound and I had to share with you the story that unfolded leaving me utterly intrigued. 
Susan wrote, "We found these in that little courtyard just off Via Di Fossi in Florence – this courtyard is just one of the little surprises you find in Tuscany if you know where to poke your nose.  You spied these at the very back of the long tiny narrow shop and I think you took this photo as we peered thru' the glass and saw an Aladdin's cave packed with curiosities. On a table lay a stack of tin crowns… they were almost full-size but not quite and they were placed far away from their owners who lingered in the corner with beady eyes staring out at us".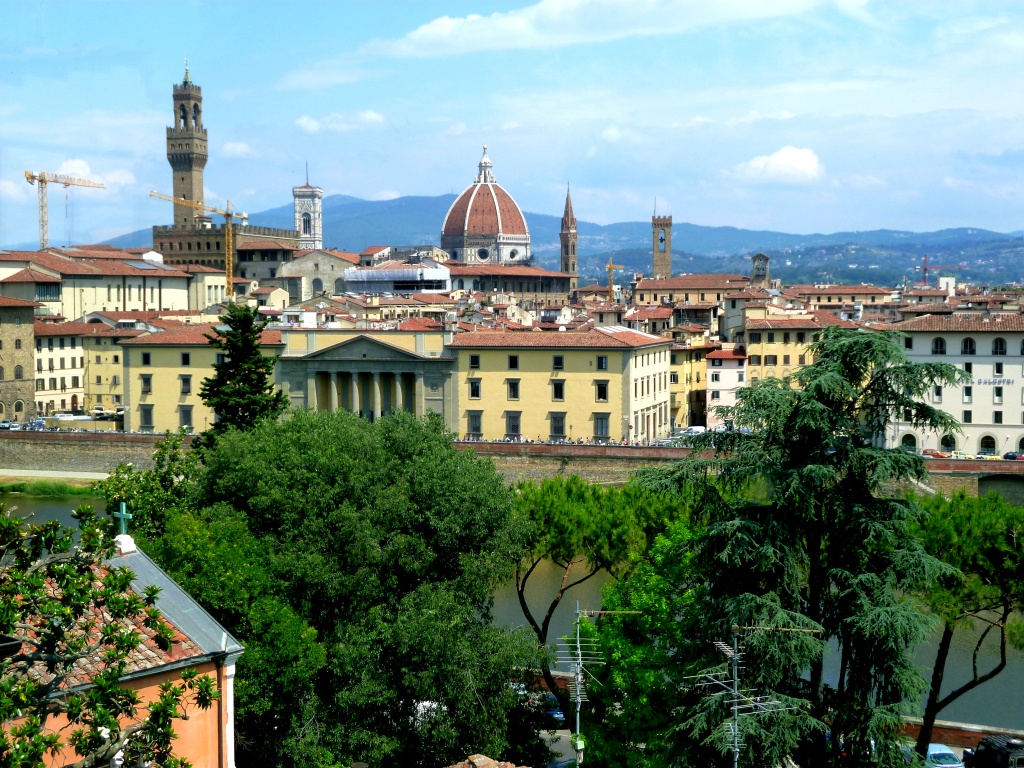 This was sounding ominous… I'm often snapping photos and being yelled at after-the-fact as many a vendor in foreign locales doesn't like you taking pictures of their inventory.  But I didn't remember being yelled at by an Italian dealer and I usually remember the good tongue lashings.   As I read on, I discovered the crowns in-animate owners hung on strings in the back of the shop.
Susan explained, "Tucked away in the corner there hung several Sicilian Marionettes, finely chiseled faces, curved mustaches, long dark hair, plumbed hats and headdresses, though covered with dust they still possessed their arrogant and haughty air."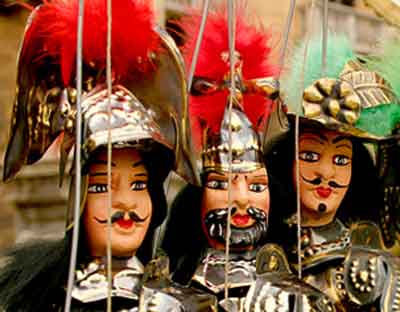 These crowns I adored belonged to the famous Sicilian Marionettes – known as Pupil Sicilians!  And then Susan went on, enthusiastic in her reply, "But these are so much more than mere puppets! They can stand 1.20 meter in height fully (nearly 4 feet)  regaled in elaborate period costumes, finely crafted coats of arms, velvet cloaks, brocade dresses… and crowns! I know how you like the crowns, dear diva" and I could almost hear her chuckling as she typed.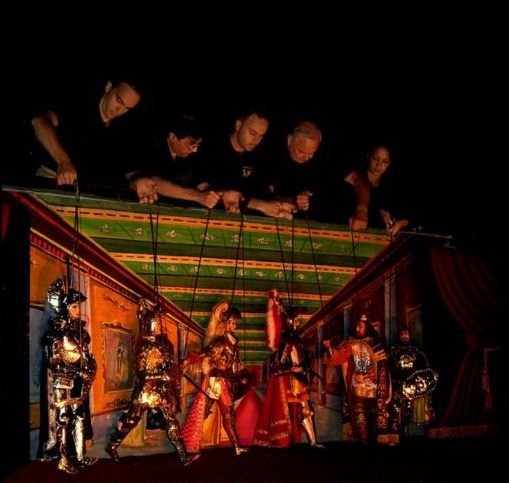 Photo from Flickr –
These puppets were not only for the story telling – they offered the people of Sicily so much more than we could imagine!  Susan explained, "When many folk were illiterate or books were only for the elite, way before the age of television, when transport was by mule or horse, little theatres would travel from town to town, re-enacting and telling historic epilogues of battles, chivalry and heroism, where honour always prevailed, stories based on local folklore and comedy, the spirit of rebellion and idealism of the Sicilian working classes of the XIX century gave honour and hope. Scenes were highly animated with wonderful theatrical effects, played vivaciously in Sicilian dialect. Typically, the marionettes and their theatre depicted medieval characters and legendary events based loosely on history. There's Orlando (Roland), one of Charlemagne's knights, and the Norman knights of King Roger of Sicily. And Saracens (Moors). Baroque paladins, really, since their costumes are often more reminiscent of sixteenth century decoration than medieval armour and clothes. More recently, the puppeteers adapted stories of the Sicilian aristocracy (such as "The Baroness of Carini") to their tiny stages. As folk art, the productions are typically expressions of the popular perception of personages and events rather than faithful chronicles of history and literature. That was always the idea of this kind of entertainment. It wasn't meant to be informative so much as inspirational".
photo from Italy Beyond the Obvious
 "Inspirational?" I pondered, but leave it to Susan to explain before I'd even had a chance to write my query, "Inspirational in the sense that spectators might in some way compare the stories or characters to their own lives. Puppet theatre sometimes provided an innocent alternative to the passion plays of the Church. It could even be mildly revolutionary, though most themes served to idealize the nobility which controlled Sicily, reinforcing the strictures of a feudal society that existed in the countryside. While it eventually became a popular entertainment for children, it appealed to adults, too. Though with the advent of TV, computer games and other distractions, the poor 'pupi' have been forgotten but there are still some places where you can see them today." 
Palmero
Utterly enchanted with my Antiques Diva Italian Guide's tale of these Marionettes I'm having buyer's remorse that I didn't purchase a crown or two!  But now I've a new obsession – I want to go see a Sicilian Marionette Show!  Back to Susan I queried, "Where oh where can I pursue this new interest?"  And without a moment's hesitance she responded with a Diva-Worthy List of Marionette Details:
Palermo – the capital of Sicily hosts the Museo Internazionale delle Marionette Antonio Pasqualino (the Pasqualino family are Sicilian puppeteers still active today) and the Museo Etnografico Siciliano Giuseppe Pitrè. A Sicilian puppeteer still active today is Mimmo Cuticchio, who also appeared in the film The Godfather: part III
Messina – in this Sicilian city, an active puppeteers family are the Garganos
Catania – there is a theatre, called Teatro Stabile dell'Opera dei Pupi, in the cultural centre 'Le Ciminiere'.
Acireale – in this Sicilian town, in the Catania province, there are the Museo dell'Opera dei Pupi Mario
Grasso and the Theatre 'Teatro dell'Opera dei Pupi' dedicated to Emanuele Macrì
Caltagirone – this town, in the Catania province, hosts a theatre which is also a museum: Teatro-museo dei Pupi Siciliani
Randazzo – a small village on the Etna, in the province of Catania, Sicily, displays a collection of 'pupi' in the Museo Civico Vagliasindi.
Ciao Bella,
The Antiques Diva®
With a little help from your Italian Diva Guide, Susan P