Dear Diva Readers,
top: 5px; float: left; color: white; background: #781300; border: 1px solid darkkhaki; font-size: 60px; line-height: 50px; padding-top: 1px; padding-right: 5px; font-family: times;">Though it is a tiny country, Belgium is bursting with antiques from all over. In fact I sometimes wonder what the per capita antique dealer is when compared with the total population of residents? We are constantly taking clients on Antiques Diva tours throughout Belgium and also offering Antiques Diva Buying Services through many of our sources there. And while French finds and gorgeous Swedish pieces are found in abundance in Belgium – alongside a slew of bric-a-brac – one type of furniture original to the area is the dark, heavy oak 17th C Flemish antiques. Often seen as stuffy when paired in matchy-matchy sets, these pieces are making a massive comeback when paired with modern interiors, clean spaces and abstract art.
With a checkered history The Low Countries – what is today both Belgium and The Netherlands – were once part of Spain, France and Austria.  Today when we talk about Flanders it's the Dutch-speaking, mostly northern portion of Belgium. Incidentally, do you know what French-speaking Belgium is called?  10 points if you get this one!  Give up? It's Wallonia!!  Now Belgium with its varied historical past was influenced by the whole of Europe in its furniture design –  the region had a reputation for tolerance which meant refugees fleeing religious persecution settled here, bringing with them their own crafts and customs.  Which means if you want Spanish Colonial Antiques? Well… 17th C Flemish Antiques can fit that bill as many of the craftsmen making furniture in Belgium at that time were Spanish refugees and the craftsmanship is quite similar.
During the 17th century, Flemish furniture had its hey-day. It was exported to England where you will still today find country houses heaving with Flemish pieces. They're typically made of oak and have a rather heavy appearance. However a distinguishing feature of Flemish furniture is a plethora of elaborate carvings. The juxtaposition of the heaviness of the pieces and the intricate carvings makes Flemish furniture quite unique. A great way to introduce this into your home with out adding too much weight is with a mirror such as this one found on 1st dibs!  The carving is positively architectural – it's a great example of what the Flemish were doing in the 17th C.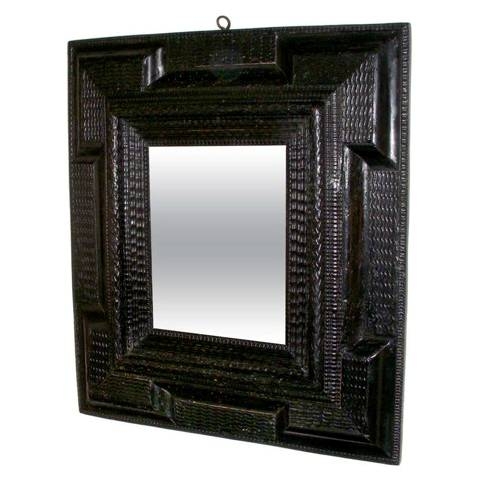 Or what about this trunk from Online Galleries?  Imagine it paired with a clean linen covered sofa – wouldn't the inlay and carving pop – if paired with something simple to counter balance it?
Another prominent feature of the Flemish style is the Flemish scroll, an S or C curved ornamental form in which a scroll is broken by an angle. You may also find what is called a Flemish foot which is a scroll-like ending to an S or C curved leg. This Flemish scroll was not only used in Flemish Renaissance furniture, but also can be found in the English Charles I & II and William and Mary styles.
Flip through the pages of any shelter magazine and you are bound to see Flemish antiques or, at the very least, their influence.  Here lately, in both Architectural Digest and Veranda, I've spotted a few! This 17th C Flemish Table up for sale at Christie's recently has Axel Vervoordt written all over it.  Can't you see this pair with some luscious Belgian linen covered chairs and religious candelabras? By the way – ever wonder WHY there were often balls midway up on the legs of antique tables? To keep the mice from running up them!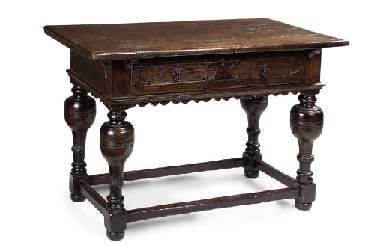 Flemish chairs often with leather seats look wonderful flanking a console table.
Flemish style sideboards and cabinets make fantastic bars in today's homes and offer hidden storage behind their intricately carved paneled doors. Even small Flemish boxes have become popular again as decorative objects.
Whether you fill a room in a historic home or simply use one piece of heavy Flemish furniture to ground a more modern space, the Flemish style definitely adds character and interest with its various carvings and its unique attributes. If you'd like information on taking an Antiques Diva tour or wish to inquire about our Buying Services, email us at to:info@antiquesdiva.com">info@antiquesdiva.com.
Until next time,
The Antiques Diva®  
P.S. Here's a few period examples of museum quality pieces to help educate your eye! Photos from: http://museumfurniture.net/flemish/