Dear Diva Readers,
top: 5px; float: left; color: white; background: #781300; border: 1px solid darkkhaki; font-size: 60px; line-height: 50px; padding-top: 1px; padding-right: 5px; font-family: times;">I know in this digital day and age libraries are a thing of the past… but I'm The Antiques Diva® – I LIVE In the PAST! My décor fantasy is to have a dedicated room in my home someday to serve as my library.  Of course, if I'm going to dream I'm going to dream BIG…so that home would actually be a Chateau or Manor House.  Something simple, like Highclere Castle, where Downtown Abbey is filmed would do the trick.
ton-abbey2.jpg">
ton-abbey2-1024×766.jpg" alt="downton abbey, Decorating tips, Recreating English Country Style, Staffordshire Dog, vintage tea caddies, Antiques Diva Buying Tours, Sourcing antiques in Europe, Decorating English Libraries" width="600″ height="449″ />
While I might not have the English country house just yet…. I'm working on it. In the meantime, there are a few easy ways to achieve a look reminiscent of these traditional English country homes.  First off, start with a great library shelving unit.  Those lovely boys at my favorite Belgium boutique hotel turned antique shop JVR 108 have recently acquired all the contents of the famous Chateau Rozenhout (as seen on the cover of The Houses of Veranda book) which means you could actually buy an iconic piece from one of the great houses of Europe.
Of course, then once you have the book case you could add some traditional English antique pieces to line your shelves.
So here's my confession… While I'm a big reader – reading nearly every night for an hour before bed – I also buy books I never intend to read.  I buy gorgeous antique leather-bound books to stage my shelves! Pretentious? Maybe. Gorgeous? Absolutely!  And trust me… I'm not the only one who buys books they don't read… flip open any decorating magazine, you'll see miles of leather bound antique journals! You can pick these up at markets for a song.
Whenever we take clients on a Buying Tours, I always encourage them to buy small pieces as well as furniture. Why? Because if you're going to ship a container full of bureaus and cabinets home, you might as well fill the drawers with small accessories! Volumes of antique books are the perfect thing to fit into drawers and cabinets, taking up no extra space in your shipping container – so essentially those smalls are shipped for free if you're already shipping larger items! And once you get them home or back to your store they make the perfect addition for accessorizing your shelves.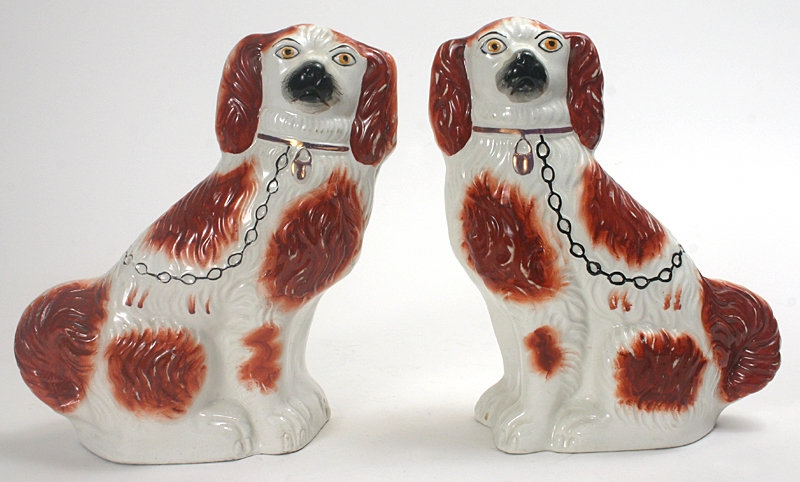 The next quintessentially English accessory has to be Staffordshire Dog statues. These typically come in matching pairs and are frequently used on mantles however they make fantastic additions to shelving. I love that they are traditional… but are also wonderfully KITCH!  I've even seen them used as bookends which is quite a good look especially when paired with old leather-bound books.
Another accessory that looks fabulous on open shelving is antique English tea caddies. Wooden tea caddies were first introduced in the early 18th century and by the second half of that same century, they were widely considered to be a stylish home accessory. We've had several clients purchase these items while on tour. In fact, many people buy them in multiples as they make a lovely displayed collection in a study or even a kitchen!  Add in some traditional blue and white Delft or for that Antique Young Guns look mix it up with some taxidermied birds!
If you're after that old English look, try using these perfectly English accessories on your shelves. By simply adding these few elements, you'll transform your room into something reminiscent of an English country manor! And if you'd like more information on our English Antique Buying Tours email us at to:info@antiquesdiva.com">info@antiquesdiva.com
Cheerio,
The Antiques Diva® 
(seen here at the Real Life Downton Abbey – Highclere Castle with my gorgeous niece Kyrra)
ton-abbey-1.jpg">
ton-abbey-1.jpg" alt="downton abbey, Toma Clark Haines, The Antiques Diva, Highclere Castle" width="600″ height="781″ />