Dear Diva Readers,
top:5px;float:left;color:white;background:#781300;border:1px solid darkkhaki;font-size:100px;line-height:90px;padding-top:1px;padding-right:5px;font-family:times;">This week while I'm out of the office with a client, shopping in Belgium for architectural salvaged antiques, I felt like you needed to be able to shop along vicariously with me – so I'm showing one of my favorite sources for building or renovating a home with reclaimed goods.  I'll be criss-crossing Flanders and Wallonia looking for stairways, window frames, marble mantles and more, but I'm going to send you bathroom shopping today in England's Stiffkey Bathrooms where they have an incredible collection of antique bathroom fittings as well as new bathroom accessories.  Over the years they've been featured in numerous magazines and worked with high-profile interior designers at stately homes, hotels and other historic buildings. They've also advised on antique bathrooms for several film and television shoots and supplied many unique items for hire!
Stiffkey Bathrooms
89 Upper St. Giles Street Norwich,
Norfolk, NR2 1AB, UK 52.629354 1.285493
Tel: +44 1603 627850
I've always wanted an antique loo – but not just any loo will do.  Someday, when I get my villa under the Tuscan sun, I'm going to renovate my bathrooms with a Delft painted toilet – I mean, what else would The Antiques Diva® do? 
This is perhaps toilets-lavatories/shanks-syphonic-wc-suite-c1890″ target="_blank">my favorite of their collection…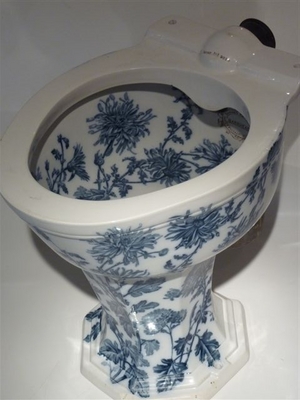 Circa 1890
You might be wondering where its water tank is…  Look up Silly!

This charming toilets-lavatories/victorian-blue-transfer-wc-c1890-no-name-just-chicken-trademark-london-outlet" target="_blank">Victorian Blue Transfer WC C.1890 – No name, just 'chicken' trademark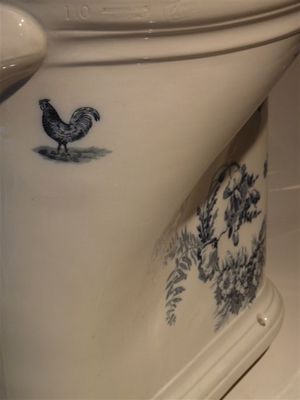 Although, it might give new meaning to the phrase, "It smells like a barn yard in here!"
For my sink, I don't think I want to go with another blue & white motif… for some reason I'd want that to be a tad simpler… my dream sink is this Serpentine-Fronted" French Double Basin by J.Delafon, Paris  C.1900
Of course, what bathroom would be complete without a nice soaking tub?
Happy Baths,
The Antiques Diva®