Dear Diva Readers,
Last year I was asked by my friends at Chairish to create a style board for a room inspired by one of their vintage rugs. For those of you who don't know, Chairish is a curator-approved online marketplace for vintage and used furniture. This year they've challenged me to design a "woman cave" inspired by a set of vintage bar stools from their site! As I believe that antiques and vintage pieces are completely relevant in today's lifestyle, I've chosen to create a style board using only antique and vintage items available at Chairish.com— but rest assured the vibe is anything but old fashioned and stuffy! Without further ado, I give you my "Diva Den!"
Mid-Century Hairpin Barstools
I chose these barstools as my inspiration because I love the shape of them and brass is very "in." I would recover these beauties in a gray velvet…yummy!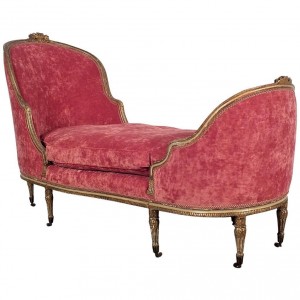 19th Century Style Giltwood Gondola Chaise Lounge
A beautiful 1890s French chaise lounge in the Louis XVI style would be the perfect foil to the midcentury barstools. The chaise has been newly upholstered in a Stark velvet, "Velours verdi Bois de Rose"with French multicolored gimp trim all along the frame. The single down cushion is also newly upholstered with a single piping along the edges, top and bottom. This chaise has nicely gilded wood, six legs and caster wheels—the perfect spot for a Diva to perch!
Charcoal and Cream Chairs
I would use this pair of matching round back Louis style armchairs upholstered in a charcoal and white wide stripe in the same seating group as the chaise lounge. The wood has been refinished in a semi-gloss heirloom white bringing some lightness to my Diva Den!
Baker Dining Table by Barbara Barry
As strange as it may seem, I would include this Baker dining table by Barbara Barry in Java colored finish in my Diva Den. I love to cook and even more, I love to host dinner parties! Setting a gorgeous table for my girlfriends would be a highlight to using my Diva Den!
Swedish Flame Birch Dining Chairs-Set of 6
This set of six fun and elegant dark golden flame birch dining chairs would be perfect surrounding my dining table. Newly restored and newly rebuilt with new padding, covered in a durable woven black and ivory Cheetah stripe fabric, makes them Diva-approved!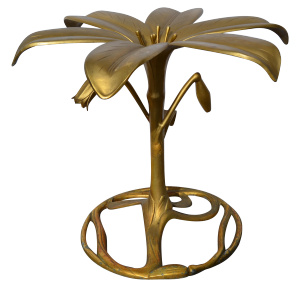 Arthur Court Gold Aluminum Cast Lily Dining Table
This is an original gilt Arthur Court aluminum cast Lily table. The top of the base resembles a lily flower to support a glass top, while the bottom of the base swirls around to resemble an art nouveau inspired stem. It is an unusual piece and is oh-so-very glam! I wouldn't use it as a dining table, but rather a side table between two chairs. This table comes with a 36″ round glass top, 3/8" thick, making it the perfect size to hold a stack of books and a couple martinis!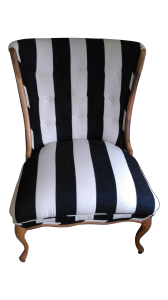 Mid Century Black & White Striped Chair
On one side of my lily table, I'd use this Mid-century tufted black and ivory striped accent chair. It's been totally refurbished with new foam padding and back and cream linen fabric with double welt all around. Carved wood trim has been stripped and waxed to let the gorgeous grain show through. The perfect chair to sit and have a long conversation with another Diva!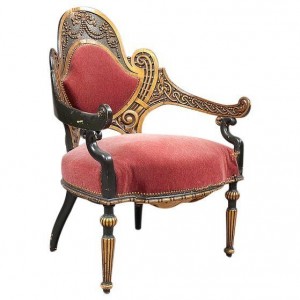 Aesthetic Movement Chair
This chair speaks for itself and would go on the other side of my lily table. I love this because it's unique and fitting for a sassy lady!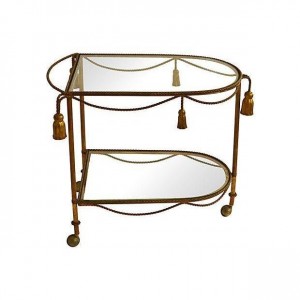 Gilt Faux Rope & Tassel Bar Cart
Who doesn't need a 1960's Italian gilded iron rope and tassel bar cart? With two glass shelves, it'll hold plenty of spirits which can be wheeled over from the main bar!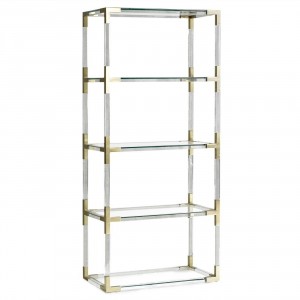 Jonathan Adler Lucite Acrylic Brass Etagere
Bring on the tough glamour. The Jacques Collection creates a bold balance of masculine lines and feminine finishes. The étagère mixes the jewel-like sparkle of custom-tooled brushed brass with Lucite construction. The result is modern decor with an heirloom-level of quality. It's perfect for displaying books and other favorite curiosities.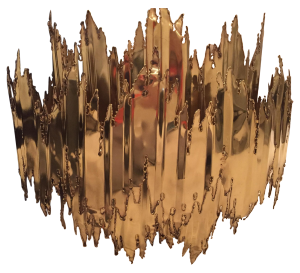 Brutalist Tom Greene Chandelier
This modern chandelier would help bring the entire room together! What a statement piece!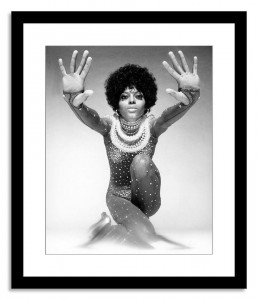 Diana Ross Framed Photo
Every Diva Den needs a photo of a true diva! Why not hang this black and white portrait of Diana Ross? In fact, I might just do an entire wall of diva photos…can you imagine? Talk about inspiration!
Zebra Hide Rug
Underfoot you can never go wrong with a zebra rug. The average size of a zebra hide rug is 10 feet from tip of nose to tip of tail 6 feet at the widest point making it large enough to rest under a seating group.
And there you have it! My Diva Den inspired by midcentury bar stools and decorated using exclusively items from Chairish.com! What would you put in YOUR Diva Den? Leave me a comment!
Stylishly,
The Antiques Diva®
Dear Diva Readers,
For the past month my team and I have been in the process of rewriting our website – page by page. We're not finished yet… but it's  a start.  In rewriting the website it's made me think about what we stand for as a company – our goals and our objectives and I realized what I really want more than anything is to make antiques accessible.  We're less about your formal grandmother's antiques with P's & Q's that make antiques scary and more about putting antiques into real people, relatable terms.
You can learn about antiques the same way you would wine.  You do a wine tasting to educate your pallet. I like to taste outrageously expensive wines so I can recognize quality when I taste it. In terms of antiques you could do little wine tasting, er… I mean – antiques tasting –  to learn how to differentiate between high quality pieces and lower end items.
Expose yourself to quality – go to a museum, a famous house, or my personal favorite choice – a chic boutique hotel.  Expose your eye to top quality pieces. Visit auction houses – there is no education better than a Christie's or Sotheby's catalog. Window shop.  Buy design books and pilfer through the pages.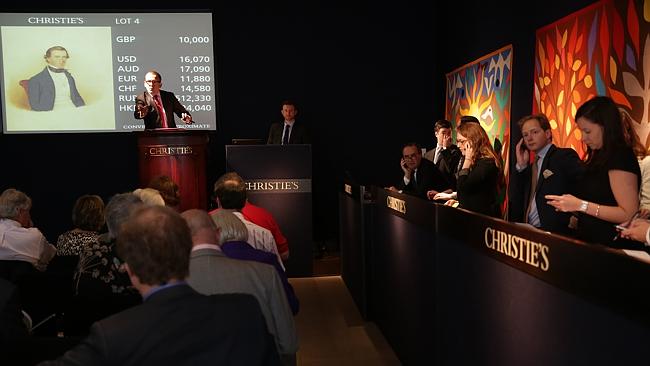 Earlier this week I encouraged you to ask antique vendors questions as part of your learning process… I'm taking this a step further and saying the world is your school.  Be inquisitive.  Ask everyone questions – from interior designers to museum curators to boutique owners to your friends on why they bought certain items.  And remember to sometimes just observe.  Take time to study the details without understanding why.  Take time to draw correlations in your own mind.
In doing so you will educate yourself – you will learn what to look for, how to look, how to educate your eye, tricks in looking at antiques, what warning signs to look for in finding a fake – and why SOMETIMES buying a vintage reproduction is the right decision.  That might sound like blasphemy but there are copies of items made throughout the centuries.  In Louis XVI time he was copying the treasures found in Pompeii – down the road further neoclassical movements copied both Louis and his predecessors.  You may not be able to afford  a period piece but you can have the look with a piece that's a 100 years newer but still 100 years old.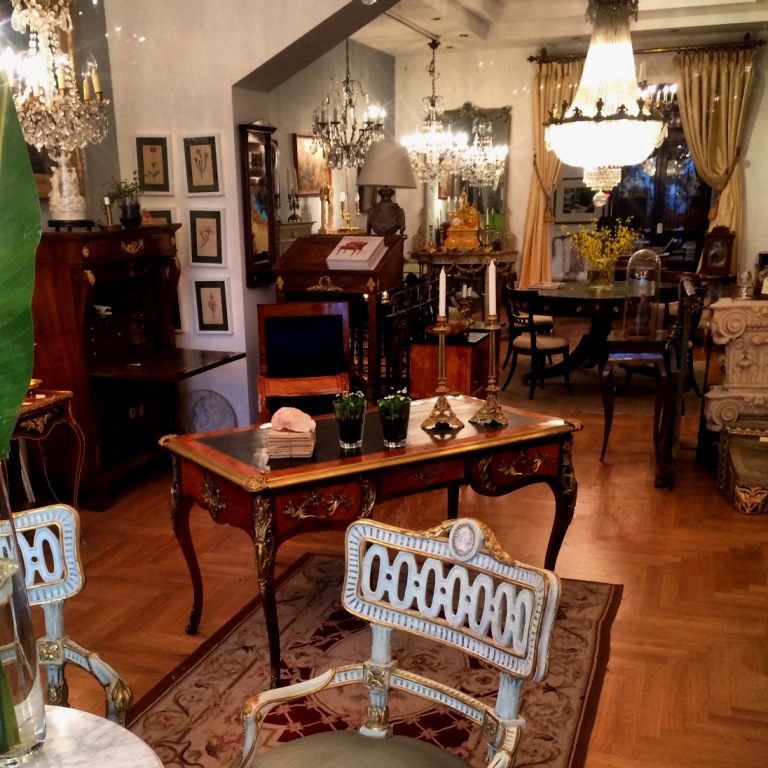 My entire philosophy is people should buy what they love.  I happen to love the patina of 18th C pieces so I try to buy the oldest, best quality pieces I can afford.  But sometimes I break the rules for love.  In essence – if you love the antique or vintage piece you are wanting to buy and if you are willing to pay the price it's marked then it's the right buy for you.  Antiques are subjective.  Trends and styles influence prices – but love – in my mind – love is forever.
When people buy antiques they often worry they are going to be ripped off or that they don't know enough about antiques to buy them.  If you buy what you love you will never go wrong.
One of our jobs at The Antiques Diva® & Co is to try to empower clients to buy antiques with confidence! On tour we're there to answer your questions and introduce you to vendors we admire… but we're also there to encourage you to follow you heart. If you love it – ultimately that's the only thing that matters.  Love will lead the way.
Perhaps I've got love on the mind… the timing of this blog post couldn't be more appropriate… my husband and I just celebrated our 18th year anniversary.  Happy Anniversary to my One and Only.
The Antiques Diva®
(seen here with my Mister)
T
his morning I woke bleary-eyed. If I were in full confessional mode I might reveal that perhaps I had too much St Emillion with dinner last night, but as I'm a diva and a diva never reveals these details – especially when guests are staying chez elle – I slugged an extra shot of espresso and headed out the door, ready to the take on the day, diva style! Fashion Stylist Kelli Djulus of
A Rendez-Vous-With-Style
& I were doing a Diva Tour of the
Berliner Trödelmarkt
. The itinerary was set: breakfast from the Bäckerei, the afternoon spent hard-core antiquing on the Straße des 17 Juni with a quick bite of Bratwurst, followed by a relaxing and indulgent High Tea at Berlin's best hotel,
The Adlon
.
Everything went according to plan. Kelli had fantastic success on the tour, scoring a gorgeous pewter and etched glass Art Nouveau decanter, a Christkindl German Christmas plate, a vintage Burberry coat, 2 crystal caviar containers, 2 French Art Deco chrome canisters (one for sugar and the other for chicory plus a date made for later in the week for a private viewing with the dealer), 2 original hand-crafted necklaces and a pair of earrings. All in all, not bad for a day's work. I guess we could say that Kelli "did find what she was looking for."
On the Diva Tours, we organize everything – dotting the I's and crossing every last "tea". But as much as we plan, some things are simply beyond our span of control. After sipping Jasmin Pearl and munching on perfectly baked scones with strawberry jam and clotted cream, we wandered out the front door of this Leading Hotel of the World "to where the streets have no name" only to discover that the news of our whereabouts had leaked!
A Rendez-Vous-With-Style and Diva Fans were waiting behind armed guards, cheering and screaming with flash-bulbs flashing, and chanting… "Bono! Over here, Bono!"
And just as we turned, with pens poised ready to greet our adoring crowds, we gasped and realized that alas, much to our horror, the fans were NOT there for us but for Bono! Yes, Bono, of U2 fame. Bloody Sunday! While Kelli and I were sipping tea and slipping downstairs to the loo, Bono had left the building and was working the crowd – shaking hands, pausing for photos, kissing the ladies and in general being a first class star!!!
Just another day's work in The Life of The Antiques Diva™.
Walk On!
The Antiques Diva ™
Follow The Antiques Diva on Twitter!!