Dear Diva Readers,
When Antiques Diva client Linda Meeks offered to write a blog about her recent Antiques Diva Tour I jumped at the opportunity. Linda has attended multiple talks of mine at High Point Antique and Design Center and over the years we've chatted about her extraordinary niche service she offers as a custom slipcover designer.  While Linda's Product Design studies began formally at North Carolina State University, her passion for fine fabrics began at an early age on the back roads of eastern North Carolina. Many hot summer afternoons were spent in the back of Mama's Ford Fairlane, traveling from one fabric store to another, searching for fine fabrics and silver linings. Today she continues the tradition with her Raleigh based company Pencil Me In,traveling across North Carolina, fashioning classic cotton and linen slipcovers for fine furniture. Recently Linda took her travels a bit further afield and went shopping with Antiques Diva style in Italy with our locally based guide, Susan.
Linda writes about her Antiques Diva Italy Tour:
"On instinct, I contacted the Antiques Diva & Co as soon as Barton (best friend, photographer and muse) ordered cheap airline tickets and a copy of Rick Steve's guide to Italy. You see, since hearing Toma Clark Haines speak at High Point Furniture Market Fall 2014, I knew I was destined for a fabric reconnaissance with one of her guides. Enthralled with Rick Steves' "Europe through the Back Door" travel style, I was convinced that seeing the marketplaces that the creatives and makers move through would carbonate my experience in Italy, and I needed a guide.
Toma connected me with Antiques Diva guide Susan Pennington and it was a match made in Sienna. My wish list for Susan was simple: 1. I'd like to see and hear Italians trade wares and secrets and learn a few swear words, 2. Take in the country air, and 3. Come home with a good find and a memory or two. When tour day arrived, Susan met us at our hotel and led us through the narrow streets of Sienna, dashing in and out of secret source shops, dodging Vespas and divulging tips about the local culture. Our morning excursion included an array of haberdasheries, galleries, and consignment shops in search of linens, passementerie, buttons, furniture, and art. Then we embarked on a road through Chianti, lunching in a hill town en route to Florence.
Next stop on our itinerary was a bit of luxury. Of course I can't tell you the name or it would not be a secret source. But I will tell you it was neither a furniture showroom, workshop, carpenter's shop, or architectural design studio, but a harmonious fusion of all the aforementioned. A place that honors the Florentine craft traditions, this unique space specialized in items restored, reinterpreted and reimagined for the home. Exactly what I encourage my clients to do with their heirloom furniture and fabrics every day! Here in this place Susan led the way as we climbed the attic to dig in the secret archives of waitlisted projects. And there it was! The perfect example of a Florentine footrest, aged green and tiny gilded bees. Susan negotiated the purchase and arranged to have it shipped (along with other linen & lace finds) to my workshop in Raleigh, NC, where it will be reimagined with a Florentine inspired slipcover and a story to tell.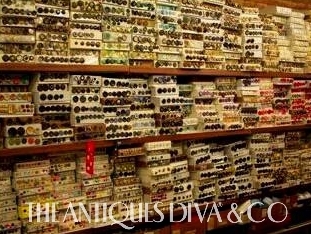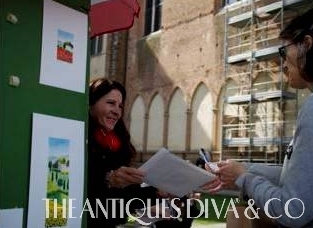 After a long day of scouting and scavenging, and double gelato, Susan left us with assignments of more secret sources to scope on our own. Now confident in our sleuthing skills, we affirmed that whether in North Carolina, Sienna, or Florence, it is in the unexpected places and on the Back Roads that we find the EXTRA that makes the ordinary EXTRAORDINARY. And so as Back Door travelers, we have memories of: listening to Susan translate our trades in her lovely British/Italian, enjoying a scenic drive through the country, and discovering THE FIND. But did we hear any swear words? I don't know!"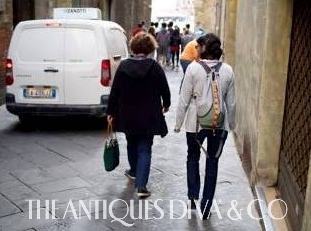 Thanks for sharing your experiences with us Linda! We're so happy you enjoyed your time in Italy and that you came away with a treasure (and I promise we'll get you a list of ' approved swear words" – note to the reader, Diva Guide Susan would never mutter a curse word… but the vendors on the other hand… Mamma Mia….
For more information on taking an Antiques Diva tour, or learning to cuss in Italian :),  email us at info@antiquesdiva.com.
Ciao,
The Antiques Diva®   
Dear Diva Readers,
I had to write to tell you about my recent trip to Parma, Italy with a sensational group of clients on a VIP Tour.  As you know we normally do private one-on-one tours; however, every once in a while, we get together with a group of VIPs for a meeting of the minds.  Where better to get together than Italy's largest Antiques Fair – Mercanteinfiera – to paint the town red!
The fair covers five pavilions and is the largest of its kind in Italy with over a 1000 dealers from all over Europe, including Britain, France and Belgium. Together under one roof they offer a vast array of furniture and decorative pieces from ancient Roman & ecclesiastical artifacts to fabulous antiques prints and decorative arts, 18th century furniture to Italian modernism and collectables. The pavilions or 'Padiglione' as they are known in Italian are divided into styles; of main interest are #6 which houses jewellery, both precious and costume, 20th century Furniture and Decorative Arts, Vintage and Repurposed.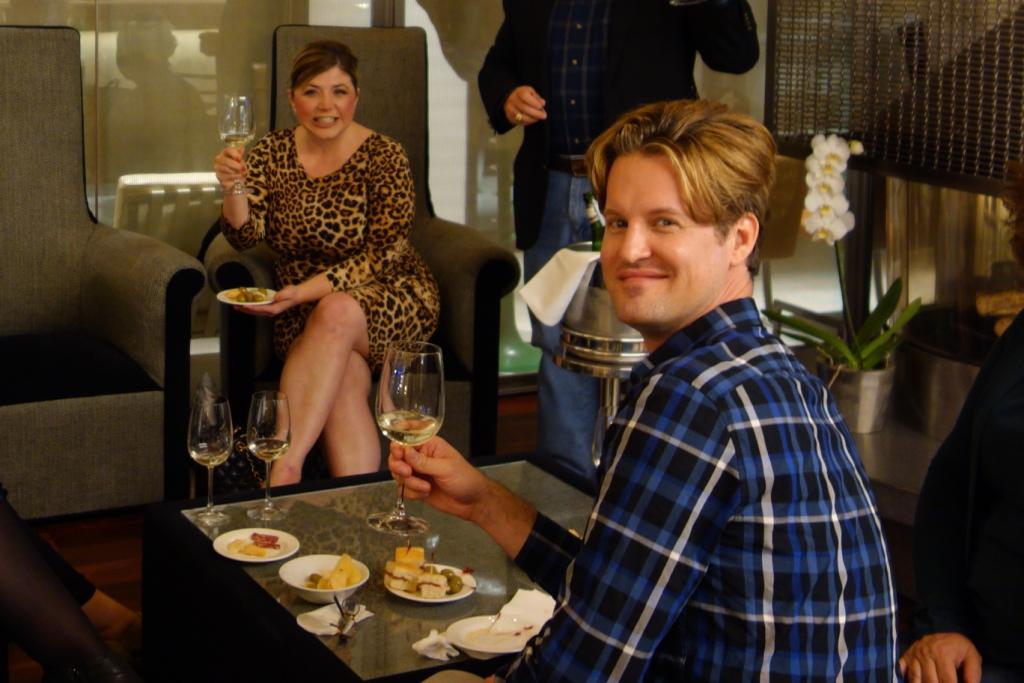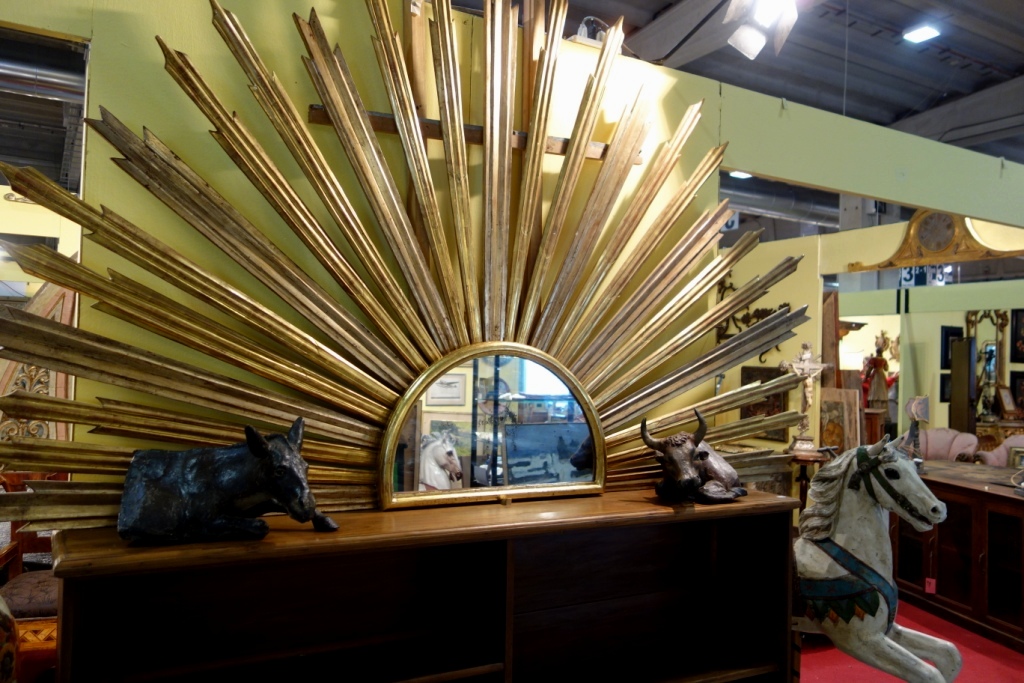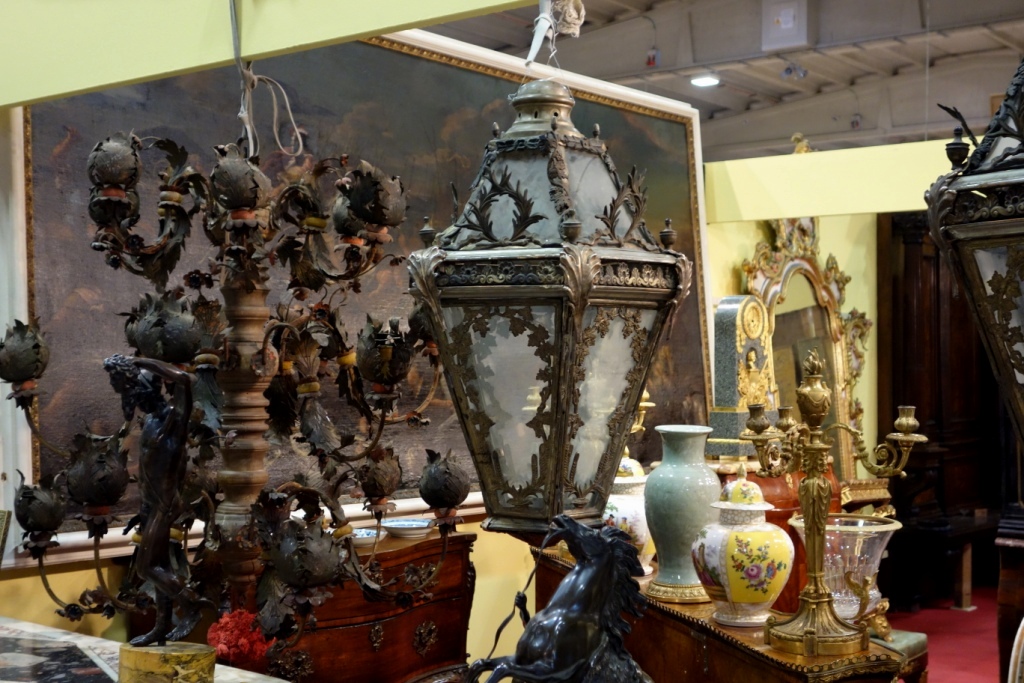 As Susan, our locally-based Italian Guide explains,
"In Italy there is a little bit of everything but perhaps of most interest are lighting, mirrors and huge amount of paintings and prints (some with great mattes and frames) varying in style from the classic landscapes and still life to contemporary; some are purely decorative others are great masters. There are of course Roman artifacts but if they are genuine one can't pretend that they go for a song, however some of the religious pieces are a bargain. Italian country is a very different style to French country, cleaner and simpler lines perfect for both a modern and traditional home. There are also lots of fun agricultural pieces which are great finds, for both decoration and repurposing. On the central-eastern side of the country there are many painted pieces; both Florence and Venice were famed for its artisan painters, many of whom moved east towards Le Marche. One can't dispute that Italian 20th century design was highly innovative and creative, these pieces are still not totally appreciated by Italians and so are good finds too.
In short Italy probably has much more than you ever imagined, it just takes a little time to get to know the country, the people and the business… we know too that half the fun is finding merchandise but when time is short – and time is money – a little help goes a long way! And that my dears, are why we at The Antiques Diva & Co are here to help you."
Mercanteinfiera Spring 2014 dates:
1-9 March, 2014
To book an Antiques Diva Italy Tour – any time of the year – email toma@antiquesdiva.com
Ciao Bella!
The Antiques Diva ®
(Seen here with a few VIP friends @ Mercanteinfiera)