Dear Diva Readers,
top: 5px; float: left; color: white; background: #781300; border: 1px solid darkkhaki; font-size: 60px; line-height: 50px; padding-top: 1px; padding-right: 5px; font-family: times;">While everyone knows that December 25 is Christmas, many are unfamiliar with the December 13 holiday Saint Lucia Day. Since Sweden is one of our popular Antiques Diva tour countries, I want to share a bit of their holiday tradition with you!
Saint Lucia Day honors Lucia, who was a Christian that died for her faith. It is said that an angel appeared to her in her native Sicily and she became a devout Christian. When she refused to renounce her faith, she was martyred by the Romans. The feast of Saint Lucia coincides with what was once considered Winter Solstice, the shortest day of the year. In Scandinavian countries, this season is traditionally a time of feasting, drinking, gift-giving and gathering with friends. Due to the short daylight hours, the contrast between light and dark—both literally and metaphorically—is the main focus of this time of year.
On Saint Lucia Day, it is customary for the eldest daughter of the house to wear a white robe with a red sash along with a "crown" covered with twigs and nine lighted candles fastened in it. She then wakes the family up while singing "Santa Lucia," a traditional song, and serving the family coffee and saffron buns, also known as Saint Lucia Buns (see recipe below). For many, this is the beginning of the Christmas Season.
Throughout the day there are candlelight processions, nodding to the return of the sun after Winter Solstice. Later that evening, women in church sing the traditional song which describes how Saint Lucia overcame darkness and found light.
Since tomorrow (December 13) is Saint Lucia Day, why not try your hand at making traditional Saint Lucia Buns using the recipe below? Exploring international holidays is a great way to expand your knowledge of the world and add new traditions to your family's holiday season!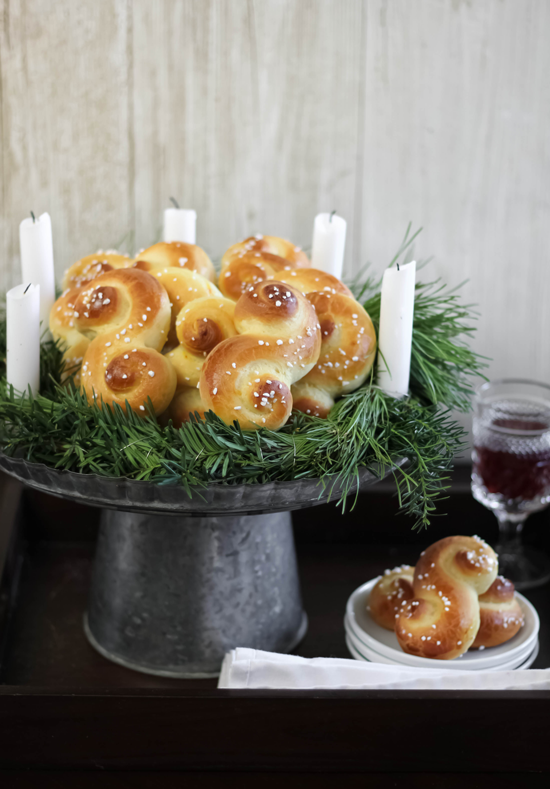 Saint Lucia Buns:
1 cup melted butter
1/2 tsp. saffron threads, finely crumbled (or 1 tsp. powdered saffron)
1 cup milk
3/4 cup sugar
1 tsp. salt
2 pkg. dry active yeast (4 1/2 tsp.)
6 1/2 cups all-purpose flour
2 eggs, well-beaten, plus one egg white
raisins or currants to decorate
Crumble torage/a/saffronstorage.htm">saffron threads into melted butter. Let sit 30 minutes to an hour (this intensifies the saffron flavor).
Heat milk to a light boil, turning off heat when it reaches the scalding point (with small bubbles across the top). Stir torials/qt/How-To-Melt-Butter-In-The-Microwave.htm">in melted butter, sugar, and salt. Pour mixture into mixing bowl and allow to cool until "finger-warm" (still quite warm, but just cool enough to touch). Stir in yeast and let sit for 10 minutes.
Mix 3 1/2 cups flour into liquid. Stir in two well-beaten eggs. Add enough of the remaining flour to form a soft dough (just until the dough pulls away from the sides of the bowl. You don't want to add too much flour).
Transfer dough to a large greased bowland turn to coat all sides. Cover with a clean towel and allow to rise until doubled, about 1 hour.
Punch down risen dough. Lightly knead two or three times on a floured surface. Pinch off small handfuls of dough (about the size of a racquetball) and roll into "snakes." Shape snakes into "S"-shaped buns or other desired shapes (please see my photo gallery of Lucia buns for traditional examples). Place on a lightly greased toes/ss/Roasted-Harvest-Vegetables_5.htm">baking sheet, cover with the towel again, and allow to rise until doubled (about an hour).
Decorate buns with raisins, brush with egg white, and bake in preheated 375º oven about 15 minutes, just until brown. Yield: 20 St. Lucia Buns ("Lussekatter")
Happy Holidays,
The Antiques Diva®