Dear Diva Readers,
top: 5px; float: left; color: white; background: #781300; border: 1px solid darkkhaki; font-size: 60px; line-height: 50px; padding-top: 1px; padding-right: 5px; font-family: times;">They say that decorating is all in the details, and using antique tassels is one of my favorite ways to put the finishing touch on a room.  However the tassel wasn't always as decorative as it is now.  In its beginnings, it was simply a weaving knot used to tie off various garment in order to prevent unraveling.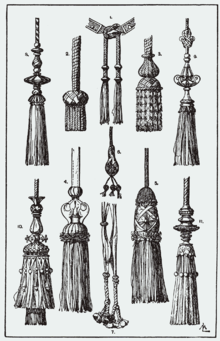 While the use of tassels can be traced back as far as Biblical times, it was the French who really mastered the art of passementerie in the 16th century and made the tassel en vogue for all of Europe.   In order to become a master of passementerie, one would have to complete a seven year apprenticeship!  Now that's dedication!  France still widely manufactures and exports a variety of tassels and trimmings to this day.
From England to India, tassels have traditionally been worn on ceremonial garments, signifying social status.  In some Arab cultures, tassels were worn by children on caps to protect them from evil spirits.  In Victorian times, however, the tassel really had its "hey-day," being used on not only clothing, but all throughout interiors.  It was quite common for ornamental tassels to hold heavy curtains back or grace the corners of table clothes, and in fact this is something we still see today.
Throughout my extensive travels I frequently come across antique tassels in every size and color imaginable.  Some have been preserved from grand estates and chateaus while others are original samples from the historic shops in France.  Whether being used as curtain tie backs or tied to a key,  I love thinking of the many ways tassels are not only functional but also decorative.  One thing's for sure- tassels can enhance any room!
Happy Decorating!
The Antiques Diva®