tou Paris Antiques Diva" src="https://antiquesdiva.com/wp-content/uploads/2012/10/20121002-160522.jpg" alt="Ham Fair" width="662″ height="124″ />
Dear Diva Readers,
How could I forget…. While I was away in Italy at Mercanteinfiera – a gorgeous antiques fair in Parma, Italy – I never rang the opening bell for The National Fair of the Flea Market and Ham in the Parisian suburbs! The "tou.sncao-syndicat.com/">Ham Fair" runs until October 7th 2012 – but don't worry, if you've missed this year's fair it's back again in the Spring!  Email me toma@antiquesdiva.com for the full on details of our upcoming special Spring tours!
tou" src="https://antiquesdiva.com/wp-content/uploads/2012/10/20121002-160531.jpg" alt="" width="225″ height="300″ />
I've got to tell you the best news I've heard all year…this fabulous fair just got better.  One of my favorite Swedish and French vendors – Britt Poulsen of Casa Nova Antiques  – is now selling at the Ham Fair.  Discover her booth at 6 Rue Saint Sabin and you are destined to go home with the creme de la creme of the inventory at Chatou!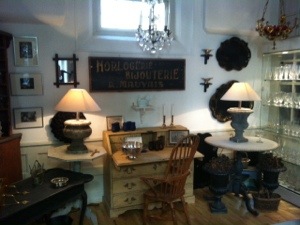 I first got to know Britt at the Bath Decorative Antiques Fair in England via an introduction from my locally based Diva Guide in England, Gail. Immediately upon meeting Britt I explained that we were taking clients on a Scandinavian antiques buying tour in May and the next thing I knew my clients and I had an invitation to her gorgeous home in Copenhagen for lunch! Upon entering her apartment where she sells from her home I swooned in delight – not only were she and her husband among the most gracious antique dealers I had ever met, their inventory was first class! The experience was such that I pitched a home feature chez elle to one of the glossies and will be writing about her for a print publication later this winter. In the meantime I couldn't wait to spread the word and if you are going to Chatou you must drop in for a quick Bonjour! Britt also is one of the illustrious dealers at The Blanchard Collective in England and so I'll be enjoying some of her inventory when visiting Blanchard's booth later this week at The Decorative Fair in London also on concurrently in the UK until October 7.
Happy Shopping wherever your travels take you!
The Antiques Diva®
tons/follow-me-on-pinterest-button.png" alt="Follow Me on Pinterest" width="210″ height="28″ />
tons.sociableblog.com/images/FB5.png" alt="" width="210″ height="40″ border="0″ />
tons.sociableblog.com/images/FMT6.png" alt="" width="210″ height="40″ border="0″ />