Dear Diva Readers,
tory of tea time, The Antiques Diva, " width="263″ height="367″ />
top: 5px; float: left; color: white; background: #781300; border: 1px solid darkkhaki; font-size: 60px; line-height: 50px; padding-top: 1px; padding-right: 5px; font-family: times;">Enjoying tea with others is a tradition that has been around for centuries – whether ladies gathering for a gossip, husbands and wives recapping at the end of the day or formal rituals worthy of the royal family. The tea time ritual transcends geographical boarders, but I fear has become a forgotten art.  Tea time is the perfect way to reconnect with friends, family and colleagues. And tea sets have been an important part of culture in many parts of the world for centuries. We recently had a client on an England antiques buying tour seeking to source hundreds of antique tea cups and pots for her wedding rental company which got me thinking a bit about the history of the tea set.
tory of tea time, The Antiques Diva, " width="355″ height="326″ />
Having their debut in China during the Han Dynasty around 206 B.C., tea sets were much different than what we typically think of today in the Western world. At this time and in the Chinese culture, tea was primarily used for medicinal purposes rather than as a social repose and it was typically served out of small bowls rather than cups. By the Song Dynasty (960-1279 A.D.) teapots began to be made out of iron ore. Because these were porous, each teapot was used for a specific type of tea. This time period also gave birth to the first ceramic teapots.
Eventually as explorers discovered the Orient this Eastern tradition was adopted by the West and, over the centuries, has been modified to suit certain cultures. As an American when I think about tea parties I immediately imagine a children's tea party complete with dolls and stuffed animals or English royals sipping Earl Gray whilst wearing over-the-top hats and fascinators.  In both of my imaginings – regardless of scenario – whether high or low –  the one thing that is constant is the gorgeous tea set from which everything is served.
tory of tea time, The Antiques Diva, Silver Tea Set French" width="500″ height="382″ />
In the seventieth century, the upper class in France began drinking tea from silver tea services. Having the tea sets made in silver allowed families not to have to match porcelain tea services to their china patterns. Tea sets typically consisted of a teapot, coffee pot, waste bowl, sugar bowl, creamer and a tea caddy. Sometimes a matching silver tray completed the set but it was not a requirement.
to-1_1.jpg">
to-1_1.jpg" alt="Antique tea sets, the history of tea time, The Antiques Diva, silver tea set" width="400″ height="430″ />
During Victorian times, English tea sets were made of bone china. As everything from this period was intricate and elaborate, patterns were detailed and sets could consist of quite a few pieces. Cups and saucers as well as plates and serving pieces could be purchased to match tea sets.
tory of tea time, The Antiques Diva, Porcelain tea sets" width="400″ height="318″ />
Today, much like the client we had recently who was sourcing to stock her wedding supply store, I personally love to mix and match my tea sets, repurposing pieces to suit my needs.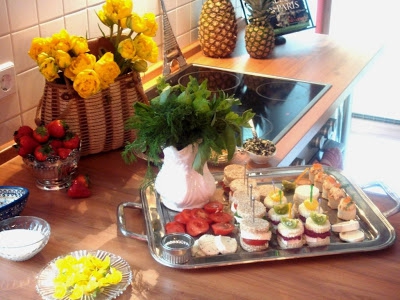 tory of tea time, The Antiques Diva, vintage tea sets" width="400″ height="300″ />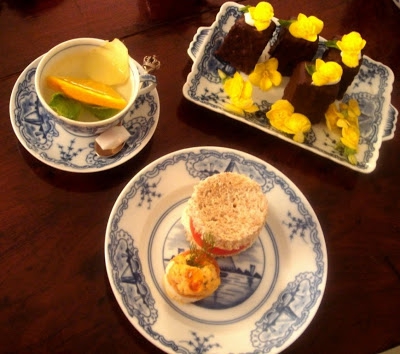 tory of tea time, The Antiques Diva, " width="400″ height="354″ />
I take a silver tray and layer it high with cucumber sandwiches and I fill my antique ceramic tea pots with bouquets of tight budded roses.
The Antiques Diva®
toma.jpg">
toma.jpg" alt="Antique tea sets, the history of tea time, The Antiques Diva, Toma Clark Haines" width="320″ height="213″ />