Dear Diva Readers,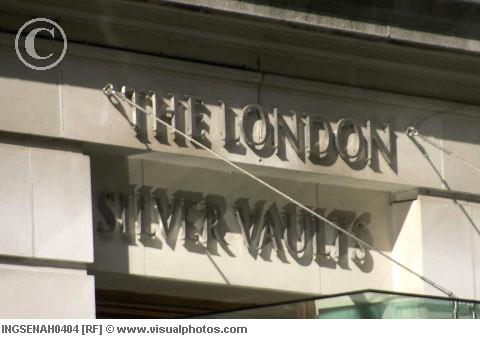 Are you looking for bright ideas to add to your antique fun in England this year? Well look no further, the world famous London Silver Vaults, in the heart of London's legal district and home to the world's largest retail collection of fine antique silver, has got the better part of 2012 covered with some sensational upcoming special exhibitions.  Due to its underground location, The Silver Vaults is often referred to as London's best kept secret – but the cat's out of the bag and the London Silver Vaults are ready to shine!!!  Open every day during business hours, The Chancery Lane Safe Deposit first opened in 1876 and their strong rooms provided security for individuals who needed to safeguard their valuables. From a storage facility the building developed into an underground shopping mall of mostly silver but also silver plate, jewelry, and other works of art.
Behind the huge safe doors and within its vaulted walls, The Silver Vaults offer anything from silver champagne swizzle sticks to a full-sized silver armchair.  But this Spring 2012 they're going to shine the light on silver candlesticks!
February 4th – May 19th    
Carrying the Flame: Silver Candlesticks of the Past Three Centuries. 
A selling exhibition of lighting at The London Silver Vaults, the home of silver shopping.
VisitLondon.com describes this event
"The Spring selling exhibition at The London Silver Vaults – the home of silver shopping – will feature a beautiful variety of silver candlesticks and candelabra from the early 18th century to the contemporary. Flickering candlelight at the dining table sets the tone for the most stylish dinners, and the selection of antique and modern silver to be displayed will encompass all tastes from timeless Georgian elegance to avant garde contemporary. Whether you prefer a set of two or four traditional candlesticks, or a more mix and match approach combining candlesticks with a candelabra, these can be enhanced when displayed down the centre of a table with tea-lights below to set the silver off to its utmost sparkle. Candelabra will be shown with two-, three-, four-, and five-arm variations; many candelabra have removable arms for additional use as a single candlestick"
And then, just when you think the torch is blown out, The Silver Vault starts a new exhibition on Post War Winners. 
May 28th – 29th September   
Post-War Winners: 60 Years of British Silver
A selling exhibition featuring Stuart Devlin, Gerald Benney, Christopher Lawrence, Eric Clements among others, and mid-century modern works commissioned by leading retailers such as Garrard, Asprey, Mappin & Webb.
The London Silver Vaults
Chancery Lane
London WC2A 1QS
Happy Shopping,
The Antiques Diva®
toma-haines2.jpg">
toma-haines2.jpg" alt="" width="112″ height="150″ />