Dear Diva Readers,
top: 5px; float: left; color: white; background: #781300; border: 1px solid darkkhaki; font-size: 40px; line-height: 30px; padding-top: 1px; padding-right: 5px; font-family: times;">O ne of our most popular Antiques Diva® Tour destinations is The Paris Flea Market.  People come from all over the world and ask us to help them navigate the HUGE Les Puces, which encompasses 15 markets.  It can be intimidating not knowing which areas to go to, how to speak the language, and how to negotiate with French antique dealers.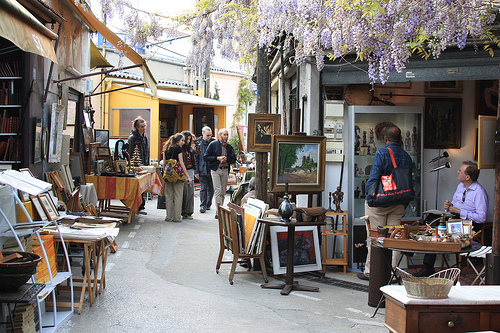 We believe that education is the first step in the process so our Diva Guides will brief you on all you need to know before hitting the streets – we try to teach you how to do it yourself  – but we're also there to translate, negotiate, and will help you liaise with a shipper to get your purchases home!  In the spirit of education, let me share with you the history of this famous market!
HISTORY OF THE PARIS FLEA MARKET
The Paris Flea Market's origin dates back over two centuries.  It all began when men would pick through the garbage at night, collecting "junk" that still had value.  They would set up temporary stalls within the Paris walls and sell their finds in less than desirable neighborhoods.  These areas were full of thieves and pickpockets, and as a result the pickers were chased out of the city and forced to set up just outside the city walls in areas like Clingnancourt, Montreuil, and Vanves.  
Eventually these "vendors" formed groups of stalls to attract more customers.  You might think of it as a "one stop shop" with a variety of merchandise.  In the spirit of entrepreneurism, some of these hawkers began selling higher quality goods, allowing them to gain customers such as collectors and antique dealers.
In 1855, the streets were paved and the area of Saint Ouen was cleaned up by order of the authorities, leading to the first year of Les Puces.  Certain areas were designated as official market space and vendors were required to pay a fee if they wanted to set up a stall there. The Marché Vernaison came about when Monsieur Romain Vernaison built a series of covered huts on the acres he owned. Then an Albanian named Malik bought a building on rue Jules Valles and turned it into 100 stalls, forming the Malik Market. In 1925 the Marché du Biron was formed, consisting of 2 long rows of stalls.  It is known to be the more expensive market today.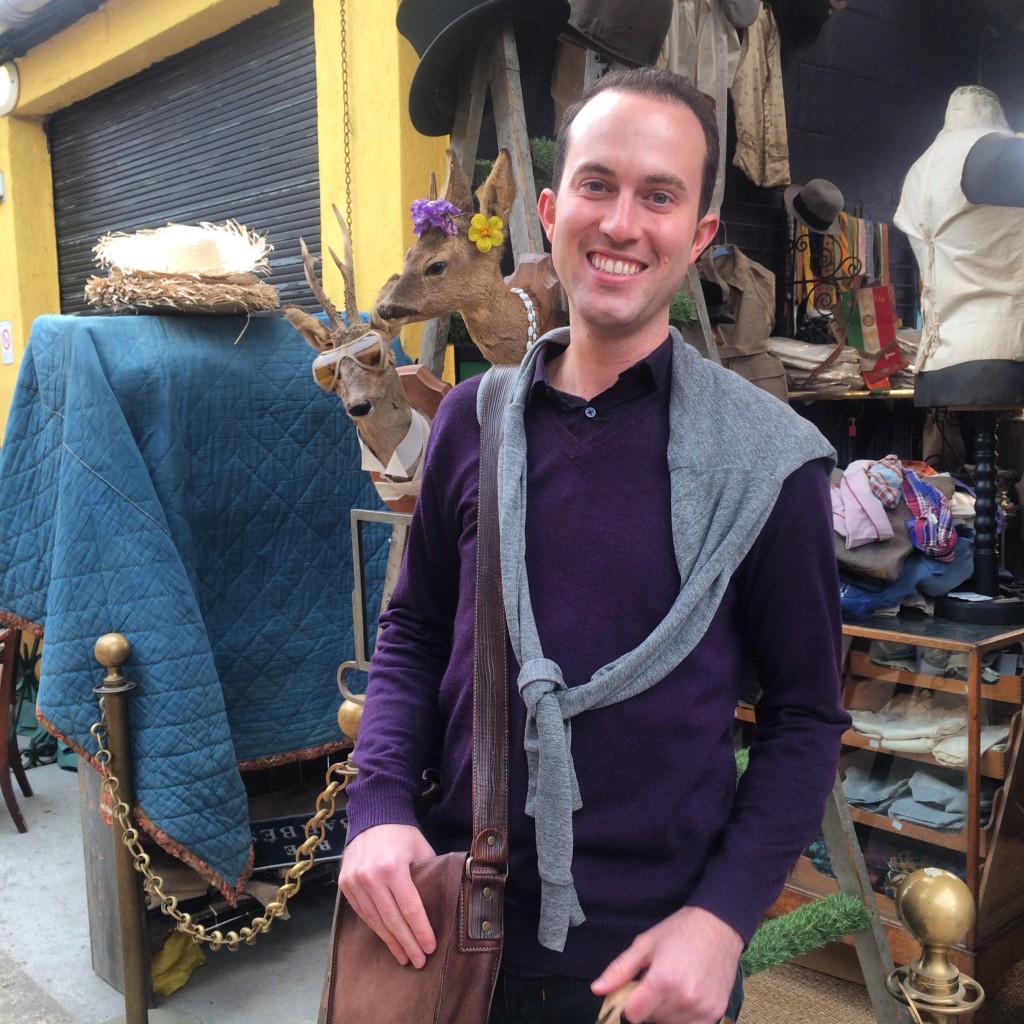 Knowing the history behind the different markets is not only interesting but also helpful when deciding which section of the Paris Flea Market you want to shop. Some markets in Paris offer higher end items, while others are the bargain hunter's dream.  The market is massive – it's 7 miles of antique filled alleyways and 15 districts.  Knowing where to go can feel down right intimidating.  We're going to share with you a map of the famous Puce de Paris so you can see the various markets in the Paris Flea Market and get a feel for the lay of the land.
As always, if you would like to book an Antiques Diva Tour of the Paris Flea Market or any of our tour countries- Italy, England, Sweden, Belgium, France, Holland, Germany, and Denmark, contact us at info@antiquesdiva.com to inquire about your custom made private antiques buying tour.
Au revoir et Bonne Shopping!!!
The Antiques Diva®