Dear Diva Readers,
top: 5px; float: left; color: white; background: #781300; border: 1px solid darkkhaki; font-size: 60px; line-height: 50px; padding-top: 1px; padding-right: 5px; font-family: times;">I am so thrilled to be attending the 26th Annual Preview Party for ton.com" target="_blank">The International Fine Art & Antiques Show hosted by The Society of Memorial Sloan Kettering (MSK) in New York on Thursday October 16! While the show itself promises to be a feast for the eyes with many of the world's most prominent art and antiques dealers bringing pieces, the Preview Party will kick off the weekend with over 1,000 guests enjoying a night of glamour, culture and philanthropy. Now if that isn't a Diva-style party, I don't know what is!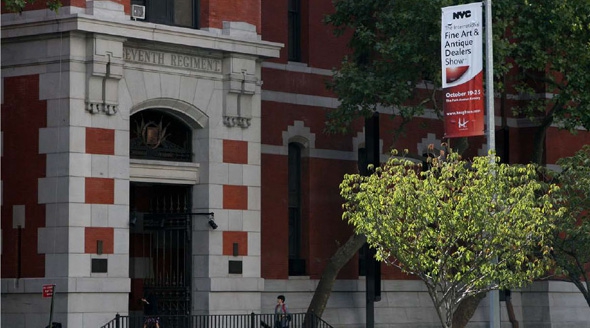 Stars of the design world, including Editor-in-Chief of ELLE DECOR, Michael Boodro, will gather at the Park Avenue Armory in New York to get a first look at art, furniture and rare books, jewelry and glass being offered by sixty-five high profile dealers. Before opening to the public, serious antiques connoisseurs and collectors on the guest list to the party have a chance to peruse the show and sip champagne— how glamorous!
Now it's not all about glitz and glam that night. The Preview Party is a wonderful way to raise funds for The Society of Memorial Sloan Kettering, a volunteer-led organization within MSK dedicated to promoting the well-being of patients, supporting cancer research, and providing public education on the early prevention, detection, and treatment of cancer.
If this sounds like the kind of event you'd be interested in attending, contact Elizabeth Howard at The Society by phoning 212.639.7972 or emailing her at to:Howarde@mskcc.org">Howarde@mskcc.org for ticket information. And if you're at the party, please find me and say hello! It will be a fabulous night of culture, philanthropy, and of course, antiques!
A few of the things I'm interested in seeing first hand at the show include the  Maison Jansen Unique Bibliothèque – Corner Bookcase and the Vittoria Limited Edition Contemporary Chair presented by ton.com/international-fairs/22/exhibitors/99″>Maison Gerard Ltd.
See you soon in New York!
The Antiques Diva®