Dear Diva Readers,
top: 5px; float: left; color: white; background: #781300; border: 1px solid darkkhaki; font-size: 60px; line-height: 50px; padding-top: 1px; padding-right: 5px; font-family: times;">While taking Olga Granda-Scott of The HighBoy on a whirlwind Antiques Diva UK experience to introduce her to a few of our favorite fairs and dealers, we attended opening day of the renowned English antiques fair Masterpiece in London. Offering museum quality pieces, this fair is one of the best in Europe, comparing often as a smaller TEFAF.
Before heading to the fair we checked out Antiques News & Fairs to find out what the must-see booths were. Discovering that the Empress Eugenie's pearl earrings would be on display, we headed straight to Siegelson's booth upon arrival at the fair.  This pair of natural grey pearl earrings appear on Empress Eugenie's ears in a portrait of her which hangs in the Metropolitan Museum of Art in New York so being able to see them first hand was quite a treat! The only disappointment? They wouldn't let me try them on! And darling… I would have worn them well! 🙂
After meandering the antique filled aisles and stopping by the bar for a glass of champagne to sip while we shopped, we spotted one of our favorite pieces at the fair. It was a George Hepplewhite gentleman's social table from Apter-Fredericks LTD. This rare table, one of only two known to exist, was made for social drinking. Drinking in the 18th century was prevalent at all levels of society and was so socially acceptable that by the end of the century specialized furniture was being made especially for drinking. With space for multiple champagne bottles and glasses, it's perfect for a Diva!
Speaking of tables, we also came upon a stunning center table with a specimen marble top from tomassobrothers.co.uk/Tomasso-Brothers-Tomasso-Brothers-DesktopDefault.aspx?tabid=1″ target="_blank">Tomasso Brothers Fine Art. The overall booth was stunning and really drew us in, but this special table – complete with its original documents – is a stand out piece.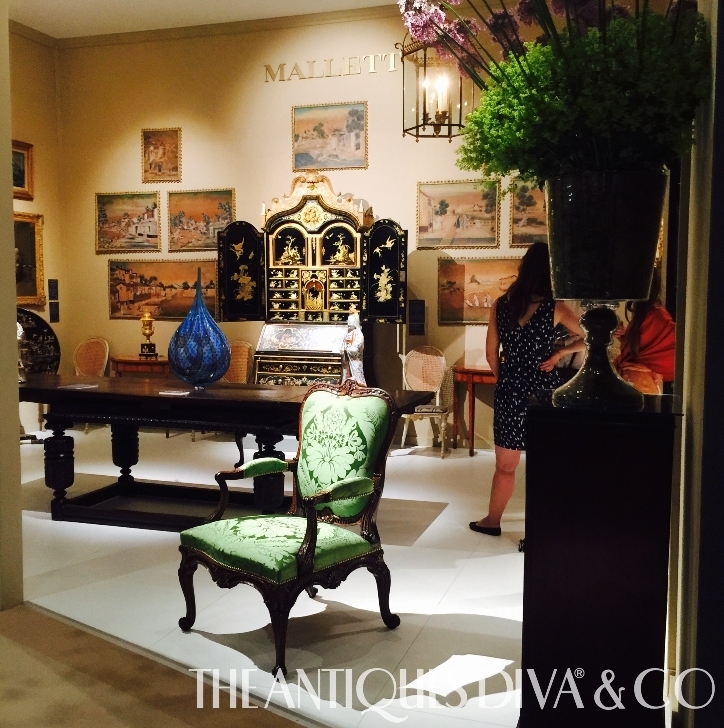 It was also fantastic to have a quick chat with Robert Young in his booth. Robert is one of the founders of Masterpiece – and is a leading folk art dealer in the UK.  What I loved about his booth – and inventory in general – is that it was entirely different from anyone else's at the fair. Surrounded by dealers offering polished furniture and glitzy jewels, Robert's inventory celebrated the unpretentious creations of artisans, adding a creative depth to the overall feel of the fair.   Because the fair is not segregated, it makes for an exciting experience to shop the fair – Russian jewels are in stalls next to English Folk Art opposite a stall filled with Neo-Classical busts.  Each turn of the neck gives an experience to another land, another time.
All in all, the fair was a glamorous experience with museum quality pieces at every corner—net, net, Masterpiece is Diva-Worthy and if it's not already on your social calendar consider it a Must Go on the London Antiques Scene!  My only regret (beyond not getting to try on those darn pearls from Eugenie) was that I wish we could have stayed longer, but a Diva's work is never done. We had to jet off to the hotel to get some sleep as the following day we traveled to the country to attend Salvo Fair, but more on that later! Stay tuned to the blog to hear about the rest of our week-long journey through antiques fairs of the UK!
The Antiques Diva®