Dear Diva Readers,
top: 5px; float: left; color: white; background: #781300; border: 1px solid darkkhaki; font-size: 60px; line-height: 50px; padding-top: 1px; padding-right: 5px; font-family: times;">W hile I technically live in Berlin, Germany, it seems that I am hardly ever there! Due to my extensive travel schedule for work, I spend much of my time in planes, trains, and automobiles which take me to hotels and homes of friends, Air B&B properties and vacation apartments around the globe. Whether I'm on the road with a client, traveling to a speaking engagement or simply heading somewhere exotic on holiday, one thing is certain—I have become a master of packing! From the pre-packing checklist to editing out anything I don't need, I've got some tips to share with you all about how to select the perfect items to take with you and how to organize it all so you're not bogged down with unnecessary items you have to lug around for weeks at a time! And I've also got some tips on what I consider IMPORTANT essentials when it comes to traveling… those essentials might surprise you!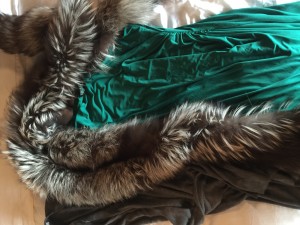 First things first, I lay everything out in advance so I can see exactly what I'm taking. I organize outfits by what I can multipurpose and wear multiple ways and I always dress in layers – short sleeve dress sweater and scarf – when on road for several weeks at time which allows me to adapt my wardrobe to current weather no matter where I'm going. I wear almost exclusively jersey because it's easy to pack – roll it up on a tight little ball and into the suitcase it goes! The exception being that I wear leopard print silk PJs of course, but those too are easy to pack.
The first items that go into the bottom of my suitcase are shoes. This allows me to fit soft clothes around them. Now – you will note I bring ALOT of shoes. When I'm on tour I tend to wear practical shoes but when doing public speaking and guest appearances my brand is defined by a few things – a glass of champagne and great shoes are part of that brand image so I pack a LOT of shoes.
But when traveling, clothes aren't the only necessities. Two essentials that go with me are make-up removal cloths and anti-humidity spray for my hair. Travel is difficult on skin and mid-day these make up removal clothes allow me to do a full on make over when necessary to keep me looking fresh when hopping on multiple stages in one day! I also always pack masks for my face to use at night and serious deep lotion for feet. After all, I spend a lot of time walking and it simply won't do for my feet to be neglected!
to look great" width="300″ height="225″ />
Now I'm going to share my real secret with you–touche-éclat/141YSL.html?dwvar_141YSL_color=1%20Luminous%20Radiance&gclid=CIu1naHE6MgCFQiNaQodYm4FzQ&cm_mmc=cpc-_-googleSearchBrand-_-YSL%20Make%20Up%20-%20Bmm_Product%20-%20Touche%20Eclat2-_-kw%3A%20%2Byves%20%2Bsaint%20%2Blaurent%20%2Btouche%20%2Beclat" target="_blank">Yves Saint Laurent Touché Eclait Foundation in addition to their signature wand! Touche Eclat is a cult favorite among top makeup artists, models, celebrities and women everywhere for a reason. This golden pen is not just a concealer, but is the original face highlighter. It emphasizes radiance over coverage and does not mask the skin for a more natural, luminous complexion. You won't see makeup, you'll see the light that is reflected off it, which helps to erase fatigue, highlight features and lighten dark spots and circles. The evanescent texture blends seamlessly on bare skin or over makeup. It literally is my magic pen that helps me look refreshed and photo-ready even if I've just hopped off an international flight.
Speaking of being photo ready on the go, the ever fabulous Denise McGaha gave me the best advice – wear red lipstick and you'll never look tired! So I'm always sure to have some with me for those days when I'm just simply really really tired from all the travel.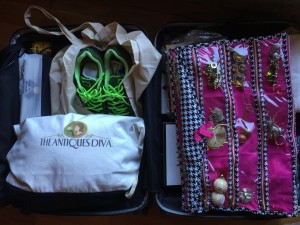 My carry on is the last thing I pack and it contains shoes for the gym or early morning walks, a bundle of jewelry and Antiques Diva essentials such as gifts for clients (a few boxes of DIVA chocolates perhaps?). If I'm on the road for a month I need multiple purses which can all stack inside themselves so as to minimize the space they take up in my carry on.
Okay so multiple pairs of shoes and handbags might not be on everyone's essential travel packing list… but if you're looking to stay chic on the road… they are a great way to keep your look fresh on the road! And hey, they dont take THAT much space.
So there you have it! These are all tidbits I've learned by experience over the years that have helped me stay organized while on the road. Do you have some travel tips of your own? Head over to my Facebook page and share some of your travel secrets with me!
Bon voyage,
The Antiques Diva®