Dear Diva Readers,
top: 5px; float: left; color: white; background: #781300; border: 1px solid darkkhaki; font-size: 60px; line-height: 50px; padding-top: 1px; padding-right: 5px; font-family: times;">A fun fact many of you may not know about me is that my university degree is in English literature with a history minor – I've always been fascinated with history and how life, art and culture interact. Perhaps my interest in antiques began because I view decorative objects from the past as giving me the opportunity to live with history – merging the past and present
My favorite time period in both literature (and history) is the Tudor period with Shakespeare, and Henry VII, Ann Boleyn, not to mention Elizabeth the First. It's such rich period that it's no surprise it was also an important time for interior design and furniture. It was during this span of time that England saw economic growth, geographical expanse, and much optimism which lead to wealthy home owners worrying less about money and war and turning their concerns to those of creature comforts at home. Plus as a sea faring nation England was gathering decor ideas from around the globe opening their collective eyes as a result of travel.
Prior to this period, Medieval and Gothic styles prevailed and the majority of great homes were designed to keep intruders out. However during the early Tudor times, with King Henry VIII on the throne, a boom in housing construction occurred, causing an increase in furniture production as well. As glass became a status symbol, wealthy home owners added many windows to their houses and also turned their eyes to the interiors, making subtle changes that reflected the times.
One of my favorite period Tudor houses – a cottage really – is Anne Hathaway's Cottage near Stratford upon Avon. A brick building with half-timbering, a thatched roof and a delightful garden, this picture-perfect country house remains in almost the exact state as it was when Shakespeare won the hand of his wife, Anne.
Early Tudor furniture was not much different from its Gothic predecessors. Most of the population lived in modest homes and didn't have much furniture at all. Even the upper class, who lived in large houses typically only had the basics— beds, tables, coffers, stools, and benches. It was common at the time for people to sit on stools and benches without backs, as chairs were reserved for the owner of the home, thus signifying his importance.
toria and Albert Museum in London" width="440″ height="191″ />
While on a recent trip to England meeting Traditional Home Magazines for a Press Tour I found myself unexpectedly with some free time one afternoon – and I went to one of my favorite places in London – The Victoria and Albert Museum. If you haven't been – consider it a DIVA MUST GO!!! The V&A's collections cover a vast number of design styles, from the Romanesque art and architecture of the Middle Ages, to the 20th century's radical Postmodernism exploring the trends, themes and revolutions in design over the centuries. Here I was able to walk through the ages exploring furniture throughout time seeing fabulous museum worthy examples from this period.
Most Tudor furniture pieces were made of oak and were bulky in design. There were no delicate silhouettes or airy carvings, but rather heavy imposing pieces that were often uncomfortable, save for an embroidered cushion to perch on. The great rooms of large homes were often softened by hanging tapestries on the cold stone walls and using carpets on the chilly floors. However as time went on, it became fashionable to install wood paneling on the walls. When benches and chests were placed against the walls, those sitting on them could lean back against the paneling, perhaps leading to the idea of a free standing bench with a back attached—or what we think of as a sofa or settee today.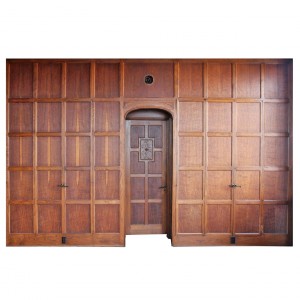 The 16th century saw many cultural developments in fashion, the arts, theatre, architecture, and furniture design. Influence of the Italian Renaissance can be seen when furniture makers began incorporating more ornamentation and carvings into pieces. As the period progressed, upholstered furniture, wallpaper, and carpets became more and more popular. However most pieces from the Tudor period remained large, imposing, and reminiscent of Medieval style.
Today when shopping for antiques – while of course you can still buy period pieces if you know where to go and are willing to pay the price – most "Tudor antiques" you see on the market today are "reproductions" from the 19th C. Still antique – they are "style of" antiques – not period antiques. During the 19th century, Tudor style had a huge revival. One of the things interior designers comment upon about the Tudor revival pieces they buy is that they actually work well in new homes due to their massive size!
If you would like information on taking an Antiques Diva Buying Tour, email us at info@antiquesdiva.com.
Cheers,
The Antiques Diva®