Dear Diva Readers,
top: 5px; float: left; color: white; background: #781300; border: 1px solid darkkhaki; font-size: 50px; line-height: 40px; padding-top: 1px; padding-right: 5px; font-family: times;">Venetian glass has long been a highly sought after commodity, adding artistic touches to interiors not only to Italian residences but also all over the world. Perhaps one of the best known and most appreciated products made of Venetian glass is the chandelier. These intricately detailed pieces seem to float when hanging and they create an atmosphere of fantasy, whimsy and grandeur all at once.
Many clients that take an Antiques Diva Buying Tour in Italy will stop and stare when they first see these marvelous creations. They're mesmerizing! The skill of Venetian craftsmen leaves you speechless when you think about each tiny piece being made by hand!
Sometime around the year 1700, Venetian glassmakers began making chandeliers from Murano glass. Murano glass comes from the island of Murano in Venice and had been used to make lovely items for centuries before this. Being known as the most beautiful and pure glass in the world, Murano glass would be molded and sculpted into flirtatious forms often incorporating flowers, vines and leaves. Glassmakers also used various shades of colored glass to enhance these chandeliers and make them look even more like bouquets of flowers.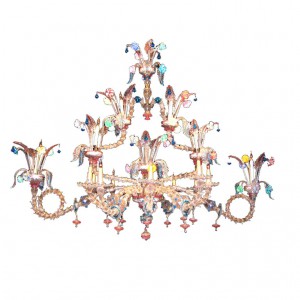 Whether transparent or colored, many Venetian glass chandeliers have arms covered with blown glass. This requires tedious attention and many hours to craft each small piece by hand to seamlessly fit together. While these chandeliers are still crafted in Venice, purchasing an antique is most certainly a good investment that not only retains but gains in value. Often these antique chandeliers come with provenance, having previously hung in palazzos, theaters and other important historical buildings. On our Venetian tours we're able to visit palazzo's where you can buy chandeliers straight from the palazzo's frescoed ceiling…. In essence it's magic. Diva Style.
If you would like more information on our Antiques Diva Buying Tours or Buying Services, email us at info@antiquesdiva.com. We'd love to help you source the perfect antique Venetian glass chandelier!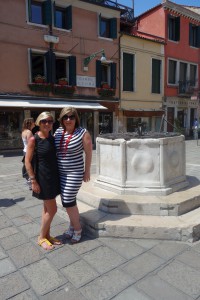 Ciao Bella!
The Antiques Diva®