Dear Diva Readers,
toria-magazine.png">
toria magazine" src="https://antiquesdiva.com/wp-content/uploads/2011/02/victoria-magazine.png" alt="" width="241″ height="249″ />
top: 5px; float: left; color: white; background: #781300; border: 1px solid darkkhaki; font-size: 100px; line-height: 90px; padding-top: 1px; padding-right: 5px; font-family: times;">I've been a long-time fan of toriamag.com/" target="_blank">Victoria magazine and was absolutely honored when my own company appeared in their tours/in-the-press-victoria-crave-amsterdam-the-examiner/" target="_blank">magazine this past July/August 2010.  I love flipping through the pages of their publication, taking in gorgeous scenery, reading great travel articles, collecting recipes, but most of all I am inspired by their home décor and photos illustrating the art of graceful living.  In the current issue – March/April 2011 – I was smitten with a unique idea I found!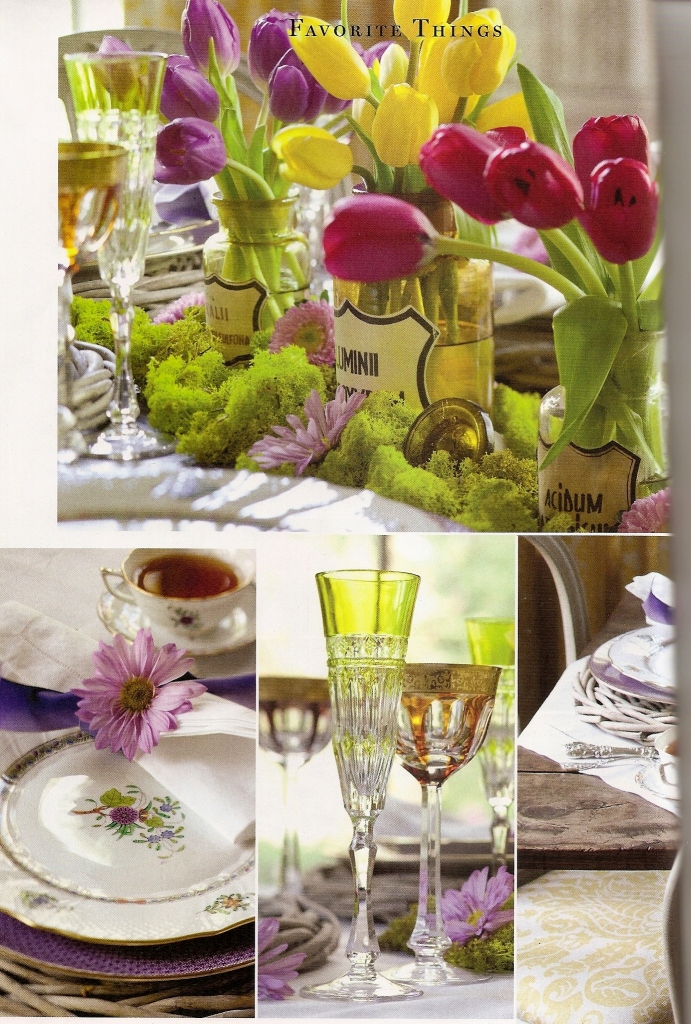 The stylists at Victoria magazine filled antique apothecary jars with spring tulips for fresh take on spring table décor.  I'm always a fan of using unique pieces as vases and this idea is right up my alley!
And while it does add an eclectic touch to the table, the overall look they created is still decisively traditional and elegant. 
toria magazine" src="https://antiquesdiva.com/wp-content/uploads/2011/02/scan0012.jpg" alt="" width="463″ height="717″ />
I tried the look at home, moving it from the dining table to my coffee table to give my living room a fresh look in hopes of spring and I was delighted with the results.
Apparently I wasn't the only one who was enamored by this look… my cat, Catpuccino, spent the afternoon gazing at the artful arrangement.  Was it the apothecary jars that caught his eye?  The tulips? The antique crystal bowl filled with hand-painted Czech eggs or perhaps the Biedermeier wooden tray which collected the lot?  In my online store at The Antiques Diva & Co, we're offering a great selection of small and large apothecary jars as well as a varied assortment of antiques, vintage pieces and objects of curiosity.
Happy Spring,
The Antiques Diva