Dear Diva Readers,
top: 5px; float: left; color: white; background: #781300; border: 1px solid darkkhaki; font-size: 40px; line-height: 30px; padding-top: 1px; padding-right: 5px; font-family: times;">While I'm away in Italy for Mercanteinfiera, Italy's largest antiques fair, we've got a guest blogger sharing Vintage Shopping in Vienna Tips – Thrift and Flea Markets at a Glance.
Guest Blogger Laurie Johnson is with the  International Society of Appraisers, Accredited Member.  She and her family relocated from Tucson, Arizona to Vienna, Austria in July 2013.  She is currently a "trailing spouse" intent on discovering the best places to shop for vintage treasures in Vienna.  Her personal blog about the expat experience can be found at www.aviennawaltz.blogspot.com.
So Ciao Bella from me, and Guten Tag from Laurie and a Vienna Waltz…
Laurie writes,
As a longtime fan of the Pasadena Rose Bowl Flea Market, avid thrift store shopper and certified antiques and personal property appraiser, I approached our move to Vienna, Austria with both excitement and trepidation. Would I ever find treasures at a bargain price or would I be left pressing my face against the windows of high end, high price antique stores? The answer is becoming clear, 8 weeks into our relocation, that Vienna is the place to find a quality purchase, at the right price, while enjoying the thrill of the hunt.  This beginner's guide will satisfy both the tourist and new resident looking for some of  the city's easy to reach thrift shopping and flea market opportunities.
Thrift Stores
Caritas Wien runs 2 large Carla thrift warehouse locations with thousands of EVERYTHING from antique to mid-century and today. There truly is something for everyone-furniture, pianos, rugs, art, collectibles, books, lighting, office, kitchen, clothes and accessories. Both locations, Carla Mittersteig and Carla Nord, are no more than a 20-25 minute walk from a subway (UBahn) stop. Locals can sign up for a Carla card which offers an additional 5% discount on purchases.
My visit coincided with a 50% off furniture sale and the temptations were many: pairs of mid-century club chairs, a dark grey marble top dry sink, architectural salvage coat racks, ironstone transferware in a rainbow of colors and pairs of vintage Christian Dior eyeglasses, just to name a few.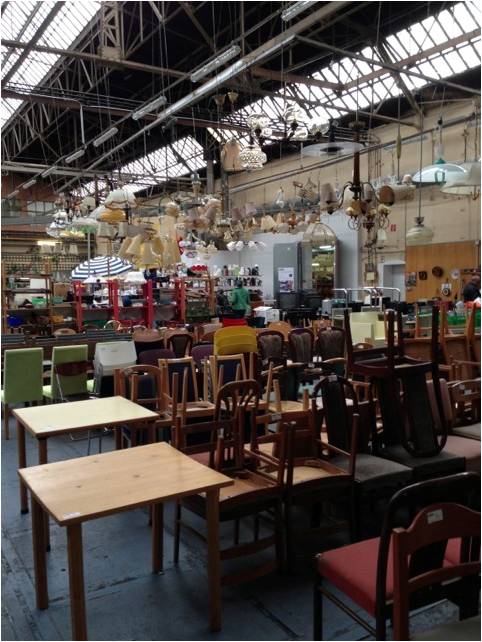 For more information: www.carla-wien.at
Flea Markets and The Dorotheum
On a sunny Vienna weekend, I scoured 3 markets in 3 days. It can be done!
On Friday I was off to Vienna's 1st District in search of Kunst Antikmark Am Hof.  It turned out to be a postage stamp of a market, open March- November, Fridays and Saturdays, 10am-6pm, with a mix of vintage, new and a few food/market vendors. The brief stroll left plenty of time to window shop the antiques stores in the 1st, which are plentiful. My regular stop is Palais Dorotheum at Dorotheergasse 17, the European auction house established in 1707. In addition to hosting weekly auctions and specialized auction events, you can find consignment, vintage and antiques for sale in their retail shop on the first and second floors. It is even possible to leave an offer, the Dorotheum will consult the owner on your behalf.
For information: www.antikmarkt-hof.at and www.dorotheum.com
Naschmarkt
Just off the U4 UBahn stop at Kettenbrückengasse is hands down, hands up the most fun flea market experience I have had in a long time. Naschmarket on Saturdays is a feast for the 5 senses, food, farmers, flea, vintiques and antiques all rolled into one joyfully hectic experience. Just when you think you have seen it all, porcelain, crystal, furniture and lighting, jewelry and trinkets, art, toys, records, military, another turn reveals more. In fact, I spent hours strolling the rows of dealers and never felt like I was seeing the same thing twice, even though I was covering the same ground. Hours are 6:30am-6pm and my suggestion is to get in early. Prepare to jostle and be jostled as it gets later, this place gets packed. I overheard negotiating in both German and English so there are bargains to be had. Be aware that there is plenty of junk to wade through before finding the gem and not all dealers are interested in bargaining, in any language. I spent a long time flipping through loose pages of illustrations from antique books, at only 6 Euros each, they would make a lovely wall vignette once framed. Be sure to take a beverage and nosh break at one of the restaurant stalls or just wander and taste samples from the market vendors offering everything from olives to cheeses to sweets.
For more information: www.wienernaschmarkt.eu
Zeitreise Antikmarkt
On Sunday, the Ringstrassen Galerien is both closed and open. The mall becomes home to the Zeitreise indoor antiques market on the 2nd and 4th Sunday of the month from 8am-5pm. I arrived at 9am and dealers were still setting up in two of the indoor mall areas. It was not surprising to see some familiar faces and treasures, as many of the Naschmarkt dealers also sell at this location. The mood is serene compared to the Naschmarkt and the dealers cater more to the vintique and antique shopper. For more information: www.ringstrassengalerien.at
Final Thoughts
Shop Vienna! It is a beautiful city full of beautiful things. If you are a designer sourcing items for a client, a retail shop seeking inventory, or just looking for that perfect vintage or antique piece.  When shipping items to the United States, having an appraisal written by a certified antiques and personal property appraiser, like those of us trained through the International Society of Appraisers (ISA), will help you manage the financial risk associated with submitting insurance loss damage claims, selecting the right amount for insurance coverage or even establishing resale value.  You can find me, other qualified appraisal professionals, and additional information under the ISA Find An Appraiser tab at www.isa-appraisers.org  If you'd like to get in touch with Laurie, visit her personal blog www.aviennawaltz.blogspot.com 
Happy Shopping!
Guest Blogger Laurie