Dear Diva Readers,
top: 5px; float: left; color: white; background: #781300; border: 1px solid darkkhaki; font-size: 60px; line-height: 50px; padding-top: 1px; padding-right: 5px; font-family: times;">While it may be easy to complain about cold weather during this winter season, I find that there are many ways to actually celebrate the chilly temperatures outside. Ok…celebrate may be a strong word, but there are certainly ways to make home a cozy place during these frigid months and I think that antiques are definitely one element that can transform any space into a comfortable spot to snuggle.
Think about what you do with your wardrobe when it's cold outside—you add layers! Do the same thing in your home by layering antique rugs on top of natural rugs like sisal. Adding that extra element helps bring warmth – and cozy color – to any room. Who wouldn't want to wake up and have their feet touch a thick wool rug as soon as they hit the floor? How luxurious! But also think about well-worn rugs. Sometimes threadbare rugs can add a dimension of timelessness to a space that transports you.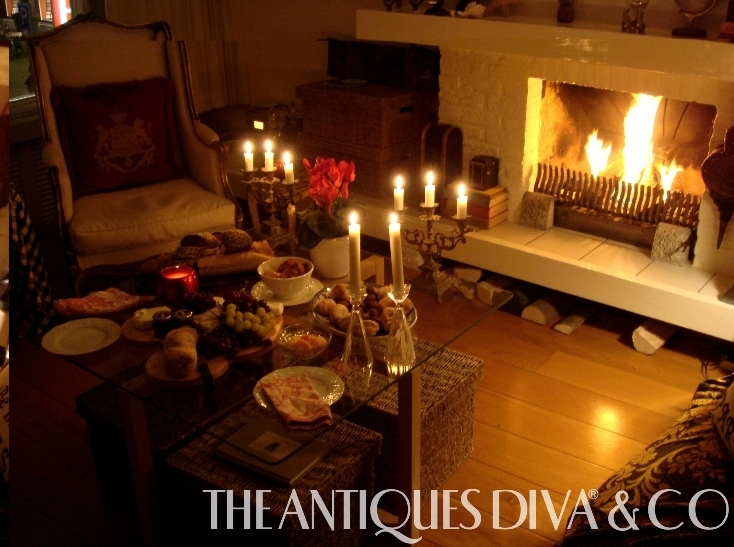 And speaking of layers, now is the time to accessorize. Pile on antique & vintage table cloths on the dining table as well as the side tables to help soften things up and create a sense of envelopment. Mix up textures to achieve a luxurious feel. Think about textiles you want to touch— velvet, leather, silk, wool, chenille— by mixing all these textures, you'll be creating a rich environment that feels cozy and comfortable. I'm swooning over this fur covered antler-chair available with on of our vendors in Antwerp and think it's the perfect winter item for you home!  Incorporate antique textiles into your throw pillows – look for a seamstress (if you're not one yourself) who can whip up your finds into liveable art for your home. Imagine having a one of a kind pillow on your sofa that's made from a centuries old Venetian textile!  Or like the fabric used for the red pillow above I had in my home in Holland which originally was used in a church.  Not only will a piece like this set your space apart and make it feel cozy, it will also act as a conversation piece.
Of course, adding greenery to your house will instantly make it feel more homey. But simply bringing a plant home won't have as much of an effect if you don't have the right container. There are so many antique containers that can act as planters. Why not use a vintage champagne bucket to plant your orchids in or like I did with tulips above in my own home? What about taking a trophy cup and planting a violet inside it? Think outside the box!
Candlelight is another important element when it comes to making your house feel cozy in the winter. Be sure to purchase interesting antique candle holders like candelabra, hurricanes, and perhaps colored glass vessels.
However you choose to decorate your home this winter, nothing compares to the feeling of walking through the door and instantly feeling enveloped by the space you've created. Here's to warm nights snuggled up at home with those you love!
toma-clark-haines-winter.jpg">
toma-clark-haines-winter.jpg" alt="toma clark haines, the antiques diva, " width="556″ height="417″ />
Cheers,
The Antiques Diva®