I've lived in Berlin over 5 years, and as The Antiques Diva®, when I moved here I thought: brats and beer, yes. Antiques? no! But I'm here to tell you: When it comes to antiques, Berlin is probably Europe's best-kept secret. Though one of the hottest spots on the map for tourists, antique sellers forget Berlin exists when it comes to stocking their stores, and prefer instead to shop with the masses in France, England and Sweden. I've built my Germany little black book of secret antiques sources, and I can't wait to share a few of them with you!
With a fast-growing number of antique and modern furniture shops and more flea markets than any other city in Europe, it's time to put the artsy German capital on the map for international buyers seeking antiques and vintage!
If you're looking for pieces not found in every shop and around every corner – Germany is for you.
Want mid-century modern – but don't want to pay Danish or Italian prices? Double Check. Again Berlin is the answer.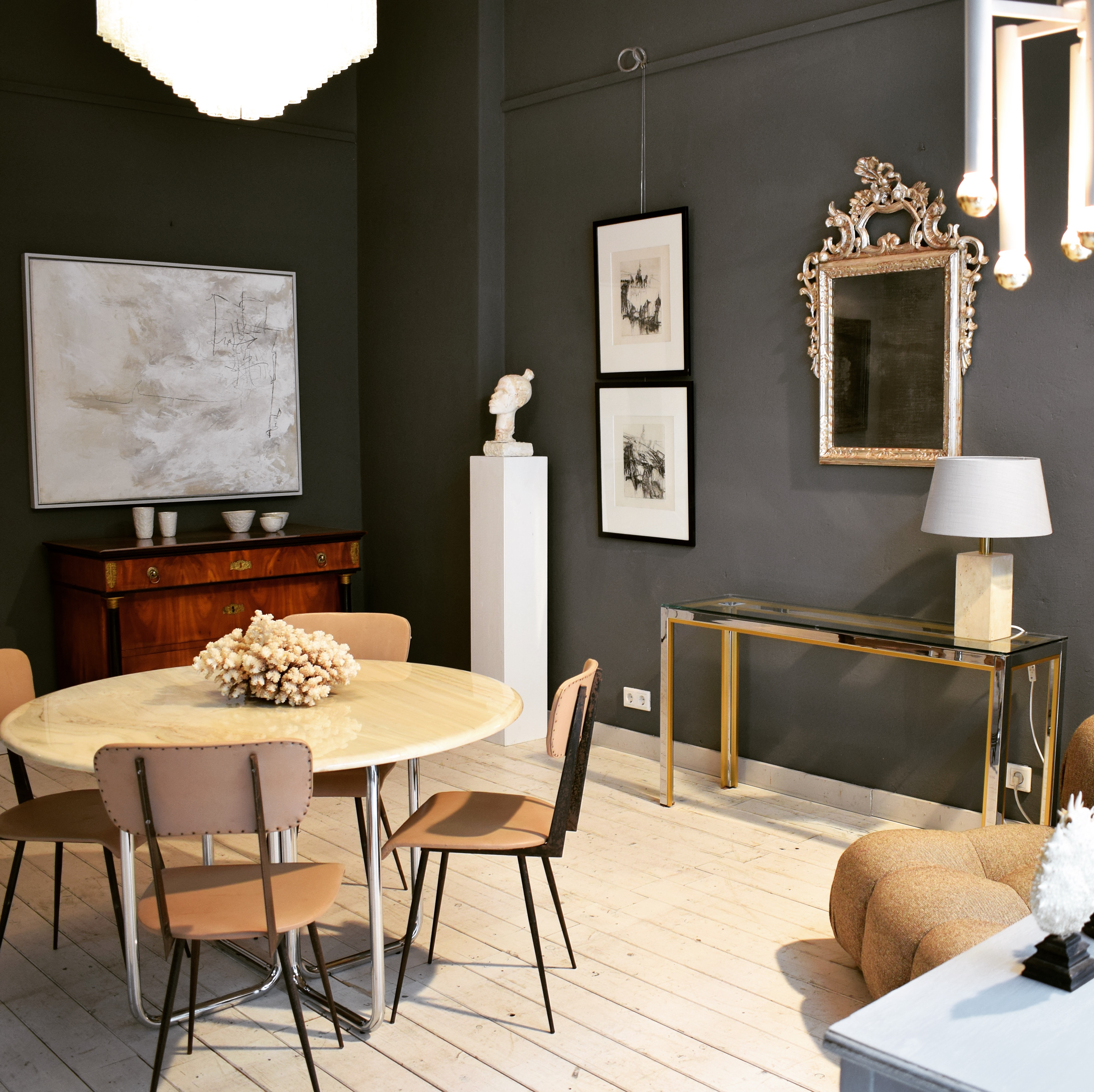 Our Berlin, Germany, antiques tours focus on the plethora of antique and modern furniture shops and markets. The fact that Berlin offers the lowest cost of living in Western Europe means that bargains abound. You'll discover hidden warehouses in unique locations where you might end up with filling up a container of your purchases.
To help you discover the best antiques and vintage in Germany – and at the best prices – I've recruited two local antiques experts as Germany Antiques Diva Guides. While living in Berlin I lost my 1st apartment due to a fire from an unwatched candle in a neighbor's apartment. I had to scour Berlin for the best pieces – at the best prices – to furnish my apartment, I met and worked with Felix and Philip. With their expertise and connections, The Antiques Diva is excited to present our newest Berlin, Germany antiques tour!
One of my favorite recent purchases is from Felix's Berlin shop, Felix Bachmann Antiquitäten. Instead of artwork, in my home office I have a pair of 1960's gold ceiling tiles which were salvaged from the ballroom of the Russian Embassy in Berlin, that Felix also installed for me!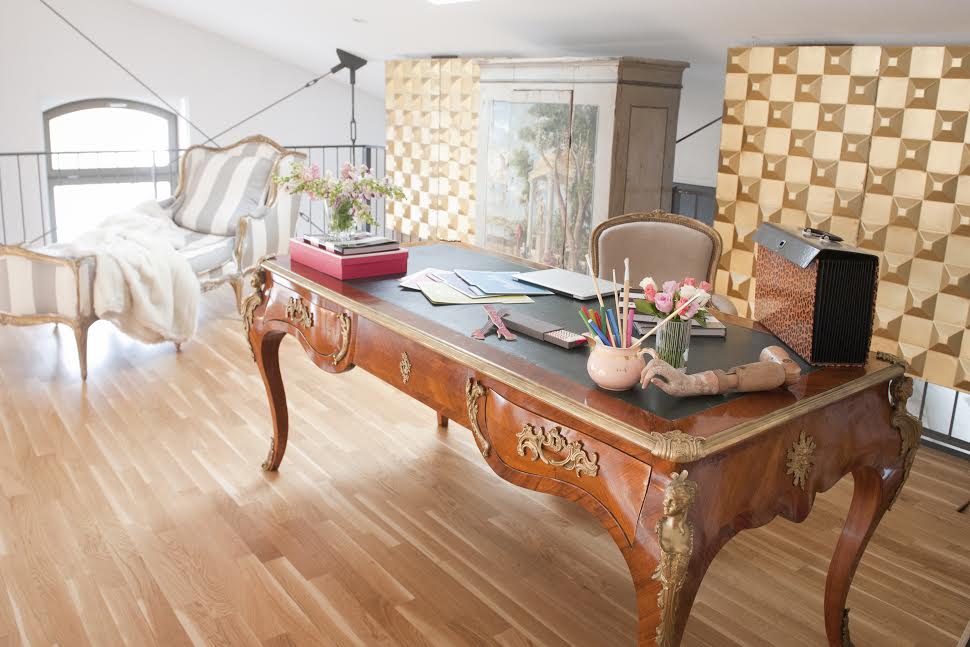 Felix Bachman has been working in furniture restoration and trade for 15 years. In 2011 he founded his own company in Berlin, Felix Bachman, specializing in antiques and mid-century modern furnishings, as well as pieces of his own design. His experience in dealing with forms, colors and textures benefits his furniture restoration and creating his own works of art. He attended West Dean College/Sussex University in Chichester, England; studying Conservation – Restoration of Furniture.
Philip Seiler loves, collects and sells beautiful furniture, lamps and objects of the 20th century. The name is part of the program. Many pieces are unique, hand selected and refurbished with passion. In May 2016 owner Philip Seiler opened his showroom in Berlin, Monsieur Unique. The focus lies on furniture from the timeless mid-century era and the rustic industrial design era. Monsieur Uniques warehouse is located in a former factory building in Berlin, Prenzlauer Berg.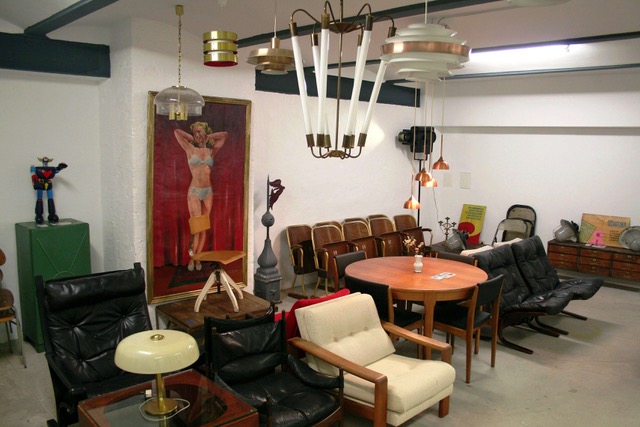 Introducing: Where The Wild Things Are – Berlin Modern Furniture Tour
Available Saturday and Sunday
Full Day Tour 10am to 6pm 
Berlin is known as the wild party capital of Europe. But there are a lot more wild things to discover when it comes to modern furniture, lamps and objects from the 20th century and earlier. With more than 50 warehouses and boutiques, the fast-growing artsy capital of Germany offers a huge variety and one of the lowest price points in Europe, especially for mid-century and industrial furniture. A lot of these warehouses and boutiques are not easy to find, hidden in the backyard of Berlins typical old buildings or outside the city borders. Our Where The Wild Things Are – Berlin Modern Furniture Tour will take you there. Shop in the former locations of a huge futuristic rock club, an old mill and buy where others don't buy. This Antiques Diva & Co Germany Antiques Tour will be personalized by our Guides, who will choose the shops which suit your shopping desires and negotiate and translate on your behalf. We also liaise you with a shipper to get your purchases home. After a long day, you can complete this unique shopping experience with a dinner and one or two drinks in one of Berlins many restaurants and bars if you wish.
Are you ready to discover Europe's best-kept secret and visit our Germany sources for antique, vintage and mid-century modern furniture and accessories?
Tschüss! 
Toma – The Antiques Diva